Important Topics for JEE Main and Advanced
Joint Entrance Examination (JEE) Main and Advanced are considered the most difficult competitive exams. The syllabus for these exams is vast, comprising Physics, Chemistry and Mathematics topics from class 11 and 12. Students must know important topics for JEE Main and JEE Advanced to prepare in an effective manner. Students studying for these exams should prepare in a strategic way by knowing details about best books to study, topics with more weightage, difficulty level of questions, important topics for JEE Main and Advanced and pattern of questions. The questions in these exams are designed in a way to test the fundamental, conceptual and analytical understanding of basic science and Mathematics. Here in this article, we are providing information on important topics for JEE Main and Advanced both exams to help students prepare. Important topics for both Jee Main and JEE Advanced presented here are as per the suggestion from subject experts of Sri Chaitanya Educational Institutions.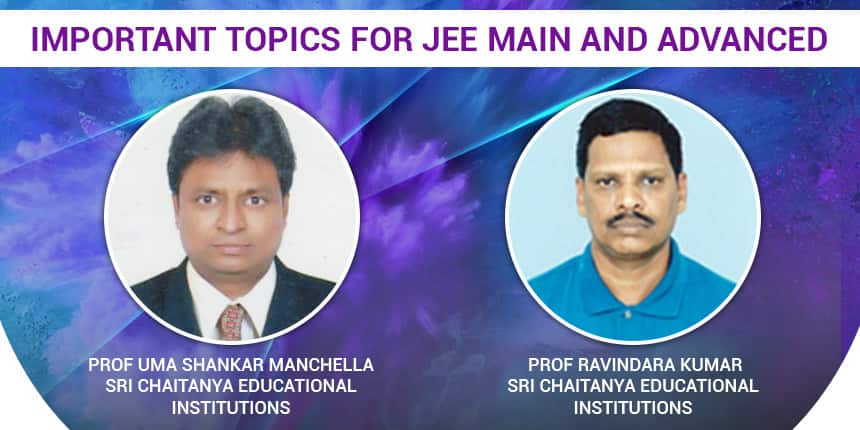 Important Topics for JEE Main and Advanced
Students seeking admission in Indian Institutes of Technology (IITs) have to qualify both the exams and that too with good ranks. The pattern of questions asked in JEE Main and Advanced is multiple choice and questions with numerical value answers. Preparation for these exams requires determination and dedication to crack and secure the admission in IITs or National Institute of Technology (NITs). Careers360 organised a webinar with subject experts of JEE Main and Advanced from Sri Chaitanya Educational Institutions to get insights on preparation tips, important topics and other points essential for the preparation. Below are mentioned the important topics for JEE Main and Advanced as per the suggestions.
JEE Main and Advanced Important Topics
Subject

Important Topics for both JEE Main and Advanced

Physics

Rotational Motion

Thermodynamics

SHM

Electrostatics

Magnetism

Optics

Modern Physics

Mathematics

Complex Number

Conic Section

Circle

Calculus

Vector & 3 D

Probability

Trigonometric Equation

Properties of Triangles

Quadratic Equation

Sequence and Series

Permutations and combination

Chemistry

Chemical bonding

Electrochemistry

Coordination compound

Salt analysis

Ionic equilibrium

Thermodynamics & thermochemistry

Aldehydes and ketones

Aromatic hydrocarbons

GOC isomerism

Liquid solutions

Alkyl halides and aryl halides
Preparation Tips from Experts
Students are provided here the preparation tips for JEE Main and Advanced. The tips are provided by Prof Uma Shankar Manchella and Prof Ravindra Kumar from Sri Chaitanya Educational Institutions. Below are the tips
Study and complete the entire syllabus of the exam so that nothing is missed. Preparation should be done in a way to get the conceptual understanding of all topics in every subject and not the rote memorization. Study from right books, books which are easy to understand and have examples to clear the concepts. Take help from your teachers or coaching wherever necessary

Revise the topics regularly which you study. Revision is very important as topics which are not revised can get out of the memory and be easily forgotten.

Practice mock tests and sample papers. JEE Main mock tests and sample papers are very useful in self evaluating the preparation level. Similarly, solving sample papers will help in getting rid of the exam fear, questions and keep track of time management.

Do not study anything new in the last week of preparation. Only take full length practice sets and revise the important topics in last week

Stay motivated and try to stay away from anxiety and stress
Questions related to JEE Main
Showing 97786 out of 97787 Questions