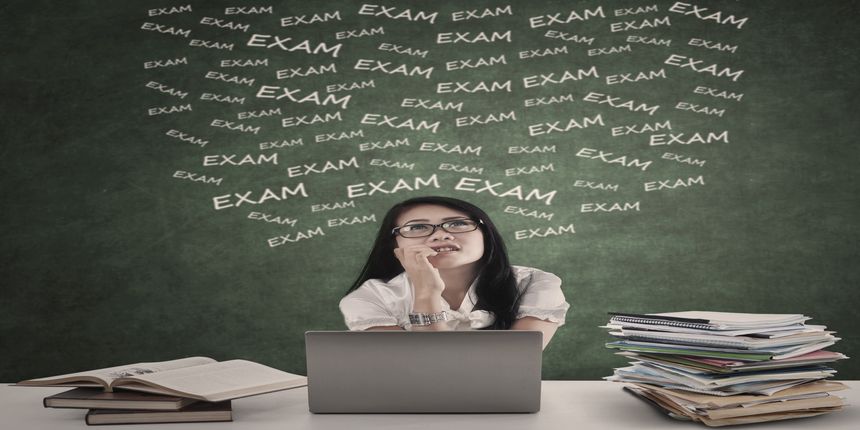 How to Prepare for JEE Main 2019 in 6 Months - The time to buckle up the seatbelts to get onboard on the journey of the upcoming exam, JEE Main April 2019 has arrived. The race to crack the approaching exam with good results brings the set of questions along with it like how to prepare for JEE Main 2019 in 6 months. To avoid panic during the last days it is beneficial to start burning the midnight's oil as soon as possible. Among the various changes in the exam one of the biggest change is that JEE Main will be conducted twice in 2019; once in January and then in April and only as a Computer Based Test. With only six months left for the April session a well-defined preparation strategy should be planned to prepare JEE Main in 6 months. Check the preparation tips and strategies for preparing JEE Main 2019 in 6 months mentioned below in the article.
Why JEE Main is such a crucial exam?
JEE Main Sample Paper
Download Free Sample Paper for JEE Main
Download Now
JEE Main is the gateway to top institutes like NITs, IIITs and CFTIs, with admission being done on the basis of AIR of the candidate in the entrance exam. Even if you want to take admission in an IIT, you have to first clear JEE Main 2019. As per the new guidelines this year the entrance exam will be conducted twice by NTA; first session in January and then in April. JEE Main 2019 will be conducted as a computer based test only. 
How to prepare for JEE Main 2019 in 6 months?
The tips on how to prepare for JEE Main in 6 months listed below are brought to you by Careers360, and contain preparation tips from experts and success mantras of toppers, to go with our own research. Consequently, it is a complete package designed with the sole intention of helping students going into this crucial phase of JEE Main preparation deal with everything the exam throws at them confidently.
Pick study material wisely
A common misconception among many aspirants is that preparing from a number of different books is mandatory for getting good marks. However it is far from the truth as it will only create confusion; for example, one particular book may deal with a topic in a certain way, while another book will have some other way of explaining the same topic. This may create unnecessary confusion; in fact, the more the number of books, more can be the confusion. So it is better to have one main book, and a supplementary book or two.
While selecting the books, it must be assured that they cover the entire JEE Main Syllabus and are as per the JEE Main exam pattern. If you are looking for an expert suggestion, Dr. Ravi Prakash- Associate Professor in the Department of Mathematics, Delhi University, says, "Complete Mathematics by McGraw Hill Education Pvt Ltd., Coordinate Geometry by S.L. Loney and 103 Trigonometry Problems by Titu Andreescu & Zuming Feng are some of the good books that JEE aspirants can refer".
Stick to a Timetable
Only 6 months are left to prepare for JEE Main April 2019 for the session but there is a sufficient time to excel, provided studies are taken into consideration seriously with firm dedication and motivation accompanied with the will to work hard. With the pressure of preparing for JEE Main 2019 in six months, preparing a timetable has various advantages. One benefit of having a time table is that it will help to identify the weak and strong areas so that preparation time can be allotted accordingly. The time table, in addition, will ensure that there is enough time for solving sample papers and previous years' question papers, and taking mock tests. 
Mohan Abhyas Vabili, AIR 6 in JEE Main 2017, shedding insights on his preparation time table, says, "Since my 11th/intermediate started, I have been studying 8-12 hours a day." Then you have Vasu Jain (AIR – 2), who has another take on his preparation strategy, "I have never studied for long hours, but personally believed in limited and focused preparation instead of a broad based and extensive coursework." 
One inference that can be drawn from the two strategies is that it is not always a good idea to follow "what's good for the goose is good for the gander" philosophy. It is because we all are made differently and our uptake capacities are also different. What is needed is to find the right balance that suits your style and capabilities.
Clear all the concepts
Another preparation tip on how to prepare for JEE Main 2019 in 6 months is clearing all the concepts and leaving no doubts unresolved. Making a distinction between topics that carry more weightage and those that are less important is also helpful. So, the important topics should be identified to put more focus on.
According to Mr. Shailendra Maheshwari, Director- Career Point, here are some topics that are important:
 Physics: Newton's Laws of Motion, Work Energy Power, Conservation Laws, Rotation Motion, Electrostatics, EMI, Heat and Thermodynamics, Nuclear Physics and Radio Activity, Semiconductor
Chemistry: Redox Reactions, Electrochemistry, Chemical Kinetics, GOC, P Block Elements
Mathematics: Conic Section, P&C, Probability, Quadratic Equation, Definite Integration, Differential Equation, Vector and 3D, Complex Number
Quick Tips for JEE Main Preparation
Prepare a list of important formulae in each chapter

Note the tips for quick solution of problems

Make daily/weekly targets and write them down

Revise the syllabus as per study plan

Make timetable and distribute time & strive to achieve that

Solve previous year questions as per time frame guidelines of actual exam

Have proper sleep and proper diet
Manage Time Smartly
Having good Time management skills is another helpful tip for preparing JEE Main in 6 months. Performing well in the entrance exam depends largely on strategizing the flow and proper time management. Time should be allotted accordingly to all the subjects and topics to ensure that no topic or subject is left neglected. Figuring out the weak areas to allot more time to will be helpful.  With proper time management, it will be possible to complete the syllabus in time and have enough time for taking mock tests and solving problem sets.
Dr. NK Bajaj, who has taught at Delhi University and University of Maryland, USA, opines, "It's the management of time that can make a considerable difference. With some effort and sincerity, time can be managed well by JEE aspirants".
Solve Sample Paper and Practise Mock Tests
Since the exam will be completely a computer based test, therefore, having enough practise of solving the paper on a computer is advisable to avoid any kind of trouble while attempting JEE Main 2019. Practising the mock tests and sample papers will help in polishing the preparation. To ease the stress of the candidates, NTA has set up Test Practise centres for the candidates to practise JEE Main 2019 mock test. Candidates can either visit the TPCs and practise or download the mock tests on their personal computers to practise. The mock tests are available in three languages.
To suceed in an entrance exam like JEE Main, solving sample papers is important. It is because, by solving JEE Main 2019 sample papers, you will be able to accurately gauge your exam readiness. Also, it is by solving sample papers that you can access how much of what you have read, you are able to retain. Also, when you are solving a problem and get stuck, don't get frustrated but thank your lucky stars that it happened now, and not on exam day. Go back, identify the problem and try again. 
Dr. N.K Bajaj, who has authored two books on JEE Preparation, says, "Solving mock tests is very important to be habitual on the day of exam. It will prevent panic situations and will give you confidence as well."
Setting a time limit while solving sample papers will improve your speed; understanding time management during preparation will benefit you during the actual JEE Main.
 Keep Calm and Stay Fit
Keeping your mind at peace and body fit is essential for an efficient brain. Toppers suggest that going for a small walk or doing a little exercise will keep your body fit. You must also closely watch your eating habits, as falling sick so close to the exam isn't exactly a recipe for success. Taking food with high fiber content can increase your metabolism and can help you stay fit.
Being familiar with these tips on how to prepare for JEE Main 2019 in 6 months on your fingertips, may help you take your preparation to the level that is needed to get good results. 
Best of luck.
 Also Read:
JEE Main Preparation Tips for Maths
JEE Main Preparation Tips for Chemistry
Questions related to JEE Main
Related E-books and Sample Papers