MHT CET Syllabus 2023 - State CET Cell, Maharashtra has released the official MHT CET 2023 syllabus at cetcell.mahacet.org. The MHT CET exam syllabus 2023 includes topics and chapters that have to be studied for the Maharashtra CET exam. Candidates are provided here with the complete MHT CET chapter wise weightage 2023 pdf for all the subjects.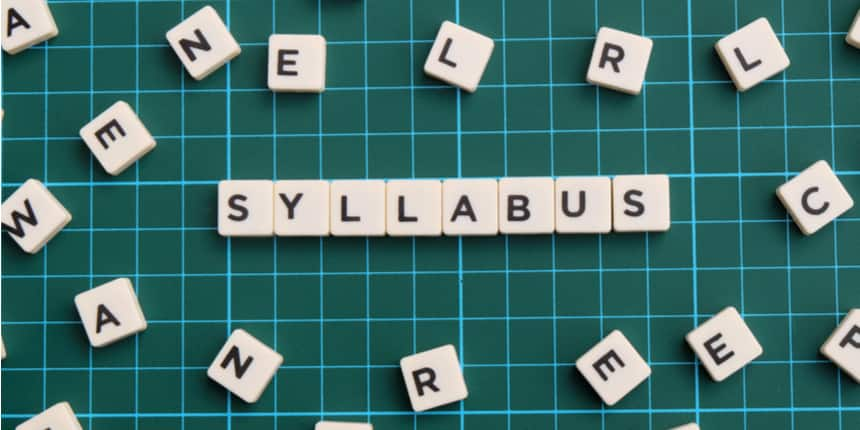 MHT CET Syllabus 2023 (Released) - PDFs for Physics, Chemistry, Mathematics, Biology
MHT CET syllabus 2023 PCM consists of the 11th and 12th standard Maharashtra board syllabus. MHT CET syllabus 2023 pdf PCM includes 20% of questions from the 11th standard and 80% of questions from the 12th standard syllabus. Preparing with the syllabus of MHT CET 2023 allows the students to know the topics and accordingly create a study plan. Maharashtra CET will be conducted as a computer-based test so the candidates can also check the MHT CET 2023 exam pattern to know more details as to how the exam will be held. Read the full article to know more about the MHT CET syllabus 2023 with weightage PCM.


What is MHT CET 2023 Syllabus?
The authorities have released the detailed Maharashtra CET syllabus 2023 PDF in online mode. One of the major advantages of knowing the MHT CET 2023 syllabus beforehand is that the candidates can assess what has to be studied and accordingly plan out their preparation and study strategy. Subjects such as Physics, Chemistry, and Mathematics are included in the syllabus.
MHT CET Syllabus 2023 for Physics
Subject

11th Standard Topics

12th Standard Topics

MHT CET syllabus PDF

Physics

Measurements

Scalars and Vectors

Force

Friction in solids and liquids

Refraction of Light

Ray optics

Magnetic effect of electric current

Magnetism

Circular motion

Gravitation

Rotational motion

Oscillations

Elasticity

Surface tension

Wave motion

Stationary waves

Wave theory of light

Interference and diffraction

Electrostatics

Current electricity

Magnetism

Electromagnetic inductions

Electrons and photons

Atoms

Molecules and Nuclei

Semiconductors

Communication systems
MHT CET Syllabus for Chemistry
Subject

11th Standard Topics

12th Standard Topics

PDF

Chemistry

Some basic concepts of chemistry

States of matter: Gases and liquids

Redox reaction

Surface chemistry

Nature of chemical bond

Hydrogen

s-Block elements (Alkali and alkaline earth metals)

Basic principles and techniques in organic chemistry

Alkanes.

Solid State

Solutions and colligative

Chemical thermodynamics and Electrochemistry

Chemical kinetics-General principles and processes

p-Block elements

d and f Block Elements

Coordination compounds

Halogen derivatives of alkanes, Alcohols, phenols, and ethers,

Aldehydes, ketones, and Organic compounds, Biomolecules

Polymers

Chemistry in everyday life
MHT CET 2023 Syllabus for Mathematics
Subject

11th Standard Topics

12th Standard Topics

PDF

Mathematics

Trigonometric functions

Trigonometric functions of Compound Angles

Factorization Formulae

Straight Line

Circle and Conics

Sets

Relations and Functions

Probability

Sequences and series.

Mathematical Logic

Matrices

Trigonometric functions

Pair of straight lines

Circle

Conics

Vectors

Three-dimensional geometry

Line

Plane

Linear programming problems

Continuity

Differentiation

Applications of derivative

Integration

Applications of definite integral

Statistics,

Probability distribution

Bernoulli trials and Binomial distribution
For MHT CET syllabus and notification - Click Here
Subject-wise Weightage in MHT CET 2023
Subject

Approximate number of questions

Marks per question

Total marks

Duration in minutes

Class XI

Class XII

Mathematics

10

40

2

100

90

Physics

10

40

1

100

90

Chemistry

10

40
Also read - MHT CET Sample Papers 2023
MHT CET 2023 Exam Pattern
Candidates can get MHT CET 2023 syllabus PDF download link at cetcell.mahacet.org. Moreover, candidates are also advised to check the official exam pattern of MHT CET 2023. Through the MHT CET 2023 exam pattern, the candidates can understand the details regarding how the upcoming entrance exam will be conducted by the authorities. This will help boost the confidence and preparation level of the candidates.
MHT CET Exam Pattern 2023
Particulars

Details

Exam Mode

Computer Based Test

Duration

3 hours

Sections

Medium of Exam

Nature of Questions

Multiple Choice Questions

Total Number of Questions

150 Questions

Marking Scheme

Section 1 - 2 marks will be given for each correct answer.

Section 2 - 1 mark will be awarded for every correct response

Negative Marking

There will be no negative marking
Also read: