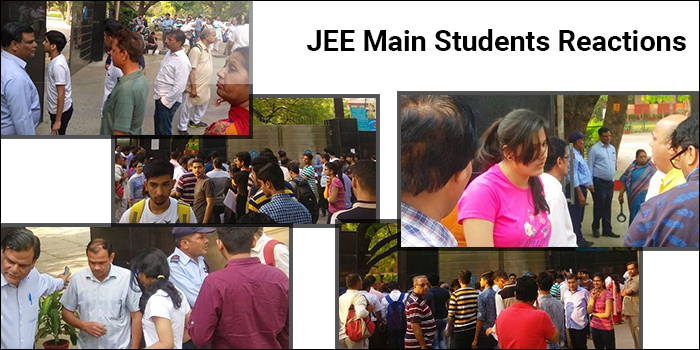 JEE Main 2018 Students Reactions (Paper 1) - JEE Main 2018 began as scheduled on April 8 Sunday morning.Candidates were asked to report at their allotted exam centres at 7 am for Paper 1 scheduled from 9.30 am to 12.30 am. The students appearing in JEE Main 2018 exam were not allowed to take anything with them – no bags, no stationery items, no watches, nothing. However, candidates had to mandatorily carry their valid admit cards because entry without it was restricted under any circumstances. Paper 1 was conducted for B. Tech/ B.E. admissions and Paper II for admissions to B. Arch courses. JEE Main 2018 Paper 1 comprised of questions from Physics, Chemistry and Mathematics, while JEE Main Paper 2 had questions from Mathematics, Aptitude Test and Drawing. Careers360 brings a pictoral sequence of students and parents from JEE Main exam centres on how the candidates reacted at different moments. See their reactions. JEE Main 2018 had 11,48,000 registered candidates out of which few chose to appear in the offline mode and remaining will appear in the online mode of JEE Main exam on April 15 & 16.

Latest: JEE Main 2018 result to be available soon!

JEE Main 2018 Student Reaction (Paper 1) Video by Careers360
JEE Main Sample Paper
Download Free Sample Paper for JEE Main
Download Now
JEE Main 2018 Student Reaction across India 
JEE Main 2018 Paper 1 Post Exam Student Reactions
Neil, Noida Sector 62, says he found the Maths section, especially the functions part, a bit difficult. Also, the calculations in Physics section were more difficult as compared to previous years. It was my first attempt. 
My name is Rajesh Sharma. My code was D. Physics and Chemistry were easy, but Maths was a little difficult. Overall the exam was easy. I am expecting 120+. 
My name is Sahil .. physics and chemistry was easy Maths was difficult as compared to last year … I am expecting around 200
Ritesh Ranjan: I have been preparing for JEE exam for past four years. I gave my class XII this year and it is for the first time that I gave the JEE Exam. I found the organic chemistry was tough. My parents and hostel mates helped me during the preparation 

Udit Kumar Mishra: There were formula based questions. I found physics the easiest. Chemistry and Maths were equally difficult for me.
Sai Kiran: My paper code is C. The questions were not in order, while Chemsitry was somewhat tough, Organic Chemistry, in particular. Physics and Maths in comparision were easy.
JEE Main 2018 Pre Exam Students Reactions
Mansa from Hyderbad says,"She has taken coaching from Naraina Institute and is confident of scoring good in the exam, especially in Mathematics."
Sumit, who was forced by his parents, did not prepare well for JEE Main and he knew he can not crack it. He will go for a private college.
Another candidate, Chandan Sharma from CBSE Board, who has taken coaching from Aakash Institute said, "I feel this year's paper is going to be similar like last 2 years and I expect to score between 240-250.
Atul says, "If JEE Main doesn't work for me, I will go for NDA which is my dream. However, as my parents wanted me to take this exam, I have to appear in it.
Rishabh Goel has prepared well and is confident to crack JEE Main 2018. He says, "Mathematics is my strength."
A second time test-taker, Shivani Singh, who has taken coaching from FIITJEE is certain that she make it this time. "I managed to secure 70 marks in JEE Main last year, thus, taking the exam this year again and I am certain to make it to the cutoff this time," says Shivani.
Maneesh Arora, a student studying in DTU is appearing in the exam to improve his rank.
Questions related to JEE Main
Related E-books and Sample Papers