BITSAT Syllabus 2022 - Check Subject-wise Here
BITSAT Syllabus 2022 - Birla Institute of Technology and Science, Pilani will release the BISAT 2022 syllabus along with the brochure at bitsadmission.com.
Latest Updates for BITSAT
Stay up-to date with BITSAT News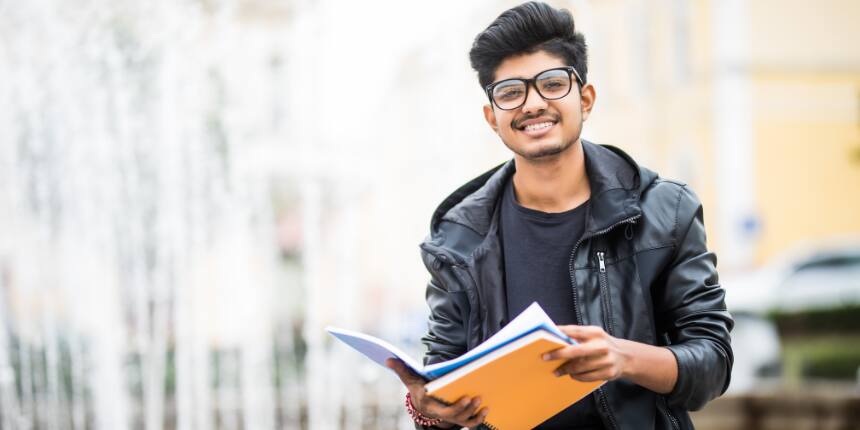 With the help of the syllabus of BITSAT 2022, candidates will be able to know the list of topics from which the questions will be asked in the BITS admission test 2022. The BITSAT syllabus 2022 will consist of topics from Physics, Chemistry, Mathematics, Biology, English and Logical Reasoning.
Since the questions in the BISAT 2022 will be prepared according to the syllabus, it is important for the candidates to be familiar with it. Along with the BITSAT syllabus 2022, students must also check the BITSAT exam pattern for better understanding of the paper. Read the complete article to know more about the BITSAT 2022 syllabus.
People also interested in:
BITSAT Syllabus 2022
BITS, Pilani will release the syllabus of BITSAT 2021 on the official website. Candidates are advised to check the BITSAT 2022 syllabus before commencing their preparation process for the examination. Through the BITSAT syllabus, the candidates will be able to know which subjects, topics and units have to be studied for the exam.
BITSAT 2022 Syllabus
Subject

Syllabus

Physics

Units & Measurement

Kinematics

Newton's Laws of Motion

Impulse and Momentum

Work and Energy

Rotational Motion

Gravitation

Mechanics of Solids and Fluids

Oscillations

Waves

Heat and Thermodynamics

Electrostatics

Current Electricity

Magnetic Effect of Current

Electromagnetic Induction

Optics

Modern Physics

Electronic Devices

Chemistry

States of Matter

Atomic Structure

Chemical Bonding & Molecular Structure

Thermodynamics

Physical and Chemical Equilibria

Electrochemistry

Chemical Kinetics

Surface Chemistry

Hydrogen and s-block elements

p- d- and f-block elements

Principles of Organic Chemistry and Hydrocarbons

Stereochemistry

Organic Compounds with Functional Groups Containing Oxygen and Nitrogen

Biological , Industrial and Environmental chemistry

Theoretical Principles of Experimental Chemistry

Mathematics

Algebra

Trigonometry

Two-dimensional Coordinate Geometry

Three dimensional Coordinate Geometry

Differential calculus

Integral calculus

Ordinary Differential Equations

Probability

Vectors

Statistics

Linear Programming

Mathematical modelling

Biology

Diversity in Living World

Cell: The Unit of Life; Structure and Function

Genetics and Evolution

Structure and Function – Plants

Structure and Function - Animal

Reproduction, Growth and Movement in Plants

Reproduction and Development in Humans

Ecology and Environment

Biology and Human Welfare

Biotechnology and its Applications

English Language

Grammar

Vocabulary

Reading Comprehension

Composition

Logical Reasoning

Verbal Reasoning

Nonverbal Reasoning
Check: Engineering Colleges in India Accepting BITSAT Score
What are the important topics for BITSAT 2022?
Candidates can check the list of best books for BITSAT 2022 in the table below. Having a good knowledge of the books can help students to crack the BITSAT 2022 exam.
BITSAT 2022: Recommended Books
Physics

Chemistry

Mathematics

Concepts of Physics by H.C. Verma Vol 1 and Vol 2




Arihant Physics by D. C. Pandey




Problems in General Physics by I.E. Irodov




Advanced level Physics by Nelson and Parker




Fundamentals of Physics Resnick, Halliday, Walker




Atkins' Physical Chemistry




Inorganic Chemistry by J.D.Lee




Inorganic Chemistry by O.P.Tandon




Physical Chemistry by N Awasthi




Organic Chemistry by Paula Bruice Yurkanis




Organic Chemistry by M.S. Chauhan




Modern Approach to Chemical Calculations by R.C. Mukherjee




Class XI & XII by R.D. Sharma




Differential Calculus by Arihant




Integral Calculus by Arihant




Higher Algebra by Hall Knight Bernard-child




Problems in Calculus of One Variable Algebra by I.A.Maron



Top Colleges in India offering Engineering Courses
Questions related to BITSAT
Showing 3112 out of 3112 Questions