BITSAT Syllabus 2021 - Birla Institute of Technology and Science, Pilani will release the BITSAT 2021 syllabus along with the official notification in online mode. Candidates are advised to check the syllabus of BITSAT 2021 before commencing their preparation process for the examination. Through BITSAT syllabus, the candidates will be able to know which subjects, topics and units have to be studied for the exam. Since the questions of the exam will be prepared according to the BITSAT 2021 syllabus, it is important for the candidates to be familiar with it. The syllabus of BITSAT 2021 will consist of topics from Physics, Chemistry, Mathematics, Biology, English and Logical Reasoning. While preparing for BITSAT, the candidates are also advised to check the exam pattern and mock tests. Read the full article to know more about BITSAT Syllabus 2021.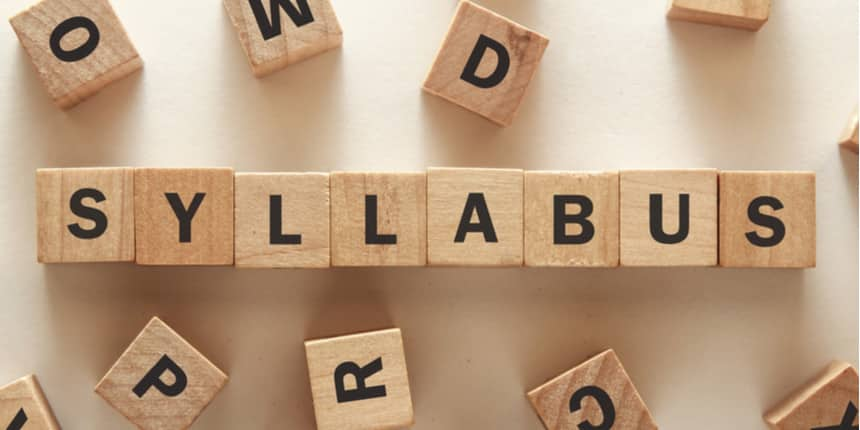 BITSAT 2021 Syllabus
The list of topics and subjects which the candidates will have to refer for the entrance examination will be available in the syllabus of BITSAT 2021.
BITSAT Syllabus 2021
Subject

Syllabus

Physics

Units & Measurement

Kinematics

Newton's Laws of Motion

Impulse and Momentum

Work and Energy

Rotational Motion

Gravitation

Mechanics of Solids and Fluids

Oscillations

Waves

Heat and Thermodynamics

Electrostatics

Current Electricity

Magnetic Effect of Current

Electromagnetic Induction

Optics

Modern Physics

Electronic Devices

Chemistry

States of Matter

Atomic Structure

Chemical Bonding & Molecular Structure

Thermodynamics

Physical and Chemical Equilibria

Electrochemistry

Chemical Kinetics

Surface Chemistry

Hydrogen and s-block elements

p- d- and f-block elements

Principles of Organic Chemistry and Hydrocarbons

Stereochemistry

Organic Compounds with Functional Groups Containing Oxygen and Nitrogen

Biological , Industrial and Environmental chemistry

Theoretical Principles of Experimental Chemistry

Mathematics

Algebra

Trigonometry

Two-dimensional Coordinate Geometry

Three dimensional Coordinate Geometry

Differential calculus

Integral calculus

Ordinary Differential Equations

Probability

Vectors

Statistics

Linear Programming

Mathematical modelling

Biology

Diversity in Living World

Cell: The Unit of Life; Structure and Function

Genetics and Evolution

Structure and Function – Plants

Structure and Function - Animal

Reproduction, Growth and Movement in Plants

Reproduction and Development in Humans

Ecology and Environment

Biology and Human Welfare

Biotechnology and its Applications

English Language

Grammar

Vocabulary

Reading Comprehension

Composition

Logical Reasoning

Verbal Reasoning

Nonverbal Reasoning
What are the best books for BITSAT 2021?
Candidates are advised to refer to good materials while preparing for the upcoming entrance examination. The books should have concise explanations, illustrations and simple language. By using good reference materials, the candidates will be able to boost preparation for their exams.
BITSAT 2021 Best Books for Preparation
Subjects

Books

Physics

Concepts of Physics by H.C. Verma Vol I and Vol II

Problems in General Physics by I.E. Irodov

Arihant Physics by D.C. Pandey

Advanced Level Physics by Nelson and Parker

Fundamentals of Physics Resnick, Halliday, Walker




Chemistry

Atkins Physical Chemistry

Physical Chemistry by N. Awasthi

Organic Chemistry by Paula Bruice Yurkanis

Organic Chemistry by M.S. Chauhan

Inorganic Chemistry by J.D. Lee

Inorganic Chemistry by O.P. Tandon




Mathematics

Higher Algebra by Hall Knight + Bernard -Child

Differential Calculus by Arihant

Integral Calculus by Arihant

Problems in Calculus in One Variable Algebra by I.A. Maron

Class XI and XII R.D. Sharma

English Language and Logical Reasoning

BITSAT English Proficiency and Logical Reasoning by Disha Experts

Pearson Complete guide to the BITSAT (English) by One Learn Education

Wren and Martin ( For English)
Preparation Tips for BITSAT 2021
While preparing for the upcoming entrance examination, the candidates can follow the given tips:
Firstly, the candidates will have to check and be familiar with the official exam pattern of BITSAT 2021. This will allow the candidates to know how the entrance examination will be conducted. Along with the exam pattern, the candidates are also advised to refer to BITSAT 2021 syllabus.

A proper study schedule should be created by the candidates as per their aptitude.

The books for reference should be wisely selected by the candidates.

Revision should be done on a regular basis.

Mock tests of BITSAT 2021 along with sample papers should be attempted. Mistakes should be taken note of and corrected.

Candidates should take required breaks and stay healthy.
This article has been written as per last year's information. Updated details will be available here as soon as it is released by the authorities.
Questions related to BITSAT
Showing 2842 out of 2842 Questions
Thank You!
Your BITSAT brochure has been successfully mailed to your registered email id .

You have been successfully subscribed for Exam Updates
Students also subscribe for these exams
Back to top
The question have been saved in answer later, you can access it from your profile anytime.
Access now
Report Question
Select your reason of reporting