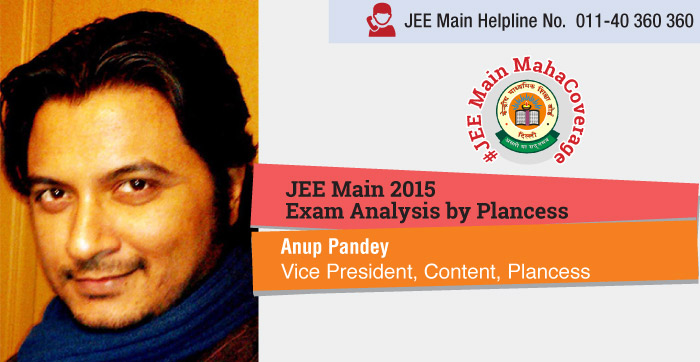 JEE Main 2015 Paper 1 exam has been conducted on Saturday, April 4, 2015 in the paper pencil based mode. Around 11 lakh candidates out of the total registrants of 13.04 lakh aspirants have appeared for the offline mode test. The test takers are keen to know the detailed analysis of the paper which is the gateway of B.Tech and B.E. courses at IIT, NITs, CFTIs and other top Engineering colleges.
Careers360 brings to you an exclusive interview with Anup Pandey, Vice President, Content, Plancess along with the inputs of other in house IITians, Nikhil Kumar, IIT Bombay (Computer Science Engineering) and Naveen Bhookya, IIT Bombay (Computer Science Engineering) on the JEE Main 2015 Analysis.
Click here to Know Which Engineering College and Branch you will get based on your Expected JEE main rank or call Exam Helpline at 011-40360360 to talk with Expert counselors.
Read the excerpts of the interview below:
Careers360: JEE Main 2015 offline mode of exam is over now. What is your overall analysis of the paper?
Anup Pandey: The JEE 2015 was moderate in terms of difficulty level as compared to the last year. More emphasis was on conceptual clarity and had a good mix of Theoretical and Numerical based questions across all the subjects.
Careers360: Please share a brief idea about the difficulty level of the exam?
Anup Pandey: The questions were of Moderate difficulty level. Many of the questions were conceptual, focusing primarily on the school curriculum - hence students who would have focused well in school would be able to do fairly well in the examination paper. 
Careers360: What is your take on difficulty level of questions featured in JEE Main 2015 question paper and topics from which maximum numbers of questions were covered?
Anup Pandey: As I said, the difficulty level of questions was not too high rather most of them were on the lower side. Some of the questions were little tricky in terms of conceptual clarity. So, students who laid more focus in conceptual foundation must have done well. In Chemistry, no topic as such had any majority in their number. The questions were asked across all the topics. Similar is the case for Mathematics and Physics.
Careers360: How many students from your coaching institute have opted for the JEE Main 2015 offline mode? What is their feedback on the exam?
Anup Pandey: More than 3000 students of Plancess have opted for JEE Main 2015 in offline mode. The overall feedback is quite pleasant in terms of their performance but as it happens, this might vary from individual to individual.
Careers360:  What is the expected cutoff for JEE Main 2015?
Anup Pandey: Looking at the feedback from our students and based on the paper analysis, our prediction is between 120- 125. However, this may change after we release complete paper analysis today.
Done with JEE Main exam? Predict your rank with JEE Main Rank Predictor.Click Here
Careers360:  Any special highlights of the exam you want to share with us?
Anup Pandey: Major highlights was the composition of question subject wise. Chemistry had more factual questions as compared to numerical based questions. So I assume this must have delighted the students. Physics was little tougher as it carried more numerical based question as compared to theoretical which were only 5.Maths didn't carry any surprise and was on the moderate side. 


 Also Read
JEE Main 2015 Exam Analysis- Paper 1

Stay tuned to engineering.careers360 for more news and updates on JEE Main 2015.
JEE Main Rank Predictor
Know your expected Rank
Use Now
Questions related to JEE Main
Related E-books and Sample Papers