JEE Main Exam Centres 2023 (Released) - City Allotment Link (Activated), Test Cities list
JEE Main Exam Centres 2023 - National Test Agency (NTA) has released the JEE Main 2023 exam city allotment at jeemain.nta.nic.in. Candidates looking for how to check my JEE Main exam centre have to use their application number and password to check the JEE Main exam centre allotment 2023. A direct link to check the JEE Main exam centre city allotment is available on this page. NTA has already released the list of JEE Main 2023 exam centres in the NTA JEE official brochure on the official website. Candidates can check exam centres of JEE Main 2023 from the official website jeemain.nta.nic.in. JEE Main 2023 exam for session 1 will be held on January 24, 25, 28, 29, 30, 31, and session 2 will be held on April 06, 08, 10, 11, and 12.
Latest: To check the JEE Main 2023 exam centre intimation, Click here.
Latest Updates for JEE Main
Stay up-to date with JEE Main News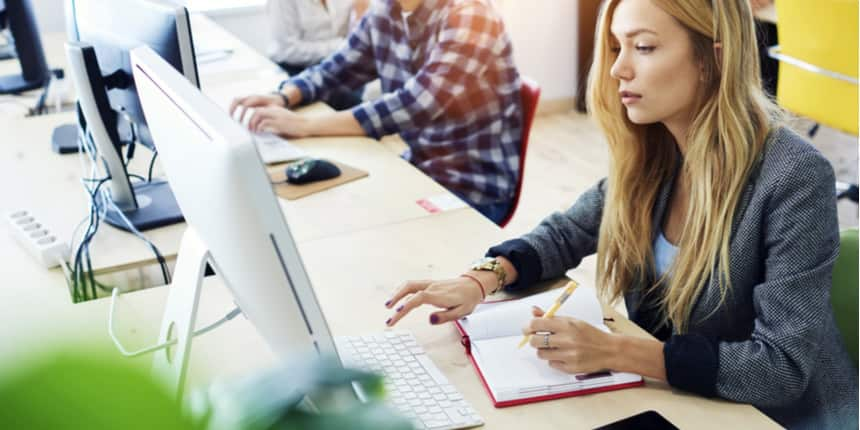 The exam conducting authorities released the JEE Main exam centres 2023 separately for the candidates in India and abroad. The authorities will conduct the JEE Main 2023 at approximately 424 exam centres throughout the country including 25 Cities outside India. exam conducting authority, NTA will conduct JEE Main 2023 in around 424 exam centres. At the time of filling out the application form, candidates had to provide the JEE Main 2023 exam centres preference. The exam centres of JEE Main 2023 has been allotted to candidates as per the preference filled in the application form. Candidates can check all details related to the JEE Main centre allotment 2023 from the JEE Main admit card 2023. For more details about exam centres of JEE Main 2023, candidates can read the article given below.
People also searched for:
NTA JEE Main 2023 Exam Centres Highlights
Particular

Details

Total number of JEE Main Exam Cities in India

399

Total number of JEE Main Exam Cities Outside India

25

Total number of JEE Main Exam Centres 2023 for Paper 1

517

Total number of JEE Main 2023 Exam Centres for Paper 2

345 for B.Arch

327 for B.Plan
JEE Main Exam Centres 2023 - State-wise Complete List
Candidates appearing for the exam must check the JEE Main 2023 exam centres. The exam centres of JEE Main 2023 comprises cities and states where the exam is scheduled to be conducted. For more details, candidates can check the table given below.
State-wise JEE Main 2023 Exam Centres
S. No.
State
District
City
City Code
1
Andaman & Nicobar
Islands (UT)
South Andaman
Port Blair
AN01
2
Andhra Pradesh
Guntur
Amaravathi
AP24
3
Andhra Pradesh
Anantapur
Anantapur
AP01
4
Andhra Pradesh
West Godavari
Bhimavaram
AP03
5
Andhra Pradesh
Prakasam
Chirala
AP04
6
Andhra Pradesh
Chittoor
Chittoor
AP05
7
Andhra Pradesh
West Godavari
Eluru
AP06
8
Andhra Pradesh
Nellore
Gudur
AP26
9
Andhra Pradesh
Guntur
Guntur
AP07
10
Andhra Pradesh
Ysr Kadapa
Kadapa
AP08
11
Andhra Pradesh
East Godavari
Kakinada
AP09
12
Andhra Pradesh
Kurnool
Kurnool
AP10
13
Andhra Pradesh
Machilipatnam
Machilipatnam
AP27
14
Andhra Pradesh
Mangalagiri
Mangalagiri
AP28
15
Andhra Pradesh
Kurnool
Nandyal
AP29
16
Andhra Pradesh
Guntur
Narasaraopet
AP20
17
Andhra Pradesh
Nellore
Nellore
AP11
18
Andhra Pradesh
Prakasam
Ongole
AP12
19
Andhra Pradesh
YSR Kadapa
Proddatur
AP21
20
Andhra Pradesh
East Godavari
Rajahmundry
AP13
21
Andhra Pradesh
Srikakulam
Srikakulam
AP14
22
Andhra Pradesh
East Godavari
Surampalem
AP23
23
Andhra Pradesh
West Godavari
Tadepalligudem
AP30
24
Andhra Pradesh
West Godavari
Tanuku
AP31
25
Andhra Pradesh
Chittoor
Tirupathi
AP16
26
Andhra Pradesh
Krishna
Vijayawada
AP17
27
Andhra Pradesh
Vishakapatnam
Visakhapatnam
AP18
28
Andhra Pradesh
Vizianagaram
Vizianagaram
AP19
29
Arunachal Pradesh
Papum Pare
Itanagar/Naharlagun
AL01
30
Assam
Kamrup Metropolitan
Guwahati
AM02
31
Assam
Jorhat
Jorhat
AM03
32
Assam
Cachar
Silchar(Assam)
AM04
33
Assam
Sonitpur
Tezpur
AM05
34
Bihar
Araria
Araria
BR21
35
Bihar
Bhojpur
Arrah
BR09
36
Bihar
Arwal
Arwal
BR22
37
Bihar
Aurangabad
Aurangabad(Bihar)
BR01
38
Bihar
Banka
Banka
BR23
39
Bihar
Begusarai
Begusarai
BR13
40
Bihar
West Champaran
Bettiah
BR20
41
Bihar
Kaimur
Bhabua
BR24
42
Bihar
Bhagalpur
Bhagalpur
BR02
43
Bihar
Darbhanga
Darbhanga
BR04
44
Bihar
Gaya
Gaya
BR05
45
Bihar
Gopalganj
Gopalganj
BR10
46
Bihar
Vaishali
Hajipur
BR26
47
Bihar
Jamui
Jamui
BR27
48
Bihar
Katihar
Katihar
BR29
49
Bihar
Khagaria
Khagaria
BR30
50
Bihar
Madhepura
Madhepura
BR32
51
Bihar
Madhubani
Madhubani
BR15
52
Bihar
East Champaran
Motihari
BR14
53
Bihar
Munger
Munger
BR33
54
Bihar
Muzaffarpur
Muzaffarpur
BR06
55
Bihar
Nalanda
Nalanda
BR11
56
Bihar
Patna
Patna
BR07
57
Bihar
Purnea
Purnea
BR08
58
Bihar
Samastipur
Samastipur
BR12
59
Bihar
Rohtas
Sasaram
BR17
60
Bihar
Sitamarhi
Sitamarhi
BR18
61
Bihar
Siwan
Siwan
BR19
62
Bihar
Supaul
Supaul
BR36
63
Bihar
Vaishali
Vaishali
BR37
64
Chandigarh (UT)
Chandigarh
Chandigarh/Mohali/Panchkula
CH01
65
Chhattisgarh
Sarguja
Ambikapur
CG04
66
Chhattisgarh
Durg
Bhilai Nagar/Durg
CG01
67
Chhattisgarh
Bilaspur
Bilaspur(Chhattisgarh)
CG02
68
Chhattisgarh
Bastar
Jagdalpur
CG08
69
Chhattisgarh
Korba
Korba
CG10
70
Chhattisgarh
Raipur
Raipur
CG03
71
Dadra & Nagar Haveli (UT)
Dadra & Nagar Haveli
Silvassa
DN01
72
Daman & Diu (UT)
Daman
Daman
DD01
73
Daman & Diu (UT)
Diu
Diu
DD02
74
Delhi
Delhi
Delhi/New Delhi
DL01
75
Goa
North Goa
Ponda
GO02
76
Gujarat
Ahmedabad
Ahmedabad/Gandhinagar
GJ01
77
Gujarat
Amreli
Amreli
GJ18
78
Gujarat
Vallabhvidyanagar
Anand
GJ02
79
Gujarat
Banaskantha
Banaskantha
GJ19
80
Gujarat
Bhavnagar
Bhavnagar
GJ03
81
Gujarat
Gandhidham
Gandhidham
GJ22
82
Gujarat
Panchmahal
Godhra
GJ24
83
Gujarat
Sabarkantha
Himatnagar
GJ14
84
Gujarat
Jamnagar
Jamnagar
GJ06
85
Gujarat
Junagadh
Junagadh
GJ07
86
Gujarat
Navsari
Navsari
GJ15
87
Gujarat
Porbandar
Porbandar
GJ29
88
Gujarat
Rajkot
Rajkot
GJ10
89
Gujarat
Surat
Surat
GJ11
90
Gujarat
Surendranagar
Surendranagar
GJ30
91
Gujarat
Vadodara
Vadodara
GJ12
92
Gujarat
Valsad/Vapi
Valsad/Vapi
GJ13
93
Haryana
Ambala
Ambala
HR01
94
Haryana
Faridabad
Faridabad
HR03
95
Haryana
Gurugram
Gurugram
HR04
96
Haryana
Kurukshetra
Kurukshetra
HR07
97
Himachal Pradesh
Chamba
Chamba
HP12
98
Himachal Pradesh
Hamirpur
Hamirpur (HP)
HP03
99
Himachal Pradesh
Kullu
Kullu
HP10
100
Himachal Pradesh
Mandi
Mandi
HP08
101
Himachal Pradesh
Shimla
Shimla
HP06
102
Himachal Pradesh
Sirmaur
Sirmaur
HP11
103
Himachal Pradesh
Una
Una
HP09
104
Jammu & Kashmir
Anantnag
Anantnag
JK05
105
Jammu & Kashmir
Baramulla
Baramulla
JK01
106
Jammu & Kashmir
Jammu
Jammu
JK02
107
Jammu & Kashmir
Pulwama
Pulwama
JK06
108
Jammu & Kashmir
Srinagar
Srinagar (J & K)
JK04
109
Jammu & Kashmir
Udhampur
Udhampur
JK10
110
Jharkhand
Bokaro Steel City
Bokaro
JH01
111
Jharkhand
West Singhbhum
Chaibasa
JH08
112
Jharkhand
Deoghar
Deoghar (Jharkhand)
JH10
113
Jharkhand
Dhanbad
Dhanbad
JH02
114
Jharkhand
Dumka
Dumka
JH11
115
Jharkhand
Hazaribagh
Hazaribagh
JH05
116
Jharkhand
East Singhbhum
Jamshedpur
JH03
117
Jharkhand
Koderma
Koderma
JH14
118
Jharkhand
Ranchi
Ranchi
JH04
119
Karnataka
Bagalkot
Bagalkot
KK19
120
Karnataka
Ballari
Ballari
KK03
121
Karnataka
Belagavi
Belagavi(Belgaum)
KK02
122
Karnataka
Bengaluru- Rural
Bengaluru
KK04
123
Karnataka
Bengaluru- Urban
Bengaluru- Urban
KK20
124
Karnataka
Bidar
Bidar
KK05
125
Karnataka
Chamarajnagar
Chamarajnagar
KK21
126
Karnataka
Chikaballapur
Chikaballapur
KK22
127
Karnataka
Chikmagalur
Chikmagalur
KK23
128
Karnataka
Chitradurga
Chitradurga
KK24
129
Karnataka
Davangere
Davangere
KK06
130
Karnataka
Dharwad/Hubli
Dharwad
KK10
131
Karnataka
Gadag
Gadag
KK25
132
Karnataka
Kalaburagi
Gulbarga/Kalaburgi
KK08
133
Karnataka
Hassan
Hassan
KK09
134
Karnataka
Haveri District
Haveri
KK26
135
Karnataka
Hubli
Hubli
KK27
136
Karnataka
Uttara Kannada
Karwar
KK28
137
Karnataka
Kodagu
Kodagu
KK29
138
Karnataka
Kolar
Kolar
KK30
139
Karnataka
Mandya
Mandya
KK18
140
Karnataka
Dakshina Kannada
Mangaluru (Mangalore)
KK12
141
Karnataka
Mysore
Mysuru (Mysore)
KK14
142
Karnataka
Raichur
Raichur
KK32
143
Karnataka
Ramanagara
Ramanagara
KK33
144
Karnataka
Shimoga
Shivamoga (Shimoga)
KK15
145
Karnataka
Tumkur
Tumakuru
KK16
146
Karnataka
Udupi
Udupi/Manipal
KK17
147
Karnataka
Yadgir
Yadgir
KK35
148
Kerala
Alappuzha
Alappuzha/Chengannur
KL01
149
Kerala
Angamaly
Angamaly
KL20
150
Kerala
Ernakulam
Ernakulam/Moovattupuzha
KL04
151
Kerala
Idukki
Idukki
KL05
152
Kerala
Kannur
Kannur
KL07
153
Kerala
Kasaragod
Kasaragod
KL08
154
Kerala
Kollam
Kollam
KL09
155
Kerala
Kottayam
Kottayam
KL11
156
Kerala
Kozhikode
Kozhikode/Calicut
KL12
157
Kerala
Malappuram
Malappuram
KL13
158
Kerala
Palakkad
Palakkad
KL15
159
Kerala
Pathanamthitta
Pathanamthitta
KL16
160
Kerala
Kannur
Piyyannur
KL21
161
Kerala
Thiruvananthapuram
Thiruvananthapuram
KL17
162
Kerala
Thrissur
Thrissur
KL18
163
Kerala
Wayanad
Wayanad
KL19
164
Lakshadweep
Kavaratti
Kavaratti
LD01
165
Leh & Ladakh
Leh
Leh
LL01
166
Madhya Pradesh
Ashok Nagar
Ashok Nagar
MP21
167
Madhya Pradesh
Balaghat
Balaghat
MP01
168
Madhya Pradesh
Betul
Betul
MP02
169
Madhya Pradesh
Bhind
Bhind
MP23
170
Madhya Pradesh
Bhopal
Bhopal
MP03
171
Madhya Pradesh
Chhatarpur
Chhatarpur
MP24
172
Madhya Pradesh
Chhindwara
Chhindwara
MP05
173
Madhya Pradesh
Damoh
Damoh
MP25
174
Madhya Pradesh
Datia
Datia
MP26
175
Madhya Pradesh
Dewas
Dewas
MP19
176
Madhya Pradesh
Gwalior
Gwalior
MP06
177
Madhya Pradesh
Hoshangabad
Hoshangabad
MP17
178
Madhya Pradesh
Indore
Indore
MP07
179
Madhya Pradesh
Jabalpur
Jabalpur
MP08
180
Madhya Pradesh
Khandwa
Khandwa
MP29
181
Madhya Pradesh
Khargone (West Nimar)
Khargone (West Nimar)
MP18
182
Madhya Pradesh
Morena
Morena
MP31
183
Madhya Pradesh
Neemuch
Neemuch
MP32
184
Madhya Pradesh
Ratlam
Ratlam
MP33
185
Madhya Pradesh
Rewa
Rewa
MP11
186
Madhya Pradesh
Sagar
Sagar
MP12
187
Madhya Pradesh
Satna
Satna
MP13
188
Madhya Pradesh
Ujjain
Ujjain
MP15
189
Madhya Pradesh
Vidisha
Vidisha
MP20
190
Maharashtra
Ahmednagar
Ahmednagar
MR01
191
Maharashtra
Akola
Akola
MR02
192
Maharashtra
Amravati
Amravati
MR03
193
Maharashtra
Aurangabad
Aurangabad (MH)
MR04
194
Maharashtra
Beed
Beed
MR30
195
Maharashtra
Bhandara
Bhandara
MR31
196
Maharashtra
Buldhana
Buldhana
MR32
197
Maharashtra
Chandrapur
Chandrapur
MR09
198
Maharashtra
Dhule
Dhule
MR10
199
Maharashtra
Gondia
Gondia
MR35
200
Maharashtra
Jalgaon
Jalgaon
MR13
201
Maharashtra
Kolhapur
Kolhapur
MR14
202
Maharashtra
Latur
Latur
MR15
203
Maharashtra
Mumbai City
Mumbai/Navi Mumbai
MR16
204
Maharashtra
Nagpur
Nagpur
MR17
205
Maharashtra
Nanded
Nanded
MR18
206
Maharashtra
Nandurbar
Nandurbar
MR36
207
Maharashtra
Nashik
Nashik
MR19
208
Maharashtra
Osmanabad
Osmanabad
MR37
209
Maharashtra
Palghar
Palghar
MR33
210
Maharashtra
Parbhani
Parbhani
MR38
211
Maharashtra
Pune
Pune
MR22
212
Maharashtra
Raigad
Raigad
MR23
213
Maharashtra
Ratnagiri
Ratnagiri
MR24
214
Maharashtra
Sangli
Sangli
MR25
215
Maharashtra
Satara
Satara
MR26
216
Maharashtra
Sindhudurg
Sindhudurg
MR39
217
Maharashtra
Solapur
Solapur
MR27
218
Maharashtra
Thane
Thane
MR28
219
Maharashtra
Wardha
Wardha
MR29
220
Maharashtra
Yavatmal
Yavatmal
MR34
221
Manipur
Imphal
Imphal
MN01
222
Meghalaya
Shillong
Shillong
MG01
223
Mizoram
Aizawl
Aizawl
MZ01
224
Nagaland
Dimapur
Dimapur
NL01
225
Nagaland
Kohima
Kohima
NL02
226
Odisha
Angul
Angul
OR10
227
Odisha
Balangir
Balangir
OR20
228
Odisha
Balasore
Balasore (Baleswar)
OR02
229
Odisha
Baragarh
Baragarh
OR21
230
Odisha
Mayurbanj
Baripada/Mayurbanj
OR12
231
Odisha
Ganjam
Berhampur / Ganjam
OR03
232
Odisha
Bhadrak
Bhadrak
OR11
233
Odisha
Khordha
Bhubaneswar
OR04
234
Odisha
Cuttack
Cuttack
OR05
235
Odisha
Dhenkanal
Dhenkanal
OR06
236
Odisha
Jagatsinghpur
Jagatsinghpur
OR17
237
Odisha
Jajpur
Jajpur
OR13
238
Odisha
Koraput
Jeypore(Odisha)
OR19
239
Odisha
Jharsuguda
Jharsuguda
OR22
240
Odisha
Kendrapara
Kendrapara
OR14
241
Odisha
Kendujhar (Keonjhar)
Kendujhar (Keonjhar)
OR15
242
Odisha
Malkangiri
Malkangiri
OR23
243
Odisha
Paralakhemundi (Gajapati)
Paralakhemundi (Gajapati)
OR24
244
Odisha
Phulbani (Kandhamal)
Phulbani (Kandhamal)
OR25
245
Odisha
Puri
Puri
OR16
246
Odisha
Rayagada
Rayagada
OR26
247
Odisha
Sundergarh
Rourkela
OR08
248
Odisha
Sambalpur
Sambalpur
OR09
249
Puducherry
Puducherry
Karaikal
PO02
250
Puducherry
Puducherry
Puducherry
PO01
251
Punjab
Amritsar
Amritsar
PB01
252
Punjab
Bhatinda
Bhatinda
PB02
253
Punjab
Fazilka
Fazilka
PB15
254
Punjab
Firozpur
Firozpur
PB16
255
Punjab
Hoshiarpur
Hoshiarpur
PB13
256
Punjab
Jalandhar
Jalandhar
PB04
257
Punjab
Ludhiana
Ludhiana
PB05
258
Punjab
Pathankot
Pathankot
PB07
259
Punjab
Patiala
Patiala/Fatehgarh Sahib
PB08
260
Punjab
Rupnagar
Rupnagar
PB18
261
Punjab
Sahibzada Ajit Singh Nagar
Sahibzada Ajit Singh Nagar
PB12
262
Punjab
Sri Muktsar Sahib
Sri Muktsar Sahib
PB19
263
Rajasthan
Ajmer
Ajmer
RJ01
264
Rajasthan
Alwar
Alwar
RJ02
265
Rajasthan
Barmer
Barmer
RJ19
266
Rajasthan
Bharatpur
Bharatpur
RJ16
267
Rajasthan
Bhilwara
Bhilwara
RJ12
268
Rajasthan
Bikaner
Bikaner
RJ05
269
Rajasthan
Chittorgarh
Chittorgarh
RJ20
270
Rajasthan
Dausa
Dausa
RJ17
271
Rajasthan
Hanumangarh
Hanumangarh
RJ23
272
Rajasthan
Jaipur
Jaipur
RJ06
273
Rajasthan
Jhunjhunu
Jhunjhunu
RJ13
274
Rajasthan
Jodhpur
Jodhpur
RJ07
275
Rajasthan
Kota
Kota
RJ08
276
Rajasthan
Sikar
Sikar
RJ09
277
Rajasthan
Sirohi
Sirohi
RJ26
278
Rajasthan
Sriganganagar
Sriganganagar
RJ10
279
Rajasthan
Udaipur
Udaipur
RJ11
280
Sikkim
Gangtok
Gangtok
SM01
281
Tamil Nadu
Ariyalur
Ariyalur
TN24
282
Tamil Nadu
Chengalpet
Chengalpet
TN25
283
Tamil Nadu
Chennai
Chennai
TN01
284
Tamil Nadu
Coimbatore
Coimbatore
TN02
285
Tamil Nadu
Cuddalore
Cuddalore
TN03
286
Tamil Nadu
Dharmapuri
Dharmapuri
TN26
287
Tamil Nadu
Dindigul
Dindigul
TN27
288
Tamil Nadu
Erode
Erode
TN28
289
Tamil Nadu
Kanchipuram
Kanchipuram
TN05
290
Tamil Nadu
Kanyakumari
Kanyakumari/Nagercoil
TN06
291
Tamil Nadu
Karur
Karur
TN29
292
Tamil Nadu
Krishnagiri
Krishnagiri
TN21
293
Tamil Nadu
Madurai
Madurai
TN08
294
Tamil Nadu
Nagapattinam
Nagapattinam
TN30
295
Tamil Nadu
Namakkal
Namakkal
TN10
296
Tamil Nadu
Pudukkottai
Pudukkottai
TN31
297
Tamil Nadu
Ramanathapuram
Ramanathapuram
TN32
298
Tamil Nadu
Salem
Salem
TN11
299
Tamil Nadu
Sivaganga
Sivaganga
TN33
300
Tamil Nadu
Thanjavur
Thanjavur
TN12
301
Tamil Nadu
Thiruvallur
Thiruvallur
TN34
302
Tamil Nadu
Thoothukudi
Thoothukudi
TN13
303
Tamil Nadu
Tiruchirappalli
Tiruchirappalli
TN14
304
Tamil Nadu
Tirunelveli
Tirunelveli
TN15
305
Tamil Nadu
Tirupur
Tiruppur
TN22
306
Tamil Nadu
Tiruvannamalai
Tiruvannamalai
TN35
307
Tamil Nadu
Nilgiris
Udhagamandalam
TN36
308
Tamil Nadu
Vellore
Vellore
TN18
309
Tamil Nadu
Villupuram
Viluppuram
TN23
310
Tamil Nadu
Virudhanagar
Virudhunagar
TN20
311
Telangana
Hayathnagar
Hayathnagar
TL14
312
Telangana
Ranga Reddy
Hyderabad/Secunderabad
TL01
313
Telangana
Jagtial
Jagtial
TL15
314
Telangana
Jangaon
Jangaon
TL16
315
Telangana
Karimnagar
Karimnagar
TL02
316
Telangana
Khammam
Khammam
TL03
317
Telangana
Bhadradri Kothagudem
Kothagudem
TL17
318
Telangana
Mahabubabad
Mahabubabad
TL10
319
Telangana
Mahbubnagar
Mahbubnagar
TL04
320
Telangana
Medak
Medak
TL19
321
Telangana
Medchal
Medchal
TL20
322
Telangana
Nalgonda
Nalgonda
TL05
323
Telangana
Nizamabad
Nizamabad
TL08
324
Telangana
Sangareddy
Sangareddy
TL21
325
Telangana
Siddipet
Siddipet
TL11
326
Telangana
Suryapet
Suryapet
TL09
327
Telangana
Warangal(Rural)
Warangal
TL07
328
Tripura
West Tripura
Agartala
TA01
329
Uttar Pradesh
Agra
Agra
UP01
330
Uttar Pradesh
Aligarh
Aligarh
UP02
331
Uttar Pradesh
Prayagraj
Allahabad/Prayagraj
UP03
332
Uttar Pradesh
Ambedkar Nagar
Ambedkar Nagar
UP25
333
Uttar Pradesh
Azamgarh
Azamgarh
UP19
334
Uttar Pradesh
Bahraich
Bahraich
UP47
335
Uttar Pradesh
Ballia
Ballia
UP20
336
Uttar Pradesh
Banda
Banda
UP26
337
Uttar Pradesh
Barabanki
Barabanki
UP27
338
Uttar Pradesh
Bareilly
Bareilly
UP04
339
Uttar Pradesh
Bijnor
Bijnor
UP21
340
Uttar Pradesh
Bulandshahr
Bulandshahr
UP29
341
Uttar Pradesh
Chandauli
Chandauli
UP41
342
Uttar Pradesh
Ayodhya
Faizabad
UP06
343
Uttar Pradesh
Fatehpur
Fatehpur
UP49
344
Uttar Pradesh
Firozabad
Firozabad
UP22
345
Uttar Pradesh
Ghaziabad
Ghaziabad
UP07
346
Uttar Pradesh
Ghazipur
Ghazipur
UP23
347
Uttar Pradesh
Gorakhpur
Gorakhpur
UP08
348
Uttar Pradesh
Hapur (Panchsheel Nagar)
Hapur (Panchsheel Nagar)
UP51
349
Uttar Pradesh
Hathras
Hathras
UP53
350
Uttar Pradesh
Jaunpur
Jaunpur
UP24
351
Uttar Pradesh
Jhansi
Jhansi
UP10
352
Uttar Pradesh
Kanpur Rural
Kanpur
UP11
353
Uttar Pradesh
Kaushambi
Kaushambi
UP54
354
Uttar Pradesh
Lucknow
Lucknow
UP12
355
Uttar Pradesh
Mathura
Mathura
UP13
356
Uttar Pradesh
Mau
Mau
UP35
357
Uttar Pradesh
Meerut
Meerut
UP14
358
Uttar Pradesh
Moradabad
Moradabad
UP15
359
Uttar Pradesh
Muzaffarnagar
Muzaffarnagar
UP16
360
Uttar Pradesh
Siddharthnagar
Naugarh
UP57
361
Uttar Pradesh
Gautam Buddha Nagar
Noida/Greater Noida
UP09
362
Uttar Pradesh
Pratapgarh
Pratapgarh
UP43
363
Uttar Pradesh
Raebareli
Raebareli
UP37
364
Uttar Pradesh
Rampur
Rampur
UP58
365
Uttar Pradesh
Saharanpur
Saharanpur
UP38
366
Uttar Pradesh
Sitapur
Sitapur
UP17
367
Uttar Pradesh
Sonbhadra
Sonbhadra
UP42
368
Uttar Pradesh
Sultanpur
Sultanpur
UP40
369
Uttar Pradesh
Unnao
Unnao
UP59
370
Uttar Pradesh
Varanasi
Varanasi
UP18
371
Uttarakhand
Almora
Almora
UK09
372
Uttarakhand
Dehradun
Dehradun
UK01
373
Uttarakhand
Haldwani
Haldwani
UK02
374
Uttarakhand
Haridwar
Haridwar
UK03
375
Uttarakhand
Nainital
Nainital
UK04
376
Uttarakhand
Tehri Garhwal
New Tehri
UK10
377
Uttarakhand
Pantnagar
Pantnagar
UK05
378
Uttarakhand
Pauri Garhwal
Pauri Garhwal
UK08
379
Uttarakhand
Roorkee
Roorkee
UK06
380
Uttarakhand
Udham Singh Nagar
Udham Singh Nagar
UK07
381
West Bengal
Paschim Bardhaman
Asansol
WB01
382
West Bengal
Bankura
Bankura
WB16
383
West Bengal
Purba Bardhaman
Burdwan(Bardhaman)
WB02
384
West Bengal
Darjeeling
Darjeeling
WB18
385
West Bengal
Durgapur
Durgapur
WB04
386
West Bengal
Hooghly
Hooghly
WB06
387
West Bengal
Howrah
Howrah
WB07
388
West Bengal
Jalpaiguri
Jalpaiguri
WB19
389
West Bengal
Nadia
Kalyani
WB08
390
West Bengal
Kolkata
Kolkata
WB10
391
West Bengal
Malda
Malda
WB20
392
West Bengal
Murshidabad
Murshidabad
WB21
393
West Bengal
Cooch Behar
Nadia
WB17
394
West Bengal
North 24 Parganas
North 24 Parganas
WB12
395
West Bengal
Paschim Medinipur
Paschim Medinipur
WB13
396
West Bengal
Purba Medinipur
Purba Medinipur
WB14
397
West Bengal
Siliguri
Siliguri
WB11
398
West Bengal
South 24 Parganas
South 24 Parganas
WB15
399
West Bengal
Birbhum
Suri
WB22
400
Out-Side India
Bahrain
Manama
ZZ01
401
Out-Side India
Sri Lanka
Colombo
ZZ02
402
Out-Side India
Qatar
Doha
ZZ03
403
Out-Side India
UAE
Dubai
ZZ04
404
Out-Side India
Nepal
Kathmandu
ZZ05
405
Out-Side India
Oman
Muscat
ZZ06
406
Out-Side India
Saudi Arabia
Riyadh
ZZ07
407
Out-Side India
UAE
Sharjah
ZZ08
408
Out-Side India
Singapore
Singapore
ZZ09
419
Out-Side India
Kuwait
Kuwait City
ZZ10
410
Out-Side India
Malaysia
Kuala Lumpur
ZZ11
411
Out-Side India
Nigeria
Lagos/Abuja
ZZ12
412
Out-Side India
Indonesia
Jakarta
ZZ13
413
Out-Side India
Australia
Canberra
ZZ14
414
Out-Side India
Austria
Vienna
ZZ15
415
Out-Side India
Brazil
Brasilia
ZZ16
416
Out-Side India
Canada
Ottawa
ZZ17
417
Out-Side India
China
Beijing
ZZ18
418
Out-Side India
Hong Kong
Hong Kong
ZZ19
419
Out-Side India
Mauritius
Port Luis
ZZ20
420
Out-Side India
Russia
Moscow
ZZ21
421
Out-Side India
South Africa
Cape Town
ZZ22
422
Out-Side India
Thailand
Bangkok
ZZ23
423
Out-Side India
USA
Washington D.C.
ZZ24
424
Out-Side India
Vietnam
Hanoi
ZZ25
Engineering Colleges in India Accepting JEE Main
JEE Main Exam Centres 2023 - Outside India
| | | |
| --- | --- | --- |
| S.No | City | Code |
| 1 | MANAMA | ZZ01 |
| 2 | COLOMBO | ZZ02 |
| 3 | DOHA | ZZ03 |
| 4 | DUBAI | ZZ04 |
| 5 | JAKARTA | ZZ13 |
| 6 | KATHMANDU | ZZ05 |
| 7 | KUALA LUMPUR | ZZ11 |
| 8 | KUWAIT CITY | ZZ10 |
| 9 | LAGOS / Abuja | ZZ12 |
| 10 | MUSCAT | ZZ06 |
| 11 | RIYADH | ZZ07 |
| 12 | SHARJAH | ZZ08 |
| 13 | SINGAPORE | ZZ09 |
| 14 | Canberra | ZZ14 |
| 15 | Vienna | ZZ15 |
| 16 | Brasilia | ZZ16 |
| 17 | Ottawa | ZZ17 |
| 18 | Beijing | ZZ18 |
| 19 | Hong Kong | ZZ19 |
| 20 | Port Luis | ZZ20 |
| 21 | Moscow | ZZ21 |
| 22 | Cape Town | ZZ22 |
| 23 | Bangkok | ZZ23 |
| 24 | Washington D.C. | ZZ24 |
| 25 | Hanoi | ZZ25 |
Can I Apply for Change in JEE Main 2023 Exam Centres?
Candidates were allowed to make changes in their exam centre of JEE Main 2023 through candidate login. NTA had opened the correction window after the conclusion of the application process.
JEE Main Exam Centres 2023 - Exam Day Guidelines
Candidates must reach the exam centre 60 minutes before the commencement of the exam.

Applicants are advised to reach the JEE Main 2023 exam centres as per their slot to avoid overcrowding.

Do not leave the exam centres of JEE Main 2023 without permission from the invigilator.

Do not carry any item restricted at JEE Main examination centre.

Candidates must follow all the COVID-19 guidelines at the JEE Main 2023 exam centre as issued by NTA.
Frequently Asked Question (FAQs) - JEE Main Exam Centres 2023 (Released) - City Allotment Link (Activated), Test Cities list
Question: What is the JEE Main exam date 2023?
Answer:
The exam conducting authority has released the JEE Main 2023 exam date at the official website. The JEE Mains 2023 January session will be conducted from January 24, 25, 28, 29, 30, 31 and JEE Mains 2023 April session will be conducted on April 6, 8, 10, 11, 12.
Question: How to complete JEE Main slot booking 2023?
Answer:
Applicants was allowed to complete the JEE main 2023 slot booking from the official website - jeemain.nta.nic.in from January 13 to 14, 2023.
Question: How to check the JEE Main 2023 exam centre?
Answer:
Applicants can check the JEE Main 2023 exam centre from the JEE Mains city intimation from the official website.
Question: How to change JEE Main exam centre 2023?
Answer:
Candidates were allowed to change the JEE Main 2023 exam centre after the conclusion of the application process. Candidates were allowed to make changes in JEE Main exam centre through "Query Redressal" facility.
Questions related to JEE Main
Showing 115674 out of 115674 Questions