JEE Main 2024 Exam Day Guidelines - NTA will release the JEE Main exam day guidelines 2024 at jeemain.nta.nic.in. The JEE Main exam instructions are announced along with the release of the IIT JEE Main admit card. Applicants appearing for the NTA JEE paper are advised to follow all the JEE Main 2024 exam day instructions and COVID-19 protocols at the exam centre. Candidates are required to carry their JEE Main 2024 admit card along with a valid photo ID proof and self-declaration form at the exam centre. Knowing the various JEE Main exam guidelines is important as it enables candidates to avoid mistakes unwillingly.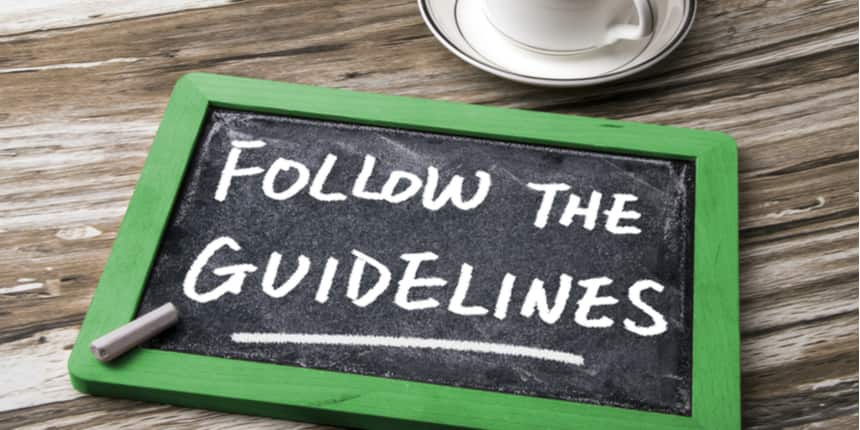 JEE Main 2024 Exam Day Guidelines - Check JEE Mains Instructions
Careers360 brings all the relevant JEE Main 2024 exam day guidelines to allow candidates more clarity about D-Day and the knowledge of what to carry, what not to carry, dos and don'ts, information related to the question paper, reporting time, and much more. JEE Main exam 2024 will be conducted in two sessions for all engineering aspirants. Going through JEE Main exam day guidelines 2024 will ensure a smooth process during the exam. Read the full article to check the JEE Main 2024 exam guidelines.
JEE Main Exam Day Guidelines - COVID-19 specific instructions
JEE Main Exam Instructions: Check IIT JEE Main exam timings
| | | |
| --- | --- | --- |
| Particular | First Shift | Second Shift |
| JEE Main 2024 exam time | To be notified | To be notified |
| Entry in the examination centre | To be notified | To be notified |
| JEE Main 2024 instructions given by the invigilator | To be notified | To be notified |
| Candidate login to read instructions | To be notified | To be notified |
| Commencement of JEE Main 2024 exam | To be notified | To be notified |
JEE Main 2024 Exam Day Guidelines
Mentioned below are the JEE Main exam day guidelines for D-Day which every candidate need to adhere to it:
Candidates are advised to reach the venue in accordance with the reporting time mentioned in JEE Main 2024 hall ticket
No candidates will be allowed entry into JEE Main 2024 exam centre after gate closing time and candidates will not be allowed to leave the exam centre premises before the exam concludes.
Candidates wearing any special attire due to religious reasons are advised to reach the exam centres earlier in order to undergo thorough checking and mandatory frisking.
The candidate must carry admit card of JEE Main 2024 along with all the documents to carry for JEE Mains to the exam centre. A candidate who does not possess the NTA JEE Mains hall ticket 2024 will not be permitted for the examination under any circumstances by the Centre Superintendent.
Before reaching the JEE Main exam centres, candidates have to duly fill out the self-declaration form, paste their passport-sized photograph, and put the left-hand thumb impression in the space provided.
Candidates must follow the instructions strictly as instructed by the centre superintendent/invigilators.
Social distancing must be maintained by the candidates.
Candidates should take their seats immediately after the opening of the examination hall. They can log in and read instructions, before the commencement of the exam.
Pen/Pencil and blank paper of rough work will be provided in the examination hall. Candidates must write their name and roll number at the top of their sheet. This sheet needs to be returned to the invigilator before leaving the examination hall.
Candidates need to enter the required details in the attendance sheet, put signatures,s and paste photographs at the designated place.
Candidates need to ensure that their left thumb impression should be clear and not smudge on the attendance sheet.
Candidates claiming PwD reservation must carry a PwD certificate issued by the competent authority to the exam centre.

JEE Main 2024 COVID-19 Guidelines
Standard Operating Procedures for safety and maintaining the required standard for hygiene will be implemented before the start of the exam. The seating area including the monitor keyboard, mouse, webcam, desk, and chair will be sanitized. Moreover, all door handles, staircase railing, and lift buttons will be disinfected.
Candidates will have to maintain 6 feet from each other. Floor marks will be arranged outside the centre.
If the body temperature of a candidate is higher than COVID-19 norms, he or she will be required to take an exam in a separate room.
Candidates will be required to sign the attendance sheet only after sanitizing their hands.
Candidates will have to drop their JEE Main admit card and rough sheet in the box after displaying it to the invigilator.
Check the below image for complete information regarding JEE Main Covid guidelines: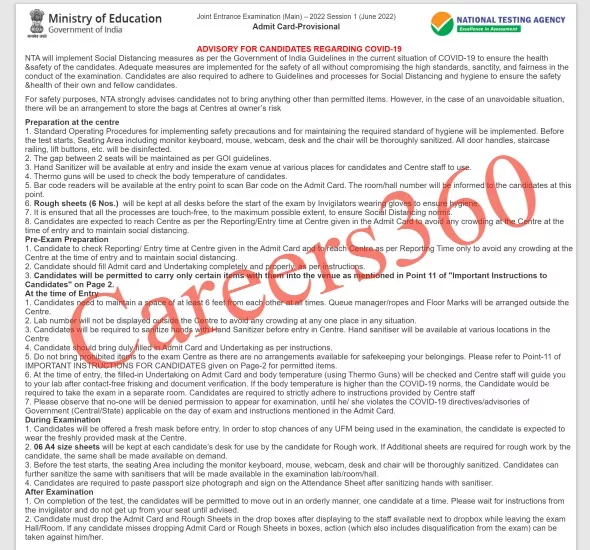 JEE Main Exam Guidelines 2024: What is the dress code for JEE Mains?
According to the notification, candidates with thick-soled shoes and clothes with large buttons will not be allowed to enter the examination centre. Jewellery and metal items will also not be allowed by the candidates. For more information read What is the dress code for JEE Main 2024.
JEE Main 2024 Exam Day Guidelines - Diabetic Candidates
For Diabetic candidates, authorities have allowed carrying eatables like sugar tablets/fruits (like banana/apple/ orange) and transparent water bottles. However, they are not allowed to carry packed foods like chocolate/candy/ sandwich into the examination hall.
Which items are prohibited at JEE Main exam centres?
According to JEE Main exam day guidelines, candidates are not allowed to carry any electronic devices such as mobile phones, calculators, slide rules, log tables, printed or written material, bits of papers, pager, or any other device. If any candidate is in possession of any of the above items, his/her candidature will be treated as unfair means and his/her current examination will be cancelled & he/she will also be debarred for future examination(s) & the equipment will be seized.
Code of Conduct for Candidates during JEE Main 2024
Candidates will maintain perfect silence. Any conversation or gesture or disturbance in the examination hall will be deemed as misbehavior. If a candidate is found using unfair means or impersonating his/her candidature shall be cancelled and he/she will be liable to be debarred for taking an examination either permanently or for a specified period according to the nature of the offense.
JEE Main 2024 Guidelines on Admit Card
Candidates must check their JEE Main 2024 admit card carefully for their Name, Paper, Date of Birth, Gender, Test Centre Name, City, State Code of Eligibility, and Category. In case they find any discrepancy, immediately communicate to JEE Main conducting authority.

In case candidates are unable to download the admit card they need to contact JEE Main authorities at 0120-6895200 or mail at jeemain@nta.ac.in.

JEE Main admit card 2024 will be issued provisionally to the candidate subject to his/her satisfying the eligibility conditions.

Along with the JEE Main admit card, candidates will have to carry the following items to the examination centre keeping regard with to the COVID-19 pandemic:

One original valid photo identity proof issued by the government (PAN card, Driving License, Voter ID, Passport, Aadhaar card with photograph, E-Aadhar, Ration Card, Aadhaar enrollment number with photo).
One passport-size photograph (same as uploaded with the online application form of JEE Main 2024). This photograph will be required to paste it on the attendance sheet at the centre.
Duly filled in self-declaration form (Undertaking) downloaded from the NTA Website.
A transparent Ball Point Pen.
Personal hand sanitizer (50 ml).
Personal transparent water bottle.
Mask and gloves
Sugar tablets/ whole fruits for candidates who are diabetic
5. For the drawing test (B.Arch paper part 3) - candidates have to bring their own geometry box, pencils, erasers, color pencils/ crayons.
Download JEE Main Guidelines pdf- Click Here
JEE Main Admit Card 2024 - Exam Day Guidelines