JEE Main Revision Plan - Subject- Wise, JEE Notes, Preparation Tips
JEE Main Revision Plan - Revision is the most important part of JEE Mains exam preparation. Students who are preparing for the exam must have a strategic revision plan for JEE Main to get the most out of the topics which have been studied. IIT JEE syllabus is vast and encompasses the class 11 and 12 topics from Physics, Chemistry and Mathematics.
Latest Updates for JEE Main
Stay up-to date with JEE Main News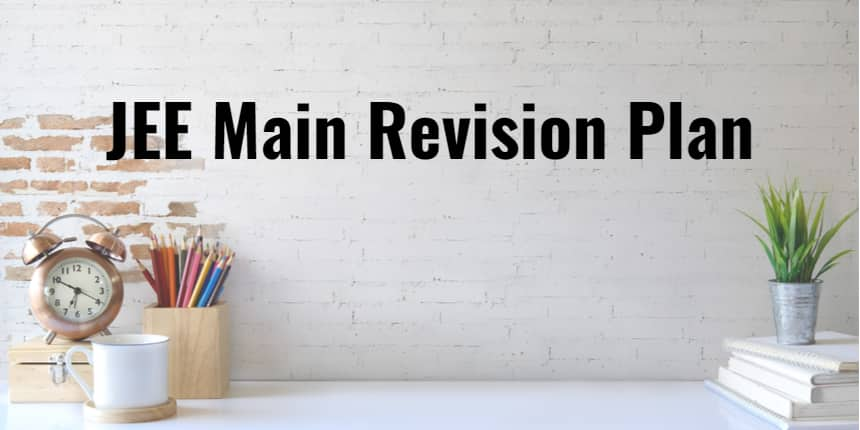 To complete the JEE Main revision for all the subjects, candidates must have a revision plan. As per the previous year JEE Main toppers, teachers, and experts from coaching, students must revise the topic on a daily basis before going to sleep or first thing in the morning before starting any new topic. Also, Sunday or any other holiday must be devoted to the revision of the JEE Main important topics and formulas. Students are advised to regularly practice the JEE Main mock test 2023 as and when the chapter is completed. This will help them in evaluating their preparation level, strong and weak points, mistakes they are making, time taken for solving the JEE Main question papers and much more. To help students preparing for the exam and prepare an effective JEE Mains revision plan, Careers360 interacted with Pramod Maheshwari, CMD of Career Point Group through a live webinar with students. Read more to know the suggestions by Pramod Maheshwari on JEE Main preparation and the JEE main revision plan.
JEE Main Revision Plan - Points to Look
Students must note that an effective revision plan for JEE Main must have proper time for all the subjects. Also, the quick revision plan of JEE Main must be such that every topic you study gets revised on a daily basis by the end of the day. Students who are dedicated and determined know how to crack JEE Main and know the importance of revision. If the topics are not revised, it could be difficult to recall it at the time of exam and if it happens, it would be very difficult to score good marks in the exam. Students can also study with JEE Main Time Table if not able to manage the timing of study. Students are provided below some important points to look for while making a revision plan of JEE Main.
Spend at least one hour for revision daily of all the topics which you study throughout the day.

Best time to revise is before going to sleep or in the morning before beginning the new topic

Holiday or Sunday must be a full revision day. Revise all the important topics, formulas on holiday

Take mock tests after completing a chapter to know the preparation level
JEE Main Revision Plan - Subject-wise
Students are provided here with the customized JEE Main study plan for all three subjects as suggested by the experts. Students are advised to strictly follow the revision plan to finalize their exam preparation and score good marks in the exam.
JEE Main Revision Plan for Physics
Physics is considered to be the toughest of all the three subjects asked in the exam. But, as per Pramod Maheshwari, a physics tutor himself who taught Physics for more than 27 years, it is a very easy subject. The only part which makes students feel it difficult is that they do not solve the numerical problems of physics which according to him, synthesizes the concepts and makes them easy to understand. It is thus highly recommended to study the theory part as well as solve the numerical problems to get good marks in JEE Main Physics. Here is a list of all the important points that should be considered while revising the Physics
Always study the concepts of the topics and never go with memorizing or rote learning

Solve numerical problems in abundance and that too of JEE Main level

Revise every chapter and topic in the end of day

Make a small one or two page note containing all the important topics of JEE Main Physics and revise them regularly

Purchase a book specifically for numerical problems in Physics
JEE Main Important Topics for Physics
Mechanics

Electrodynamics

Heat and Thermodynamics

SHM and Waves

Optics

Modern Physics
JEE Main Revision Plan for Mathematics
Mathematics is a neutral subject, neither difficult nor easy. Students preparing for the JEE Main Mathematics normally score well with little preparation. The reason is that it's a subject of formulas, if you know the correct formula, chances are that you can arrive at the right solution if you don't make silly mistakes. Revision schedule for JEE Main Mathematics are as follows
Solve as many numerical problems as possible. This will help you in understanding how and where to apply the formula

Work for accuracy. Sometimes silly mistakes of a little degree can change the whole answer.

Memorise the formulas, don't try to derive or arrive at a solution with long way

Don't use calculators while solving problems in home

Topics which are important for JEE Main must be solved with numerous numerical problems

Purchase a book for numerical questions
JEE Main Important Topics for Mathematics
Differential and Integral Calculus

Coordinate Geometry

Complex Numbers and Binomial

Trigonometry

Probability

Matrices and Determinants
JEE Main Revision Plan for Chemistry
Chemistry is the easiest of all the three subjects in JEE Main. Questions in JEE Main exam are mostly based on simple principles, generally not involving any complexity in concepts. Previous year test takers and subject teachers have also analyzed that mostly questions in JEE Main for Chemistry come from NCERT text books. So, the best advice is to thoroughly study and revise the NCERT text books. Understand the concepts of Periodic Table and its properties. Some of the best followed JEE Mains last minute revision plan for JEE Main Chemistry is
Thoroughly study and revise the NCERT textbooks for Class 11 and 12 Chemistry

Understand the topics with its basic concepts and do not memorize

Make short notes of all the important topics and revise them regularly

Numerical part like Chemical Kinetics should not be left
JEE Main Important Topics for Chemistry
Chemical Kinetics, Chemical Bonding, Surface Chemistry.

Atomics Structure, Nuclear Chemistry, Mole Concept.

Thermodynamics and Thermochemistry.

Electrochemistry, Solid State.

Periodic Table and its properties.
Questions related to JEE Main
Showing 115784 out of 115784 Questions