JEE Main Revision Tips by Pramod Maheshwari
JEE Main Revision Tips by Pramod Maheshwari- National Testing Agency (NTA) will conduct JEE Main 2020 from July 18 to 23. Now, when the exam dates are out and candidates exactly have 2 months for the exam, they should have a perfect revision strategy for JEE Main 2020. The widespread outbreak of COVID-19 has led to stress among candidates; they are worried about what to do and what not to do. We have been receiving various queries from the candidates like how to prepare for JEE Main 2020? How to revise for JEE Main 2020? and many more. In order to answer all these queries, Careers360 team conducted a live session with Pramod Maheshwari, CMD, Career Point Group & Chancellor, Career Point University. Maheshwari shared various preparation tips for JEE Main 2020 during the session along with revision tips. Read the full article to know about the 60 days JEE Main 2020 revision plan suggested by Pramod Maheshwari.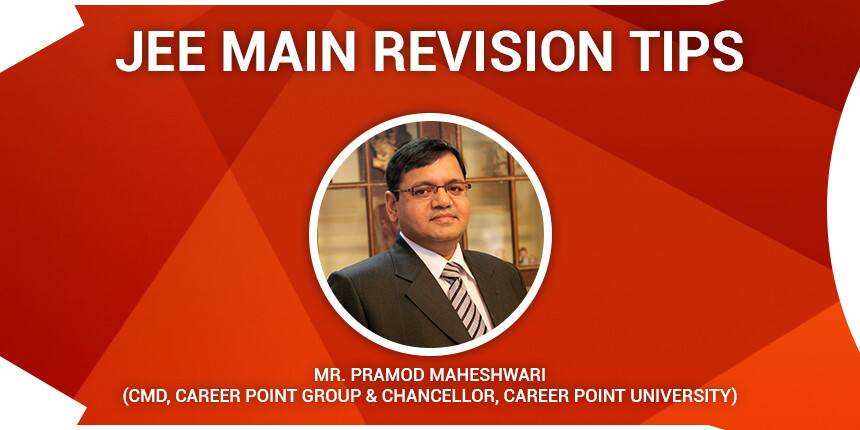 Check the live interview here
JEE Main 2020 Revision Cycle Suggested by Pramod Maheshwari
Pramod Maheshwari suggested a cycle or strategy that a candidate should follow for JEE Main 2020 Revision in 60 days. The strategy is mentioned below-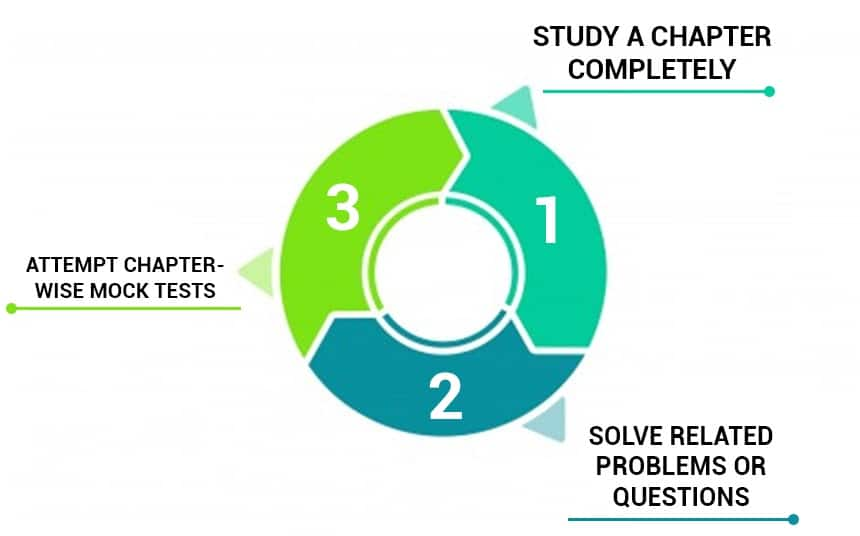 Day 1: Study a Chapter Completely
Day 2: Solve related problems or questions
Day 3: Attempt Chapter-wise mock tests
Next, on day 4, candidates should study a new chapter and follow the suggested plan. This cycle should be repeated until the entire JEE Main syllabus is completed.
60 Days Revision Strategy for JEE Main 2020
Study a Chapter Completely- Candidates should make a subject-wise time-table first and then accordingly take up one chapter in a day and complete the entire theoretical portion. One day is enough for one chapter as you are revising the chapter, you have already done it before. Candidates must ensure that the time-table should be made such that the syllabus of all the three subjects is completed.
Solve Chapter Related Problems- Next, after studying the chapter completely, candidates should devote the next day to solve different problems and numericals related to the chapter. Candidates should solve as many problems they can in the entire day.
Attempt Chapter-wise mock tests- Next day, candidates should attempt mock tests on the chapter they studied. This will help them check their performance and they will also be able to analyse their mistakes. Candidates should write down the mistakes made by them in the tests and work upon them.
Full-length mock tests- As per Pramod Maheshwari, candidates should start attempting full-length JEE Main mock tests in the last 15 days of their revision plan. Full-length mock tests means tests having questions on all the three subjects- Physics, Chemistry and Mathematics and are exactly the same as the actual exam. Candidates are advised to attempt these tests in an environment similar to examination hall so as to have a real feel of the examination. Attempting full-length mock tests will help the candidates to improve their speed and time management skills. Candidates will also feel more confident after attempting these tests.
If candidates feel they can study two subjects in a day then they can do that also. But they should solve related problems and attempt chapter-wise mock tests for both of them simultaneously. A proper strategy actually depends on the candidates, so they can frame it accordingly.
Questions related to JEE Main
Showing 97786 out of 97787 Questions