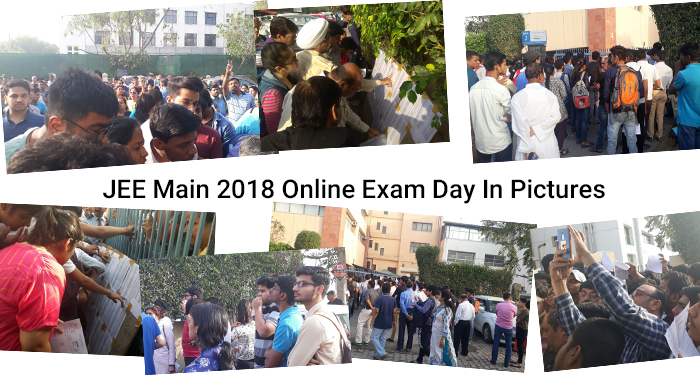 JEE Main 2018 Online Exam Day in Pictures (Day 1 & 2) - The day for the second and final phase of JEE Main 2018 has dawned. The computer-based test has commenced with students coming into their assigned exam centres to appear for the same. As with the offline exam, the reporting time for JEE Main is two and a half hours before the exam time. JEE Main Paper I CBT session 1 started at 9.30 am while session 2 will start at 2 pm. Students started arriving at the exam centres from 7 am onwards.  Many centres were seen thronged by parents and their wards who will be putting to test their preparation of the past many months. Students and parents alike were seen checking their roll numbers before proceeding for frisking and entering the exam hall. Careers360 has captured the various moods prevailing at the test centres before and after the exam. The JEE Main 2018 online exam day in pictures shows the exact sequence of events at the exam centres – entry of candidates, frisking / biometric verification, verification of admit card and final entry into the exam hall. Check the exam day of JEE Main CBT in pictures below to have a look at the prevailing moods and scenario at JEE Main exam centres.
B.Tech Admissions Open 2019
Manipal Institute of Technology
JEE Main Sample Paper
Download Free Sample Paper For JEE Main
Download Now
In computer mode, the national level engineering entrance exam will be conducted as per below schedule:
JEE Main Computer Based Test 2018 Schedule

Paper-I (B.E./B.Tech.)

Paper-I (B.E./B.Tech.)

First Shift on 15 & 16 April, 2018

Second Shift is on April 15, 2018, only

a) Entry in the Examination Hall for frisking

7:00 am onwards

12:45 pm onwards

b) Last entry in the Examination Hall

9:30 am

14:30 pm

c) Test commences

9:30 am

14:30 pm

d) Test concludes

12:30 pm

17:30 pm
April 15, 2018- Day-1, Session- I
The exam centres for online JEE Main 2018 opened at 7:00 am. Students rush towards the gate to check the seating arrangement.
Online JEE Main 2018 exam schedule and details posted on the walls of the examination centres of the candidate's reference and convenience.
Students checking the seating arrangements for the online JEE Main 2018, after reaching the examination centres.
A centre in Delhi at Sarita Vihar reportedly put up a list with some roll numbers missing. Frantic students and their parents were seen arguing with the centre administration so the gates were closed to resolve the issue for some time.
Subsequently, a new list was put up and the relieved students could go in. Roll numbers belonging to the series 1900 were found missing.  Pawan Kumar, a parent whose daughter Vanshika is appearing for the test was aghast to see his daughter's number missing. It is however there in the new list and he is relieved but unhappy that it happened in the first place.
Student taking last minute entry. Guard at the examination center checking the student JEE Main 2018 Admit Card.
Examination Centres gate closed at 9:30 for the first session of the online JEE Main 2018.
JEE Main 2018 online exam (session 1) concluded. The exam centers gate opened at 12:30 pm. Parents are waiting outside the centers to receive their wards with happy faces. 
Students coming out from the examination centres. Many students found Maths as the toughest section out of all three. According to the students, too many questions of conic were asked. In altogether they found online paper of JEE Main 2018 to be difficult.
---
April 15, 2018- Day-1, Session- II
Examination centres gates opened for session-II at 12:45 pm. Candidates appeared at their designated centers along with their parents.
New seating plans are posted on the walls for the candidate's reference along with instructions and timings. 
Examination centres for session II closed at 2:30 pm. The second phase of online exam has already begun.
Online JEE Main 2018 session-II concludes. The exam centers gate opened at 5:30 pm. Candidates found chemistry to be the easiest out of all three. The question paper carried a mixed bag of questions.