JEE Main 2018 Topper Interview Punit Shyamsukha (AIR 71) "Believe in yourself and always be motivated"
The day your dreams come true is certainly the happiest day of your life, April 30 became one such day in Punit Shyamsukha's life with the declaration of JEE Main 2018 result. He was delighted to know that all his efforts have given fruitful results. Securing an All India Rank of 71, Punit has climbed the first step of his ladder of dreams. His inclination towards engineering since childhood didn't allow him to give up, rather encouraged him to infuse all his energy, actions, concentration and perseverance in the right direction helping him achieve what he wanted to. Following his parents hard working attitude in life, Punit also worked hard to make his mark in the JEE Main exam and certainly he did.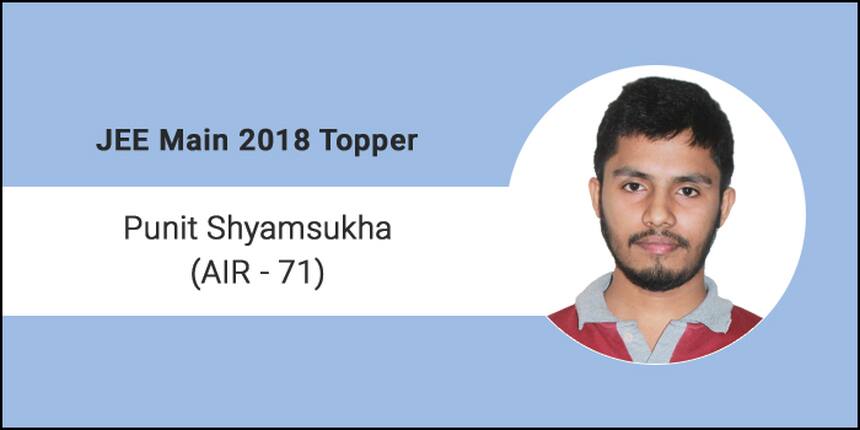 Prepare for IIT / JEE Main 2019 with concept and topic wise videos by exam experts. Get the complete course videos direct to your inbox. Click to Subscribe
In an interview with Careers360, Punit shares his JEE Main 2018 preparation strategy to motivate future aspirants of the entrance exam.
Careers360: Congratulations for your outstanding performance in JEE Main 2018! What was your reaction upon knowing your rank?
Punit Shyamsukha: Thank You. I really felt a sense of satisfaction and celebrated my victory with my friends and family members.
Careers360: Tell us something about yourself. Which board have you studied under? Which school have you studied in?
Punit Shyamsukha: I am from Assam, Guwahati and I have completed my schooling from Sarala Birla Gyan Jyoti School, Amingaon which follows CBSE board.
Careers360: What is your score in JEE Main 2018? What is your all India rank and category rank?
Punit Shyamsukha: My score in JEE Main 2018 was 322/360 with AIR 71 in General Category.
Careers360: Did you appear for the offline JEE Main exam or the online one? What is the reason behind this choice of yours?
-->
Punit Shyamsukha: I gave my JEE Main 2018 exam in offline mode. I preferred it as I am more comfortable with it.
Careers360: Why do you want to study engineering? When did you decided to study engineering? Which branch would you be interested in? Any reason?
Punit Shyamsukha: Since childhood, I have been inclined towards engineering, however, I have not decided on any branch as of now.
Careers360: When did you start your JEE Main preparation? Tell us something about your preparation strategy and daily routine for JEE Main?
Punit Shyamsukha: I started my JEE Main preparation with Motion Education in Kota. I used to study 7 to 8 hours in a day. I used to study during coaching and in the evening after returning back home also.
Careers360: Was there a difference in the preparation strategy in the last months of JEE Main considering that the board exams also are during this period? How did you manage preparation for both?
Punit Shyamsukha: I dropped a year to concentrate on my IIT coaching this year. I gave my class XII boards last year.
Careers360: Did you take coaching for JEE Main and if yes from where? What are the benefits of coaching according to you?
Punit Shyamsukha: Yes, I took coaching from Motion Education Pvt Ltd in Kota. I think coaching helps in understanding the concepts fundamentally. Coaching also helps us in understanding what to study from the syllabus and what not to as it is less important. Coaching also helps us in building confidence. I thank the team of Motion Kota and especially Nitin Vijay Sir for always boosting confidence of all the students.
Careers360: Mock tests and sample papers – how extensively did you practise with the help of these? Do you think practising from the previous year papers help and how?
Punit Shyamsukha: I think practising mock test/ sample papers are quite important to remove your fear of the actual paper. Sample papers and mock tests help you get a grip on the nature of the actual questions. I undertook mock tests and sample papers of JEE Main provided by my coaching institute and thoroughly practised the last three years' question papers.
Careers360: Are there any special books that you feel have helped with your JEE Main preparation? Are the school text books adequate for preparing for JEE Main and Class XII?
Punit Shyamsukha: I studied JEE Main syllabus from NCERT books. I too religiously followed the modules provided by Motion Education.
Careers360: Did you face any problem during the JEE Main examination? Which subject was the easiest and which was the toughest in JEE Main? What do you think is a tough thing to manage during the JEE Main exam?
Punit Shyamsukha: I practised a lot of mock tests and previous years questions papers, therefore, I didn't find any challenges in the actual exam. Mathematics and Physics were same as last year in terms of difficulty but Chemistry was the most difficult of all. I found time management to be the greatest challenge for a JEE aspirant.
Careers360: What do you think are the key factors behind your stupendous success in JEE Main?
Punit Shyamsukha: The factors that helped me were the motivation of my parents, my mentors from Motion and a lot hard work, dedication and time management.
Careers360: How did you de-stress yourself during the preparation? What are your hobbies? How often could you pursue them?
Punit Shyamsukha: To de-stress myself, I used to read books and newspapers.
Careers360: Who is your ideal or biggest inspiration in life and why?
Punit Shyamsukha: The biggest inspirations in life have been my parents. I look up to them for the hard work they have done all their lives.
Careers360: You know you are an inspiration to thousands of students across the country. Do you have any message for future aspirants on tackling the JEE Main exam?
Punit Shyamsukha: My message for all the aspirants of JEE Main 2019 is that always trust and listen to your teachers; their tips and tricks can change your life. Believe in yourself and always be motivated.
Questions related to JEE Main
Showing 112398 out of 112399 Questions