JEE Main 2023 Topper Interview: Duggineni Venkata Yugesh
JEE Main 2023 Topper Interview: The JEE Main 2023 results for the first phase brought back good memories to the Duggineni household. Following the footsteps of his brother, Duggineni Venkata Yugesh scored 100 percentile in JEE Main 2023 (phase 1). A student of Sri Chaitanya Junior college, Gayatri Veda Vyas, Vijayawada, Yugesh credits his parents and teachers for his success. His mantra to achieve good results is to keep on practising and get rid of any exam fear. Here, he talks to Careers360 about his ambitions, achievements and preparation strategies for JEE Main.
Latest Updates for JEE Main
Stay up-to date with JEE Main News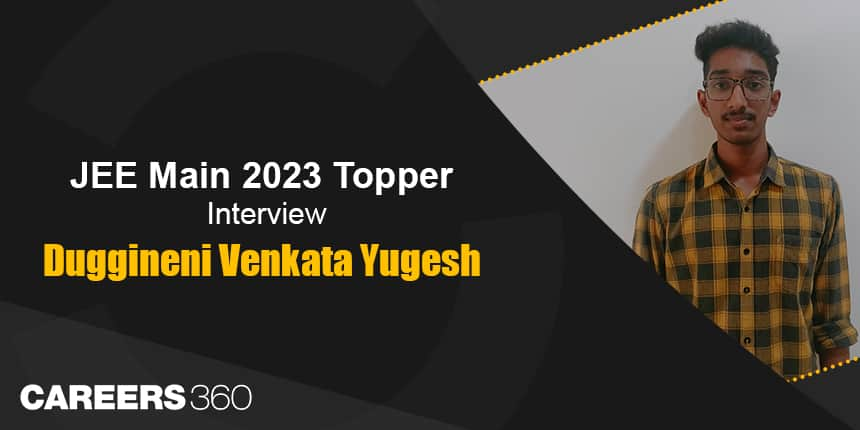 Q1: Congratulations on your performance in the JEE Main June 2023 exam! What was your reaction upon knowing your score?
A. I was happy but I think I will attempt the second one too to get 300 out of 300.
Q2: Tell us something about yourself. Which board have you studied under? Which school have you studied in?
A. I hail from Tirupati. I studied there till class 6 and then shifted to Vijayawada to take up coaching for JEE. My elder brother is Duggineni Venkata Phaneesh who was also a hundred percentiler in JEE Main 2021. My parents belong to Tirupati and are my biggest support.
Q3: Why do you want to study engineering? When did you decide to study engineering? Which branch would you be interested in? Any reason?
A. I am not interested in NEET and medicine actually. Engineering is the other good option hence I took up PCM so that I can appear for JEE.
Q4: When did you start your JEE Main preparation? Tell us something about your preparation strategy and daily routine for JEE Main?
A. I actually started from class 7. However, my serious preparation started a year ago. The first few months are all about clearing and understanding concepts; then putting them to practice. From January, it was intense. Here, I must tell you that my aim is not JEE Main but JEE Advanced.
Q5: Did you face any difficulties since the examination was conducted completely in computer- based mode?
A. No. There were no glitches and everything went off well that day.
Q6: Was there a difference in the preparation strategy in the last months of JEE Main considering that the board exams are also coming up? How did you manage preparation for both?
A. Not really. The syllabus is kind of same. So, I was focussing more on JEE for now. I will not get to the preparation for the board exams.
Q7: Did you take coaching for JEE Main and if yes from where? What are the benefits of coaching according to you?
A. I have been studying in Sri Chaitanya so yes. As mentioned my school is Sri Chaitanya Junior college, Gayatri Veda Vyas, Vijayawada. I believe that its good to take coaching. The reason being there is clarity in the concepts with the help of the good faculty and the JEE mock tests are tailor made for intense preparation. There is focus on the goal which is JEE – both Mains and Advanced.
Q8: Mock tests and sample papers – how extensively did you practise with the help of these? Do you think practising from the previous year's papers helps and how?
A. They are a necessity. First you get rid of the exam fear. So, when you finally sit for the actual exam, you are not afraid because its not new to you. As for mock tests, initially we had it once a week. After December 2022, we had one every day.
JEE previous years papers, mock test help you analyse your strengths and weaknesses. You can improve on the areas you are not doing well in. so they are a definite must in your preparation.
Q9: Are there any special books that you feel have helped with your JEE Main preparation? Are the school textbooks adequate for preparing for JEE Main and Class XII?
A. I had the coaching books which actually are in depth and are useful for both boards and JEE Main. I also referred to NCERT books.
Q10: Which subject was the easiest and which was the toughest in JEE Main? What do you think is a tough thing to manage during the JEE Main exam?
A. For me, Maths is a bit tough. I scored 100 marks in both Physics and Chemistry. Maths was where I scored less and so I need to improve in it for my second attempt. Time management is something that one needs to be sure of. This is another area where constant practice with mock tests help a lot.
Q11: What do you think are the key factors behind your stupendous success in JEE Main?
A. I think, dedication, hard work plays a big role. Its not enough to just lear. One needs to put in the right amount of practice to be able to succeed.
Q12: Will you be appearing for the April session of JEE Main 2023 too?
A. Absolutely. I will. I can improve on my score as ranks are decided on the basis of the total marks.
Q13: How did you de-stress yourself during the preparation? What are your hobbies? How often could you pursue them?
A. Every time I felt like not studying, I would take a 15 min break to go sleep. I like to watch movies and I like to play volleyball. These are activities that help de-stress.
Q15: You know you are an inspiration to thousands of students across the country. Do you have any message for future aspirants on tackling the JEE Main exam?
A. Get your fundamentals and concepts correct. Understand them well and then practice till you conquer your exam fear. After every test, analyse what can be improved. Do whatever it takes to build your strengths.
Questions related to JEE Main
Showing 126714 out of 126714 Questions