JEE Main 2023 results are announced by the NTA on February 6 on their official website jeemain.nta.nic.in. A total of 20 candidates secured 100 percentile in the results and one of them is Krish Gupta of Sikar, Rajasthan. Krish, who wants to solve the problem of people through technology, wants to pursue B.Tech in Computer Science. While talking to Careers360, Krish shared his strategy for JEE Main and his motivation behind choosing engineering as his dream job.
Also Check: JEE Main 2023 Topper Interview: Dhruv Sanjay Jain - "Stay focused"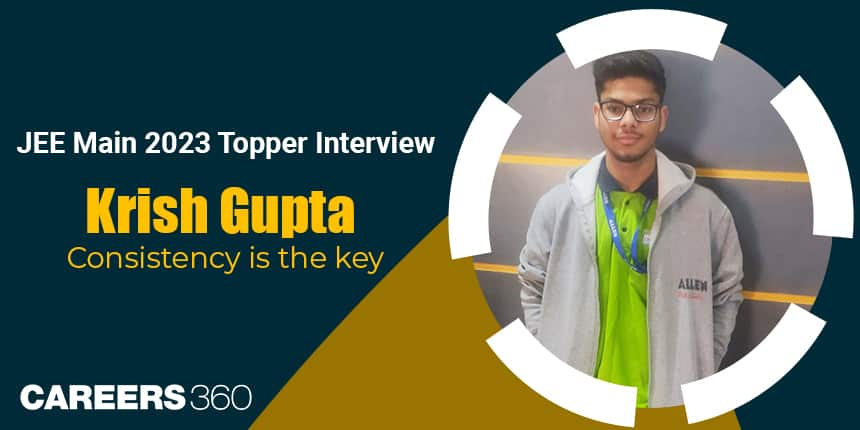 JEE Main 2023 Topper Krish Gupta Says, "Consistency Is The Key"
Careers360: Congratulations on your performance in the JEE Main June 2023 exam! What was your reaction upon knowing your score?
Krish: Thank you so much, I am very happy knowing my JEE Main result. Actually, I was sleeping when the result came, my parents woke me up and told me about my result.
Careers360: Tell us something about yourself. Which board have you studied under? Which school have you studied in?
Krish: I am Krish Gupta from Sikar, Rajasthan. I have studied under the CBSE board and I did my schooling from SGR Public School.
Careers360: Why do you want to study engineering? When did you decide to study engineering? Which branch would you be interested in? Any reason?
Krish: I want to study engineering because I want to solve the problems of people. During Covid-19 I decided to study engineering. I would like to pursue engineering in the CS department as I find it really interesting.
Careers360: When did you start your JEE Main preparation? Tell us something about your preparation strategy and daily routine for JEE Main?
Krish: It was never a preparation sort of thing although it started when I was in class 9th. I don't have any fixed routine, it was mouldable according to the need. I don't have anything to do.
Careers360: Did you face any difficulties since the examination was conducted completely in computer- based mode?
Krish: There was a spacing issue, actually I am right handed, so the CPU was placed on the right hand, so I can't attempt properly.
Careers360: Was there a difference in the preparation strategy in the last months of JEE Main considering that the board exams are also coming up? How did you manage preparation for Both?
Krish: I started reading NCERTs in the last months. I didn't prepared for my boards yet, I will be starting my preparation now.
Careers360: Did you take coaching for JEE Main and if yes from where? What are the benefits of coaching according to you?
Krish: I took 4 year classroom coaching from Allen. It helped me in every way possible, they tell us what to do and what not to.
Careers360: Mock tests and sample papers – how extensively did you practise with the help of these? Do you think practising from the previous year's papers helps and how?
Krish: I practised JEE Main mock tests and sample papers regularly, Yes, it helps in scoring well.
Careers360: Are there any special books that you feel have helped with your JEE Main preparation? Are the school textbooks adequate for preparing for JEE Main and Class XII?
Krish: Apart from the modules of my coaching, I referred to HC Verma, no specific book for chemistry and same thing goes for maths. Yes, school books were enough for the preparation.
Careers360: Did you face any problems during the JEE Main examination? Which subject was the easiest and which was the toughest in JEE Main? What do you think is a tough thing to manage during the JEE Main exam?
Krish: There was a spacing issue because of CPU placement. It was moderate overall and it was expected. There is nothing that is tough to handle in the exam, but it was quite lengthy.
Careers360: What do you think are the key factors behind your stupendous success in JEE Main?
Krish: Consistency is the key to success.
Careers360: Will you be appearing for the April session of JEE Main 2023 too?
Krish: This is enough for me now I will be preparing for JEE Advanced 2023.
Careers360: How did you de-stress yourself during the preparation? What are your hobbies? How often could you pursue them?
Krish: I play badminton and it is my hobby.
Careers360: Who is your ideal or biggest inspiration in life and why?
Krish: Actually, my family is full of engineers so that was the reason behind my decision.
Careers360: You know you are an inspiration to thousands of students across the country. Do you have any message for future aspirants on tackling the JEE Main exam?
Krish: Don't panic and keep preparing for the exam.