JEE Main 2023 Topper Interview: Kaushal Vijayvergiya
Kaushal Vijayvergiya from Ahmedabad who dreams to pursue Computer Science has taken his very first steps consciously and has cracked the most prestigious exam JEE Main with 100 NTA score. Kaushal is among the top 20 students who secured 100 percentile in JEE Main. Regular hard as well as smart work is the success mantra for Kaushal. The person who inspired young talent to be an engineer is none other than his elder brother, who is a graduate of engineering from IIT Kanpur and currently pursuing an M.Tech from IIT Delhi. In a small conversation with Careers360, Kaushal shared his preparation strategy, ambitions, and achievement.
Latest Updates for JEE Main
Stay up-to date with JEE Main News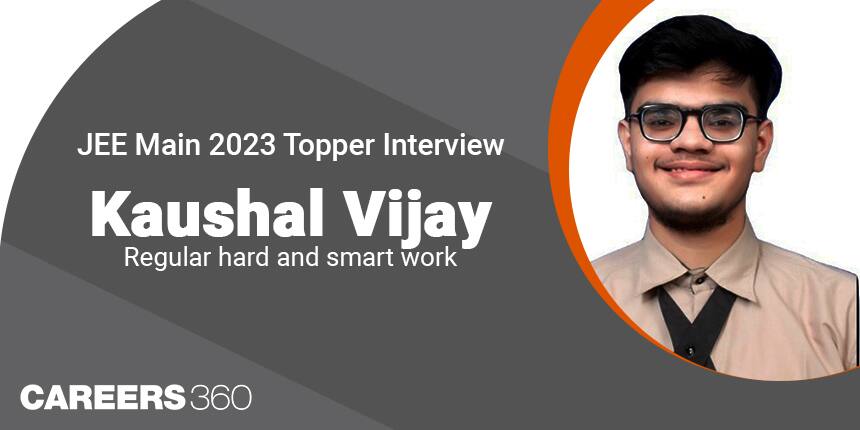 Q1: Congratulations on your performance in the JEE Main January 2023 exam! What was your reaction upon knowing your score?
Kaushal: I calculated my score after the release of the JEE Main answer key. However, I was not expecting the marks to be 100 percentile, whereas my expectation was above 250. After the release of the JEE Main result, I was happy that I scored 100 percentile and was full of joy.
Q2: Tell us something about yourself. Which board have you studied under? Which school have you studied in?
Kaushal: Myself, Kaushal Vijayvergiya, am a student of grade XII. In JEE Main 2023, I scored 100 percentile overall, as well as in all three subjects. I also scored full marks in each subject 100/100 in physics, 100/100 in chemistry, and, 96/96 in Mathematics 1 question was dropped by NTA in Mathematics, so the total marks got reduced from 300 to 296. Overall score 296/296 Kaushal is a student of Puna International School, Gandhinagar.
Q3: Why do you want to study engineering? When did you decide to study engineering? Which branch would you be interested in? Any reason?
Kaushal: Basically I am interested in computer science because I have an interest in mathematics and computer science is closely related to mathematics as well and I enjoy programming. Right now I have taken computer as a subject in class 11 and 12. So I enjoy programming since I have studied it, so that is why I am inspired to be a computer engineer. I decided to study engineering when I was in class 9. My brother inspired me to become an engineer. Moreover, my brother is an engineer and a graduate of IIT Kanpur. Currently, he is doing M.Tech in Computer technology from IIT Delhi.
Q4: When did you start your JEE Main preparation? Tell us something about your preparation strategy and daily routine for JEE Main?
Kaushal: I started preparing for JEE MAIN + Advanced from class 9th. I solved coaching material, and assignments and resolved the doubts with our respective faculties. I gave many tests which helped me to reduce my silly mistakes and manage my time during exams. Also studying NCERT helped me a lot. I used to study around 9 - 10 hours a day, including classes
Q5: Did you face any difficulties since the examination was conducted completely in computer- based mode?
Kaushal: No, because we have already some experience in ALLEN for computer-based test.
Q6: Was there a difference in the preparation strategy in the last months of JEE Main considering that the board exams are also coming up? How did you manage preparation for Both?
Kaushal: In last month I was preparing for JEE Main, mainly I was focusing on the NCERT textbook. NCERT test book is common for both JEE Main and board exams. So parallelly the preparation was going on for both of them. Board preparation was not completed in the last month but now I want to focus on the preparation for the board exam.
Q7: Did you take coaching for JEE Main and if yes from where? What are the benefits of coaching according to you?
Kaushal: The coaching centre is beneficial in many ways. However, the coaching centres provide overview of the entire exam. The coaching centres experts know what questions can be asked in the exam and they prepare the students accordingly. Moreover, the mind of students is set according so that they can solve the questions. The coaching centres also provide practice questions as well as tests that allow students to be familiar with the entire environment that will be in the exam and that helps a lot. Also, students get familiar with exams.
Q8: Mock tests and sample papers – how extensively did you practise with the help of these? Do you think practising from the previous year's papers helps and how?
Kaushal: The mock test they help us. Basically, we had a paper once a week on JEE Main pattern from September to January. We had once Main paper every week on Sunday and before that we used to give one paper around per two weeks in class 11 and 12 as well as in class 10. Yes mock test help, they tell us what questions will be asked in the real examination. Moreover, they provide us guidance in what to study to get marks.
Q9: Are there any special books that you feel have helped with your JEE Main preparation? Are the school textbooks adequate for preparing for JEE Main and Class XII?
Kaushal: I used to study the coaching material. In the last few months, I bought an MTG JEE Main book for preparation. Not remembering the name of the book but I was solving the previous year questions JEE Main book.
Q10: Did you face any problems during the JEE Main examination? Which subject was the easiest and which was the toughest in JEE Main? What do you think is a tough thing to manage during the JEE Main exam?
Kaushal: Tough subject was chemistry because it has a lot of thing to remember and mug up so i considere it to be tough. Out of three subject Physics was easier and maths being in the middle side. Problem During exams extensive study is a tough thing to handle. Sometimes I was burned out of lots of studies. If you study continuously you get burned out. To tackle this I reduced my studying hours to 9 to 10 hours.
Q11: What do you think are the key factors behind your stupendous success in JEE Main?
Kaushal: My regular hard work
Q12: Will you be appearing for the April session of JEE Main 2023 too?
Kaushal: Currently I have decided not to attend the JEE Main 2023 April session
Q13: How did you de-stress yourself during the preparation? What are your hobbies? How often could you pursue them?
Kaushal: To be refreshed I used to play casio keyboard. I also watch TV for refreshment because it is the best one. I watch South movies and Bollywood movies. My hobby is playing the keyboard. I pursued my hobbies for two years half an hour a day.
Q14: Who is your ideal or biggest inspiration in life and why?
Kaushal: My brother, he is an engineer and he is my biggest inspiration in my life.
Q15: You know you are an inspiration to thousands of students across the country. Do you have any message for future aspirants on tackling the JEE Main exam?
Kaushal: Regular hard as well as smart work that will help in the best possible way. You need to understand what you need to study exactly for JEE Main.
Questions related to JEE Main
Showing 126642 out of 126642 Questions