JEE Main 2023 Topper Interview: Hailing from Bilaspur Chhattisgarh, Dhruv Sanjay Jain has made a place for himself in the JEE Main 2023 toppers list. Dhruv secured AIR 8 in JEE Main 2023. He is one of the 20 students who secured 100 NTA score in January session. With an aim to do BTech from IIT Bombay, he is now focusing on the JEE Advanced exam preparation. Dhruv is a firm believer that the positive energy from spiritual path is one of the reasons he succeeds. While interacting with Careers360, Dhruv highlighted the importance of hardwork and patience to score well in the JEE Main exam. Continue reading to know about Dhruv's JEE Main 2023 preparation strategy, books referred by him and much more.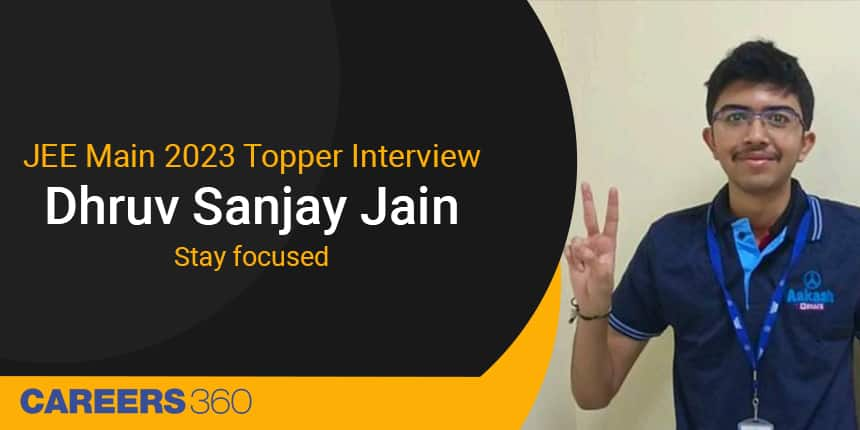 JEE Main 2023 Topper Interview (AIR 8) : Dhruv Sanjay Jain  - "Stay focused"
Careers360: Congratulations on your performance in the JEE Main 2023 exam! What was your reaction upon knowing your score?
Dhruv: When I downloaded my JEE Main scorecard, I was happy and excited. However, I had an idea about my score as I calculated my score using the JEE response sheet and answer key.
Careers360: Tell us something about yourself. Which board have you studied under? Which school have you studied in?
Dhruv: I am Dhruv Sanjay Jain from Bilaspur Chhattisgarh. I have studied under CBSE Board at Brilliant Public School.
Careers360: Why do you want to study engineering? When did you decide to study engineering? Which branch would you be interested in? Any reason?
Dhruv: I decided to take engineering as my career option while I was in class 9th studying at Aakash for foundation. During that time, I realized that I am better at Maths and can do much better in this field.
Careers360: When did you start your JEE Main preparation? Tell us something about your preparation strategy and daily routine for JEE Main?
Dhruv: My JEE Main 2023 preparation was kind of integrated with foundation preparation from class 9th but specifically for JEE Main, I started my preparation from class 11. I used to devote all my time to study, however, I gave myself once a week off for rest. My strategy for the JEE Main 2023 exam was based on my strengths and weaknesses. For a long time I noticed that my Mathematics and Physics were slightly better than Chemistry. Therefore, I gave my last few days of the exam to specifically Chemistry by referring to NCERT and remembering facts. Moreover, the JEE Main 2023 mock test helped me understand what the strategy should be.
Careers360: Did you face any difficulties since the examination was conducted completely in computer- based mode?
Dhruv: No, everything at the JEE Main 2023 exam centre was smooth. I did not face any difficulty in attempting the JEE Main paper in a computer based mode.
Careers360: Was there a difference in the preparation strategy in the last months of JEE Main considering that the board exams are also coming up? How did you manage preparation for Both?
Dhruv: Now that only a few days are left, I will devote my time majorly on English and Physical education as the Physics, Chemistry and Mathematics is more or less done.
Careers360: Did you take coaching for JEE Main and if yes from where? What are the benefits of coaching according to you?
Dhruv: I took coaching for the JEE Main 2023 exam from Aakash Byjus and it helped me alot in scoring well. It gave me direction which helped me succeed. Without help, it would have been difficult to prepare randomly. They planned out everything and didn't have to worry. I was provided with proper study material and regular doubt solving sessions were held.
Careers360: Mock tests and sample papers – how extensively did you practice with the help of these? Do you think practicing from the previous year's papers helps and how?
Dhruv: In JEE Main exam, attempting previous year's paper is essential as it gives an idea of JEE exam pattern. Also, the JEE Main sample papers and mock tests help us design a strategy which is important. Time management is another benefit of attempting mock tests. There are three sections and one needs to understand how to manage the sequences or handle a tough question without wasting much time on it.
Careers360: Are there any special books that you feel have helped with your JEE Main preparation? Are the school textbooks adequate for preparing for JEE Main and Class XII?
Dhruv: I was more or less dependent on study material provided by the Aakash Byjus. But yes, I followed NCERT as well for Physics and Chemistry as some direct questions as asked from NCERT in JEE Mains.
Careers360: What do you think are the key factors behind your stupendous success in JEE Main?
Dhruv: Motivation from my family members is the biggest factor behind my success. As preparing for JEE Main is not a flat journey, motivation is highly required to maintain thought process and stay in line. Moreover, my coaching institute was like a second home to me where teachers were always present anytime even during late hours. Another factor behind my success is spiritual sense. I believe when we are connected to god, we get positive vibes.
Careers360: Will you be appearing for the April session of JEE Main 2023 too?
Dhruv: I haven't decided yet. However, my main aim is JEE Advanced.
Careers360: How did you de-stress yourself during the preparation? What are your hobbies? How often could you pursue them?
Dhruv: I used to read books written by previous year's toppers. It helped me restrategize and learn new points. A big goal is always made of small goals and sometimes we get good tips from other toppers.
Careers360: Who is your idol or biggest inspiration in life and why?
Dhruv: My grandfather is my inspiration. My grandmother and parents have told stories on how he managed to pull back things from a difficult situation.
Careers360: You know you are an inspiration to thousands of students across the country. Do you have any message for future aspirants on tackling the JEE Main exam?
Dhruv: Patience is the key and always stay focussed. When I was in 11th and preparing for the exam, I used to panic and because of which, I used to miss out on my designed strategy. Also, break down big targets into small parts which will help in analyzing all aspects. Moreover, don't think about the result.