JEE Main 2015 AIR 1 Interview: Sankalp Gaur aims research; attributes success to 'love for science'


Sankalp Gaur, the Pune boy did wonders once again! Not only did he score the highest marks (345/360) in JEE Main 2015 but also obtained the All India Rank (AIR) 1 out of 13.05 lakh JEE Main candidates. A good student throughout his school days, Sankalp had scored 97.80% in Class XII from DAV Public School, Pune and also achieved AIR 56 in JEE Advanced 2015.


Stay up-to date with JEE Main News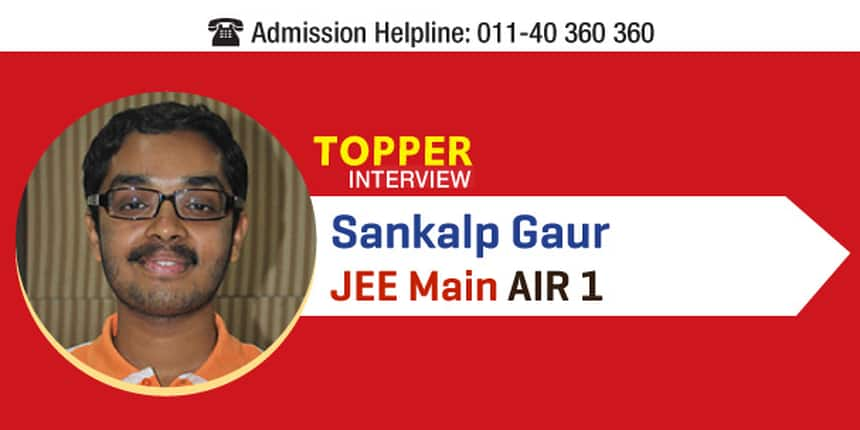 The music and sports enthusiast is an ardent fan of Indian cricket icon MS Dhoni and his 'super cool' approach; and enjoys playing cricket and badminton along with cycling to keep himself charged up amidst the strict study regime. Sankalp firmly believes in the phrase 'all work and no play makes Jack a dull boy'.
Important Links:
JEE Main 2019
JEE Main Application Form 2019
JEE Main Syllabus 2019

[Click here to Check Which IITs, NITs, IIITs & GFTIs You can Get in Joint Seat Allocation or Call @011-40360360 to talk Expert Counselors]


Talking to Sreetama Datta of Careers360, Sankalp says that he believes that more than putting meticulous efforts, it is the love for science that led to his success. This precisely being the reason Sankalp aims to go for research in Pure Physics unlike most of his fellow engineering aspirants who aspire for either corporate placements or lucrative job opportunities after their engineering programme.


In the exclusive chat with Careers360, Sankalp shares his success strategy, future plans and hobbies. Read on to know more about him.
Careers360: Congratulations on your stupendous performance! Were you expecting All India Rank 1?
Sankalp: Thank you! Since I had topped the JEE Main exam with a score of 345 out of 360, I was sure of obtaining a top rank. However, I was not sure of securing the Rank 1! This definitely came as a pleasant surprise.


Careers360:  How did you celebrate your sucess?
Sankalp: I enjoyed the moment with my family, friends and my teachers. Without their guidance this achievement would not have been possible.
Careers360: What according to you are the key factors behind your spectacular performance?
Sankalp: Love for the subjects is the main reason behind the success along with regular and systematic study regime. I worked hard for the past 2 years and even decreased the time for recreation but that did not appear to be much of a burden for me as I really enjoyed studying the subjects Maths, Physics and Chemistry. Also, my teachers from school and coaching institute guided and motivated me a lot.


Careers360: Did you decide to go for engineering on your own or the decision was put on you by your parents/well wishers?
Sankalp: Frankly, since my childhood I was focused on pursuing Pure Science and not Engineering. After Class X, my teachers suggested that pursuing engineering would be a better choice as I will not only be able to know the details about the subjects but also the practical and application aspect of the area as well. Engineering leads to more diverse career pathways and I can pursue Pure Science after completing engineering as well. Since then I have had a focused approach in cracking JEE.


Careers360: Tell us something about your family. How was your support system, especially from family?
Sankalp: I belong to a nuclear family. My father is a DGM of Arms and Ammunition Factory, Khadki, Pune. My mother was working with High Energy Materials Research Laboratory (HEMRL) but she left the job 2 years back just to be with me and support me in these crucial years. Since I belong to a small family, she felt that I needed someone to be there by my side. I really appreciate and value this sacrifice and owe my success to her. Last but not the least; my pet dog is the fourth and youngest member of my family who has been my stress buster throughout!
My family members did not put any pressure on me regarding studies or career. They supported all my decisions. Since I have always been a fairly good student, they had faith in me and my decisions.


Careers360: What was your preparation strategy?
Sankalp: On regular days, after attending school and coaching, I used to study for 2 to 3 hours. During holidays, I studied for 6 to 7 hours. My coaching institute helped me a lot. It guided me in the right direction and kept me motivated through my preparation. There was not much pressure of home work or stress on tests. Hence, I had focused on studying with full concentration.


Careers360: Which subject was the easiest and which was the toughest for you? Did you decide your test taking strategy accordingly?
Sankalp: Maths and Physics are my favourite subjects and I enjoyed studying them. Chemistry on the other hand was a bit tough and complicated for me due to the vast knowledge and theoretical aspect that is involved in the subject.


Accordingly, I had decided my test taking strategy. I had attempted Chemistry first followed by Physics and Maths. Since I had attempted the maximum number of questions from Maths, I wanted to solve them in peace and score as much marks as possible.


Careers360: Do you think coaching is necessary to crack the JEE Main and Advanced exams?
Sankalp: I believe to obtain a high rank, you need guidance from coaching. The school level education is not enough to help you crack the exam. I found the text books to be disorganized as well. On the other hand, coaching institutes follow a systematic approach. The teachers keep you motivated as well which is a real good confidence booster.


Careers360: It was quite a busy preparation schedule for you. Could you find time to connect with your friends during preparation?
Sankalp: I was always connected with my friends as they are either from my school or coaching institute. I did find out time to chat with them and discuss the tough problems and their solutions. Moreover, nobody can study the whole day so a little bit of chat outside studies did not harm me!


Careers360: Are you active on Facebook or any other social media platform?
Sankalp: No, I am not on Facebook. However, I am quite active on WhatsApp and Google+.


Careers360: Do you enjoy watching movies? What is your favourite movie genre?
Sankalp: I do enjoy watching Science Fiction movies. I watched Jurassic World recently. Apart from movies, I like watching cartoons and informative documentaries at Discovery and National Geographic channels.


Careers360: Did you turn to any recreational activities during your preparation?
Sankalp: During breaks, I used to go for cycling to keep myself fit. I am a music enthusiast and listen to music whenever I get a chance. Although I used to play badminton and cricket but I had curbed down the duration of these sports significantly after Class X so as not to hamper preparation for XIIth boards and JEE.


Careers360: So, what is your favourite sport? Any sportsperson you look up to?
Sankalp: My favourite sport is badminton. Among sportsperson I admire MS Dhoni due to his leadership quality and super cool approach.


Careers360: Who is your idol?
Sankalp: I do not have any particular person as my idol. However, I admire and respect those scientists who work tirelessly to serve the mankind without striving for fame or money.


Careers360: What is your preferred IIT and Engineering branch?
Sankalp: I hope to get in IIT Bombay with Electrical Engineering branch. After completing B.Tech I want to do my Masters degree in Pure Physics. In future I would like to go for research.


Careers360: The JEE Main 2015 Rank List declaration was postponed by CBSE. How did the delay affect you?
Sankalp: Though I had AIR 56 in JEE Advanced and I was sure to get IIT of my choice, still I was curious to know my JEE Main rank. Frankly, I did not expect Rank 1 but I was sure to be among the top 5 owing to scoring the highest score in JEE Main. Hence the delay made me anxious.


Careers360: What is your advice for the JEE aspirants who will be appearing for the entrance exam next year?
Sankalp: Most of the aspirants think that JEE is tough. But if you develop an interest and explore the beauty of the subjects, it will not be a big deal to crack the exam. Along with your school and coaching, make sure you keep some time for focused self preparation. Number of hours of study does not matter, the amount of concentration you put matters the most.


Also Read
Know how Sankalp Gaur became highest scorer of JEE Main 2015

Stay tuned to engineering.careers360.com for more JEE Main 2015 Topper Interviews.
Questions related to JEE Main
Showing 95915 out of 95915 Questions