JEE MAIN 2016 topper interview: Revision helps in clearing concepts, says AIR 3 Rajas Bansal


Rajas Bansal, who has bagged AIR 3 in JEE Main 2016, believes that his focus on clearing concepts is the key to his success. Unlike many of his peers, Rajas did not believe in studying 10-12 hours at a stretch and instead invested 5-6 hours daily for JEE preparation. In this interview with Careers360, the topper from Delhi, advises future aspirants to smartly choose the topics they want to focus on and perfect their knowledge in these topics through constant revision.


Stay up-to date with JEE Main News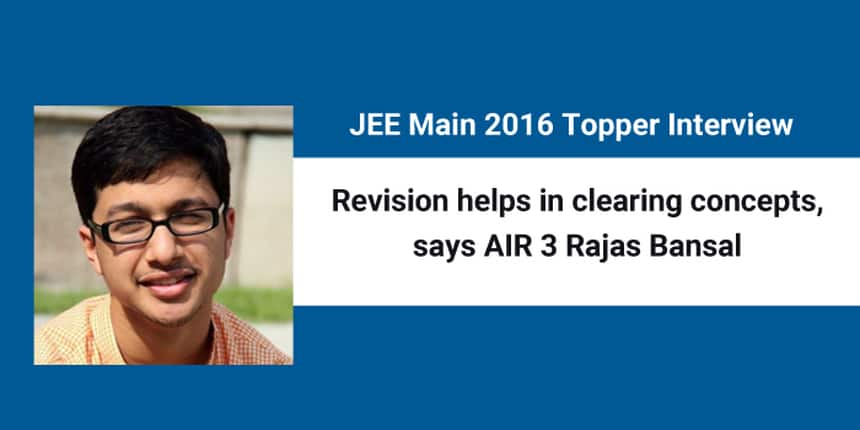 Important Links
JEE Main 2019
JEE Main Application Form 2019
JEE Main Syllabus 2019
Read below the full interview:
[Click Here to know which engineering college (IIT/NIT/IIIT/GFTI) & branch you will get in JoSAA Counselling or Call at 011-40360360]
Careers360: Congratulations on your success. How are you celebrating?
Rajas Bansal: Thank you so much for your warm wishes. My relatives and friends have been coming over to congratulate me. We have planned a family dinner. It feels really good to have so many people appreciate your hard work. I feel blessed at the moment.


Careers360: Tell us something about yourself.
Rajas Bansal: I am a fun loving guy who loves to watch movies, play games and spend time with my friends. I don't believe in making many friends, but only a few who are really close to me.  I am from Delhi and I have completed my schooling from Sanskriti School, Delhi. Honestly, I never thought that I would secure the 3rd rank, as I was hoping to be in the top 50. This came as a big surprise. It feels really great that my hard work has finally paid off.


I had also appeared for JEE Advanced where I secured 124th rank and 98.8% in my CBSE boards. Whereas my JEE Mains scores are concerned, I scored 304.
Careers360: Tell us about your family. How have they supported you throughout your preparation?
Rajas Bansal: My father, Sanjay Bansal works in the Indian Revenue Service, whereas my mother, Sonal Bansal is a home maker. They are one of the main reasons behind my success in JEE. My parents have shown immense support during my preparation period. My dad would regularly take me to the coaching centre and my mother offered me a lot of emotional support.
Careers360:Can you tell us about your preparation methods? How did you manage your time?
Rajas Bansal: Frankly speaking, I really didn't have a specific strategy. I relied mainly on the books that were provided by my coaching institutes. Interestingly, I just prepared from two books from the coaching institute and apart from that I really did not refer to any other books. Besides, I did not believe in studying for 10-12 hours at a stretch.  Instead I invested 5-6 hours during the early days of my preparation and later extended to 10 hours in a day with regular intervals.
Careers360: Do you think coaching is necessary to crack JEE Main?
Rajas Bansal: For me coaching did wonders, as it was only coaching study materials that helped me secure AIR 3. I do not believe in studying from 5-6 books at a time, instead I believe in having crystal clear concepts. I think that was the key to my success.  Coaching is a personal choice, whether one wants to go for it or not, for JEE Main you need to really have hold on basic concepts.  If you are clear with your concepts then you need not worry.
Careers360: Was pursuing engineering a personal choice or your parents' decision?
Rajas Bansal: It was completely my decision, as I was interested in engineering from the very start. My parents never forced me. In fact, they have always given me the freedom to follow my dreams.
Careers360: Do you have any institute in mind?
Rajas Bansal: I have always wanted to join IIT Delhi. I am interested in pursuing Computer Science.
Careers360: During your busy schedule, did you find time to connect with your friends and were you active on any social media platform?
Rajas Bansal: Yes, I did, I went out to see my friends for some time during my preparation period. I was active on Facebook, but did not post anything! I would just scroll down and check a few posts.
Careers360: What do you do when you are not studying?
Rajas Bansal: My favourite sport is football, so whenever I am free I play football or some computer games.
Careers360:Any word of advice for future aspirants?
Rajas Bansal: First, I would tell all aspirants to not only aim for a good rank but strive to achieve the best. The best was to do this is by getting your concepts right. One should not get stressed while preparing for the exam. If someone wants to focus on only selected topics, they should make sure that they practice and revise those topics well. Revision is necessary.It helps in clearing concepts. One of the most important key to success was to understand the concepts. The concepts should be so clear that you can answer them no matter how twisted the question is.
You may also like to read:
JEE Advanced 2016 Cutoff for IITs
IITs cutoff for top B.Tech branches
NITs Cutoff for Top B.Tech Branches
Stay tuned to www.engineering.careers360.com for more news and information on JEE Main 2016
Questions related to JEE Main
Showing 126083 out of 126083 Questions