JEE Main 2015 Topper Pritesh Kumbhare shares his preparation strategy


JEE Main 2015 Topper Pritesh Kumbhare secured 320 out of 360 marks in the JEE Main 2015 exam, for which the result was declared on April 27, 2015. Pritesh, who completed his schooling from Dinanath School and Junior College, Nagpur, Maharashtra, gives credit for his success in the exam to family support and teachers' guidance.


Stay up-to date with JEE Main News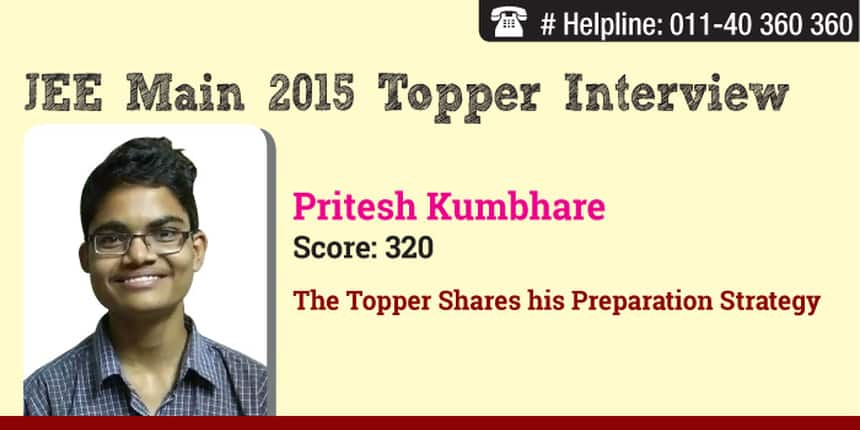 In this interview with Careers360, the topper emphasises on systematic study and equal importance to all the three sections – Physics, Chemistry and Mathematics – as these were the key factors of his success in the coveted exam. A fan of Cricket, Pritesh also spends time on social networking websites, watches movies and reads novels.


Important Links:
JEE Main 2019
JEE Main Application Form 2019
JEE Main Syllabus 2019
[Click here to Know Which Engineering College and Branch you will get based on your Expected JEE main rank]


Interview Excerpts
Careers360: Congratulations for your excellent performance in JEE Main 2015! How did you make it possible?
Pritesh Kumbhare: Thank you. I am very happy but still a lot is to do for the next level. I am just focusing on my studies these days. It's hard work, systematic study, family support, teachers' guidance, which helped me achieve this success.


Careers360: Which subject was easiest and which was toughest.
Pritesh Kumbhare: For me, Physics and Chemistry both were easy, however Mathematics was a little tough. The overall JEE Main was of moderate difficulty level exam. Since I had prepared well and given equal attention to all sections, I was quite comfortable while attempting the paper.


Careers360: Now that you are a topper of JEE Main, what do you think was the key factor behind your spectacular performance in this most competitive engineering exam?
Pritesh Kumbhare:I will not say it was hard work behind my success but systemic study of all the three subjects – Physics, Chemistry and Mathematics – helped me a lot. Other key factor was I never took stress about the studies and stayed cool. That's it.


Careers360: What was your exam taking strategy and routine study period for JEE Main?
Pritesh Kumbhare: I did not have any such preparation strategy for the big exam. Apart from my regular studies for Class 12, I gave 3 hours to JEE Main, devoting 1 hour to each subject. For me, it does not matter how much time I spent with books. What is important is that what I have learnt to never forget.


Careers360: So was it a hectic preparation schedule for you? Could you find time to connect with your friends on Facebook during your preparation?
Pritesh Kumbhare:Yes. It was a little hectic preparation schedule. However, I kept being touch with my friends whenever I got free time after my study for the day. I frequently used social platforms to know what's happening around the world. I am on Facebook, Twitter and Linkedin.


Careers360: What was the role of your family members in guiding you towards your performance?
Pritesh Kumbhare: They helped me a lot when I was busy with studying for JEE Main. They never put a mental pressure regarding studies but always motivated me for better preparation. This worked for me in a very positive way.


Careers360: How do you plan your preparation for JEE Advanced?
Pritesh Kumbhare: There is no new preparation strategy for JEE Advanced. I will like to repeat way I studied for JEE Main. I am again focusing on systematic study of a few hours each day. All the three subjects demand equal attention from my side.


Careers360:So once you crack JEE Advanced 2015, which engineering branch would you like to opt and which IIT would you prefer?
Pritesh Kumbhare:I will take Computer Science. This branch has always been my first choice to study at this level. I will opt for IIT Pune. For me it is nice place of study and also close to my hometown.


Careers360: Which are your favorite Bollywood/Hollywood movies? Which book did you recently read? Which sport is your favorite?
Pritesh Kumbhare: I like watching movies and reading books. While in Bollywood, I like Student of the Year so much, my favorite Hollywood movie is Gravity. Recently I read Chetan Bhagat's Half Girlfriend and enjoyed reading this book. I like watching Cricket match on TV, though sometimes I play too.


Careers360:We at Careers360 wish you all the best for your performance at JEE Advanced 2015. Wish you all the best!
Pritesh Kumbhare: Thanks a lot.


Stay tuned to engineering.careers360.com for more JEE Main 2015 Topper Interviews


 Also Read:
JEE Main 2015 Toppers Interview
Questions related to JEE Main
Showing 126134 out of 126134 Questions