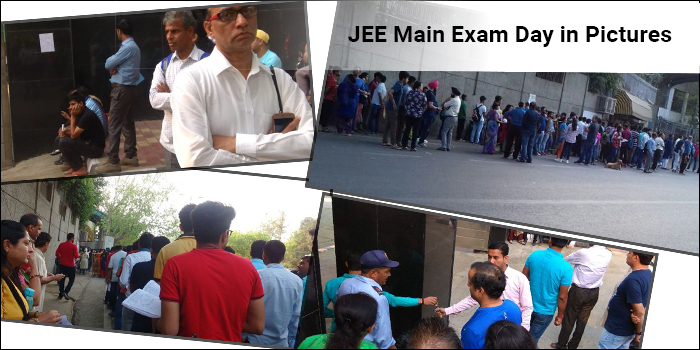 JEE Main 2018 exam day has dawned. The pen and paper exam has commenced with students coming into their assigned exam centres to appear for the exam. The reporting time for JEE Main is two and a half hours before the exam time. JEE Main Paper I started at 9.30 am and Paper II will start at 2 pm. Students started arriving at the exam centres from 7 am onwards for Paper I.  Many centres were thronged by parents and aspiring students who would put their months of preparation to test during 3 hours. Accompanied by their parents, some looked perplexed, while others were just curious to enter the centre gate. Some were glancing at the tick of their watches and some were giving the finishing touches to their last moment revision. Careers360 has captured the different moods of the restless students and a few moments at the test centres. Careers360 presents the JEE Main 2018 exam day in pictures depicting the exact sequence of events at the exam centres – entry of candidates, frisking / biometric verification, verification of admit card and final entry into the exam hall. Check the exam day of JEE Main in pictures below to have a look at the different moments and the scenario at JEE Main exam centres.
JEE Main Sample Paper
Download Free Sample Paper for JEE Main
Download Now
The official JEE Main 2018 Answer Key will be announced on April 24. However, the answer key by various coaching centres for JEE Main 2018 will be made available on the exam day itself.
Paper I Schedule:
Entry in the Examination Hall for frisking - 7:00 am onwards

Distribution of Test Booklet - 09:20 am

Seal of the Test Booklet to be broken/ opened to take out the Answer Sheet- 09:25 am

Last entry in the Examination Hall - 09:30 am

Test commences - 09:30 am

Test concludes -12:30 pm
Paper II Schedule:
Entry in the Examination Hall for frisking – 12.45 pm onwards

Distribution of Test Booklet – 1.50 pm

Seal of the Test Booklet to be broken/ opened to take out the Answer Sheet- 1.55 pm

Last entry in the Examination Hall - 2 pm

Test commences - 2 pm

Test concludes - 5 pm
JEE Main 2018 Key Highlights of Exam Day
The national level entrance exam, JEE Main 2018 has begun. Students have started reaching their respective exam centres. Parents are accompanying their wards to the exam centres, however, they are unhappy with the rules and timing of the examination. "Removing of shoes, belt and shocks were not informed earlier. Also, asking students to report at 7:00 am at the exam center was not necessary," says one of the JEE aspirant parent while interacting with Careers360.
Student's Father is unhappy about the examination centre hall and timings!
At another exam centre in Delhi, Dinesh Negi with son Shantanu is happy.  This is his second attempt. "The exam day pressure is always very high but its better this time. The scores are secondary, reaching for this exam is important," says Dinesh Negi.
For some, new rules enforced at the centres was a rude shock - for instance boys are asked to remove belt, socks, and shoes, while girls are asked to remove shoes, bangles etc. Watches, wallets, pen, pencils and electronic devices were also not allowed inside the examination hall. Students could take their money along with them.
Students have to remove shoes before entering the examination hall
Most centres had provisions for students to keep their phones and bags like a counter outside the schoo which issued coupons in lieu of phones and bags
Submitting bags and phones at the security counter!
 Parents holding the bags for many students in centres where no arrangements were made.
Parents holding bags of students on account of no baggage counter 
Seating plan displayed outside the examination hall for the convenience of the students.
Display of seating plan
NK Gupta security head at one exam centre told Careers360, "frisking is reduced on account of metal detectors. I see the need for frisking properly as advanced technology has made cheating easy. However we have secure systems which I believe are fool proof."
Student entering examination hall!
JEE Main 2018 exam centres gate closes at 9:30 am.
Exam center closed at 9:30am! 
JEE Main 2018 paper-I in offline mode concluded. Exam centers gate opened at 12:35 pm. Paper-II of JEE Main 2018 in offline mode will commence at 2:00 pm.
JEE Main  2018 paper 1 (offline mode) concludes. Exam centers gate opened at 12:35 pm.
Questions related to JEE Main
Related E-books and Sample Papers