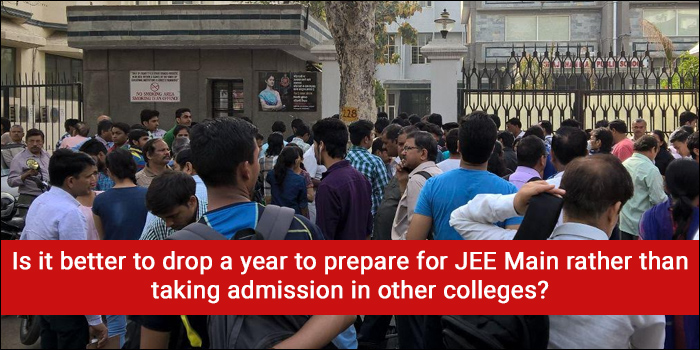 Now, as JEE Main 2017 result have been declared, the scores/marks range of the candidates will determine the admission opportunities for them. Based on their JEE Main 2017 score and the cut off of JEE Main 2017, admissions will be offered to the candidates across NITs, IIITs and GFTIs. However, the final deciding factors for many admission seekers would be the B.Tech branch and institute they get. At this juncture the students face a dilemma – whether to take admission in the branch and the institute being offered to them or to leave the seat being offered, take a drop and prepare for next year to better their score and admission opportunities. Careers360 has done a closer analysis of the official data of JEE Main from previous years and brought forth some facts about what is a much better option – Is it better to drop a year to prepare for JEE Main rather than taking admission in other colleges? Read through.
B.Tech Admissions Open 2019
Manipal Institute of Technology
JEE Main Sample Paper
Download Free Sample Paper For JEE Main
Download Now
Should you take admission in the first attempt?
This is a big dilemma for many students.  This is generally suggested as a good option and the reasons put forth for this is that you need not waste one year and put your career back by one year. There is no guarantee that you may score exceptionally well hence it is better to take the admissions offered. Time is money and since studying at home is an option preferred by very few, another year of coaching will cost. This can be used towards the college fees for the first year of engineering.
Should you take a drop and attempt JEE Main next year?
As you have to prepare for your board exams and JEE Main simultaneously, it may happen that you are not able to dedicate your entire energy and focus on preparation towards JEE Main with pressure mounting on due to the nearing board exams. You may also end up complaining or begrudging about your JEE Main performance (which might not be at par with your expectations) or with the thought of not getting the desired college or B.Tech branch. If that is the case, you may consider the alternate option of a year's drop and preparing for the next year's JEE Main in the hope of a better performance and improved marks. It is commonly felt that if one had a bit more time for the JEE Main preparation, it would have resulted in a better performance.  Taking a break for a year sounds good as it means 12 months of extra time for preparation and a second chance at IIT or NIT admissions. Since one whole year of dedicated study exclusively devoted to JEE Main sounds very promising of a very good JEE Main score, you may think of this as a good option.
So is it better to drop a year to prepare for JEE Main rather than taking admission in other colleges?
Careers360 analysed JEE Main marks of 7,01,297 freshers, 1,67,352 (1-year droppers) and 25,882 (2-year droppers) from the past years and figured out the outcome. The data trend reveals that 47% General category candidates out of the total 7,01,297 freshers dropped the idea of admission for better admission opportunities next year. However, even after taking a year's drop, nothing significant changed.
The table below reflects trends of marks secured by JEE Main takers from different categories.
Category-wise average marks scored by JEE Main takers as freshers, 1 and 2-year droppers:
Category

Freshers

One Year Droppers

Two Year Droppers

Average JEE Marks

Average JEE Marks

Average JEE Marks

General

60

77

66

OBC-NCL

49

66

64

SC

44

52

49

ST

41

48

46
Just a little improvement after a year's drop:
While in the very first attempt, the average marks secured by general category candidates in JEE Main were 60, general category candidates could fair only a little better after taking a year's drop. Even after taking a year's drop and focusing only on JEE Main preparation, the candidates from general category could manage to secure an average marks of 77 in JEE Main.
Though the average marks of 77 after a year's drop are better than 60 secured as a fresher, however when it comes to getting a seat and branch, these little better marks don't guarantee better seat or institute. Neither it gives you that cut off marks for taking JEE Advanced (the entry gate for an IIT seat).
Similarly, OBC-NCL category students from 7,01,297 freshers scored 49 marks on an average, their JEE Main marks registered a jump of only 17 points on average after taking a year's drop.
Thus, the JEE Main data from the previous years reflect that if you are planning to drop a year, you may score better in JEE Main, but there will not be much difference in the B.Tech branches and institutes after a year as compared to what you are getting as a fresher. It's therefore not advisable to suggest a year's drop in the hope for a better seat and branch.
Worst Case: A 2-year drop for JEE Main - not a good idea
If you are planning to drop in the second year of attempt as well, then better if you first go through JEE Main performance trends from the data of past years. The data reveals though 2-year droppers perform marginally better as compared to a fresher or the candidate appearing in JEE Main for the first time, but the average performance of the candidates with a 2-year drop for JEE Main registered a dip in average marks.
Sample this:
From general category candidates, the freshers secured 60 marks on an average, while the 1-year droppers scored average marks of 77. But this score dropped to a low of 66 average marks in the third attempt after a 2-year drop. Also, in OBC-NCL category, the average JEE Main marks in freshers case stood at an average of 49, at 66 after a 1-year drop and fell to average marks of 64 after 2-year drop. Thus, the data proves that it's not at all advisable to take a 2-year drop for JEE Main.
Category-wise percentage of JEE Main droppers:
| | | | |
| --- | --- | --- | --- |
| Category | Freshers | One Year Drop | Two Year Drop |
| Total number of students | 701297 | 167352 | 25882 |
| General | 51% | 47% | 41% |
| OBC-NCL | 36% | 38% | 40% |
| SC | 9% | 11% | 15% |
| ST | 4% | 4% | 4% |
The table below carries JEE Main data from the previous years which reflects the total number of students taking a drop as freshers, 1 year-drop and 2-years drop from different state boards of India. 
States and numbers of droppers from state boards in JEE Main:
| | | | |
| --- | --- | --- | --- |
| State | Freshers | One Year Drop | Two Year Drop |
| Total Number of students | 701297 | 167352 | 25882 |
| UP | 10% | 24% | 42% |
| Maharastra | 16% | 4% | 2% |
| Bihar | 7% | 14% | 8% |
| AP | 9% | 1% | 1% |
| Rajasthan | 6% | 10% | 7% |
| MP | 6% | 7% | 5% |
| Telangana | 7% | 1% | 0% |
| Kerala | 4% | 4% | 1% |
| Odisha | 4% | 4% | 5% |
| Delhi | 4% | 5% | 3% |
| Other State From North India | 8% | 11% | 15% |
| Other State From East India | 11% | 14% | 10% |
| Other State From South India | 8% | 1% | 1% |
Also Read:
JEE Main 2017 Topper Interview - Kalpit Veerwal (AIR 1) "My success mantras are confidence, focus and hard work"
JEE Main 2017 Topper Interview – Vishwajeet Agrawal (AIR-5) "Conceptual clarity, self motivation and confidence are the key factors to success"
JEE Main 2017 Topper Interview - Anany Sharma (AIR 10) "Stay focussed and success will follow"
CBSE announces 4 bonus marks for wrong question!
Top Engineering Colleges accepting JEE Main Score and Cutoff
JEE Main cut off analysis: Steep decline over the years
Want more updates on JEE Main, keep tuned to engineering.careers360.com.
Get real-time alerts on exam & colleges at your fingertips with Careers360 App! Click Here to Install or Give a missed call on 08080944727 to get app link.