Is NCERT enough for JEE Main 2022-23?
Is NCERT enough for JEE Main 2022- NCERT Books are widely preferred to prepare for JEE Main 2022. But students preparing for JEE Main exam want to score well in the exam. Hence, many students seek an appropriate answer to "Is NCERT enough for JEE Main". There are tons of JEE Main books for preparation, also to select the best one for preparation is tough.
Latest Updates for JEE Main
Stay up-to date with JEE Main News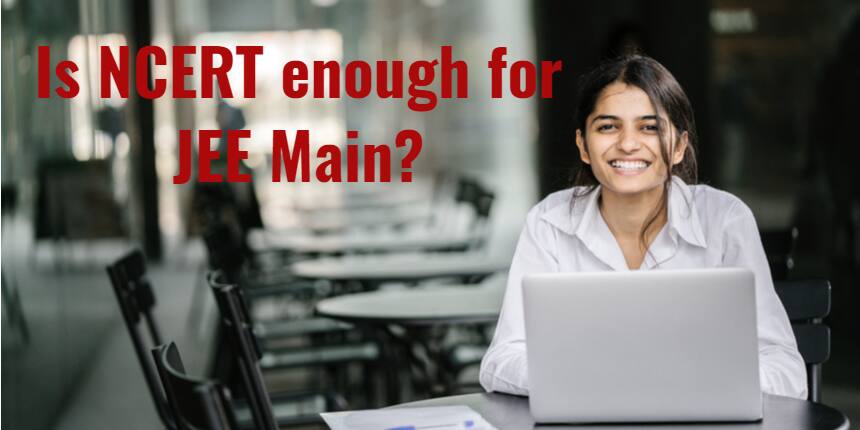 Throughout the years, NCERT books have been considered a staple in the JEE Main 2022 preparation. Since the entrance examination is based on the 11th and 12th standard syllabus of CBSE, NCERT books are seen as the perfect reference for studies. However, is NCERT enough for JEE Main? If NCERT is not enough, then which books can we refer to? Careers360 breaks down the answer to this question in the article below. Read the full article to know the answer to 'Is NCERT enough for JEE Main'.
Is NCERT enough for JEE Main 2022?
There are various reasons why NCERT is considered enough for JEE Main exam. While the factor of NCERT books having similar topics to JEE Main syllabus is the most important, there are also other points that point towards it being advantageous:
Over the past years, it has been noted that the questions of inorganic section from Chemistry have been directly taken from NCERT books.

Similarly for Mathematics, many questions available in NCERT books have been repeated in JEE Main question papers. The basic concepts of the mathematics topics have also been discussed clearly in NCERT books and past JEE Main candidates have agreed that preparation was much defined and stronger by using these books.

NCERT 11th books and Clas12th standard NCERT books can be used to understand the basic concepts of Physics. NCERT books explain all the topics in a more detailed way so that the students understand and perform well in the exam.

JEE Main toppers and experts also recommend NCERT for JEE Main preparation. According to experts, studying NCERT is enough to qualify JEE Main.
What is NCERT?
National Council of Educational Research and Training publishes textbooks that are used for standard education in the Central Board of Secondary Education (CBSE). These books for various classes are released and used by students all over the nation. NCERT plays a vital role in JEE Main preparation since students use these books to study for the entrance examination.
Why are NCERT books used for JEE Main Preparation?
Since NCERT books cover all of the topics which are included in the official syllabus of JEE Main, students use these books for preparation. The syllabus of JEE Main and 11th and 12th standard of CBSE is quite similar and since NCERT books are used by CBSE, the students feel these books are the best reference material. Being familiar with these books since 11th and 12th standard is also another reason why NCERT books are considered important for JEE Main preparation.
The Other Side of the Coin
However, many experts also argue that NCERT is just not enough to qualify and obtain a good score in JEE Main. According to JC Chaudhary (Chairman & MD, AESL), NCERT books are important, but students should also refer to different author books for each subject in order to get good results in the entrance examination. Many experts and previous JEE Main toppers also agree that other than NCERT books, different books should be checked to gain a wider perspective of the topics since there is no definite assurance how the questions will be framed by the authorities. Some popular books for reference are often recommended and students are advised to check them out. By adding these books in the preparation process along with NCERT books, the students can be assured to bring good results and obtain a valid score for their admissions into NITs, IIITs and GFTIs or qualification for JEE Advanced.
Some Recommended Books for Reference
Physics
Concepts of Physics (Vol. 1 and 2) by H.C Verma
Fundamentals of Physics by Halliday, Resnick & walker
Understanding Physics by Freedman and Young
Chemistry
Modern Approach to Chemical Calculations by R.C. Mukherjee
Organic Chemistry by O.P Tandon
Concept of Physical Chemistry by P Bahadur
Concise Inorganic Chemistry by J.D Lee
Mathematics
Objective Mathematics by R.D Sharma
Algebra by Dr S.K Goyal
Elements Of Coordinate Geometry by S.L Loney
Integral Calculus by Amit M Agarwal
Other Relevant Links
Questions related to JEE Main
Showing 126724 out of 126724 Questions