NTA JEE Main 2020 FAQs (Frequently Asked Questions)
JEE Main 2020 FAQs - National Testing Agency (NTA) is going to conduct JEE Main April 2020 session from September 1 to 6. Since the examination is of national level, it is natural for the candidates to have a number of questions and queries. Careers360 presents JEE Main 2020 FAQs (Frequently Asked Questions) to answer the most commonly asked questions related to the examination by the candidates. By checking the JEE Main FAQs 2020, the candidates will be able to understand and find an answer to their questions related to number of attempts, eligibility, number of participating institutes and more. Through the FAQs of JEE Main 2020, the candidates will be able to have clarity and accordingly prepare for the upcoming application and examination process. JEE Main will be conducted as two papers - Paper 1 for B.Tech and Paper 2 for B.Arch/B.Plan admissions. Read the full article to know more about JEE Main 2020 FAQs.
Latest: JEE Main 2020 application correction facility available now
Important: JEE Main 2020 exam dates revised; to be held from September 1 to 6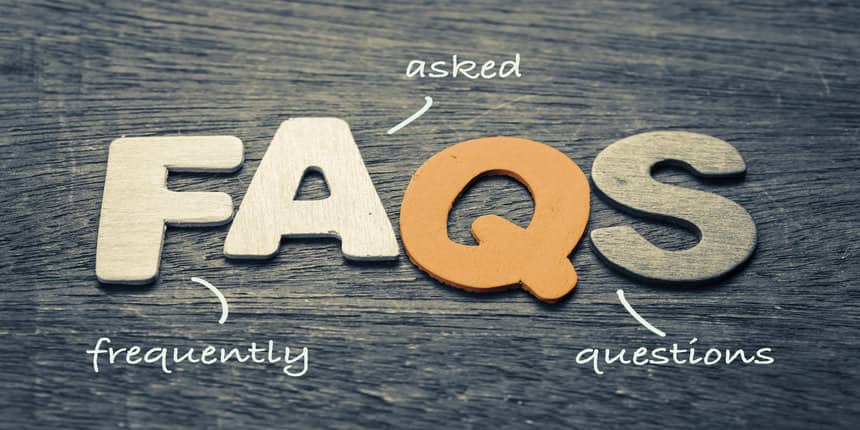 Q. Is NTA going to hold JEE Main this year too?
Ans: Yes, National Testing Agency has been granted the responsibility for conducting JEE Main. All exam related procedures will be held by the NTA authorities.
Q. What is new in JEE Main 2020?
Ans: NTA has announced that Paper 2 of JEE Main 2020 will be conducted separately for B.Arch and B.Plan. Instead of drawing section, B.Plan examination will have a section with questions on Planning. The application process has also been changed by the authorities and the fee can be paid only in online mode (net banking/credit card/debit card/UPI/PayTM). The application fee has also been changed for all categories. The number of exam centres has also decreased to 231 Indian cities and 9 foreign cities. In the previous year, the total number of Indian exam cities were 264. Candidates can also change their exam centres through JEE Main application form correction facility.
Q. What is the new change in JEE Main Paper 2 (B.Arch) eligibility?
Ans: Candidates who wish to apply for admission through JEE Main 2020 Paper II (B.Arch) need to have scored 50% marks individually in Physics, Chemistry and Mathematics and also 50% aggregate marks in 10+2th standard (or equivalent) examination. This information has been notified by Council of Architecture to NTA.
Q. How many attempts can I give in JEE Main?
Ans: The total number of attempts will be six, since the examination is held twice a year and the candidates originally have a maximum of three attempts.
Q. I have no access to a computer and no experience with online exams. How can I prepare for the exam?
Ans: More than 4000 schools and engineering colleges with internet and computer facilities in every region will be facilitating free practice sessions on every Saturday and Sunday for JEE Main 2020 aspirants. Student registration has to be done in online mode.
Q. Is it mandatory to give the exam twice or can I give once? If I give the exam both the times, which score will be considered?
Ans: This will be purely the candidate's choice. Whether he/she wishes to give one attempt or two is entirely up to them. In case they have attempted both the exams, the better of the two scores will be used for the purpose of ranking in the merit list.
Q. When will mock tests be available from? How to access them?
Ans: JEE Main 2020 mock tests are available in online mode. The tests will also be downloadable by students who can work at their pace if they have a computer system. Students who do not have a computer may register and walk into any of the JEE Main 2020 practice centres that will be announced soon and will be able to practice every Saturday and Sunday.
Q. What are the dates for JEE Main 2020 both January and April exams?
Ans: The official important dates of JEE Main 2020 were announced by the authorities. Applications were open between February 7 and March 12. However, the further events are affected due to Coronavirus outbreak. The JEE Main 2020 will now be conducted from July 18 to 23.
Candidates can also find the dates of various events of JEE Main 2020 January session in the table below.
Important Dates of JEE Main January 2020
| | |
| --- | --- |
| Events | Important Dates |
| Registration for JEE Main 2020 January session | September 3 to October 10. 2019 |
| Last Date to Pay Application Fee, Upload Signature and Photograph | October 11, 2019 |
| JEE Main 2020 | January 6 to 9, 2020 |
| Announcement of JEE Main January 2020 Result for B.E/B.Tech | January 17, 2020 |
| Announcement of JEE Main January 2020 Result for B.Arch & B.Plan | January 23, 2020 |
Q. Which scanned images have to be uploaded in the JEE Main 2020 application form?
Ans: The candidates will have to upload the scanned images of their photograph and signature in the application form of JEE Main 2020.
Q. Is Aadhaar Card number mandatory for JEE Main 2020?
Ans: No, Aadhaar Card number will not be mandatory. The candidates will be able to use any Government identity number such as Passport, voter ID, ration card and more.
Q. When will slot booking be available for JEE Main 2020?
Ans: There will be no slot booking. Allotment of slots will be done randomly by the NTA authorities.
Q. When will we be able to access the admit card?
Ans: The admit card of JEE Main 2020 for April session all registered candidates will be available tentatively on July 3, For the January session, the admit card was released on December 6, 2019.
Q. When will the JEE Main 2020 result be announced?
Ans: JEE Main 2020 April exam result dates might also be announced afresh as the exam is not going to e conducted as per schedule. The authorities had released the result of JEE Main 2020 Paper 1 for the January exam for B.E/B. Tech candidates on January 17, while the result for Paper 2 was released on January 23.
Q. Who is responsible for JEE Main 2020 Counselling?
Ans: Joint Seat Allocation Authority (JoSAA) will be responsible for the counselling of JEE Main 2020 qualified candidates.
Q. Which are the participating institutes of JEE Main 2020?
Ans: From 2019, 2 IIITs and 5 CFTIs have been added to the list of JEE Main participating institutes. Therefore, JEE Main 2020 qualified candidates will be able to apply for admission into 31 NITs, 25 IIITs and 28 CFTIs.
Questions related to JEE Main
Showing 97829 out of 97830 Questions