JEE Main 2021 Topper Interview - Mridul Agarwal says, "Be Dedicated Towards Goal"
JEE Main 2021 Topper Interview: Mridul Agarwal (100 Percentile) - Rajasthan Mridul Agarwal is among 13 students who have secured 100 percentile in JEE Main March 2021 attempt. NTA has released the JEE Main result 2021 for March session March 24 at the official website. Along with the declaration of the result, NTA has also released JEE Main March 2021 toppers. Candidates can also check JEE Main state wise toppers. This was Mridul's second attempt. Previously, he appeared for JEE Main for February session and scored 98.2 percentile. Careers360 interacted with him to know his preparation strategy, best books for the JEE exam and others. Read JEE Main 2021 topper interview of Mridul Agarwal (100 percentile) to know his exceptional journey.
Latest Updates for JEE Main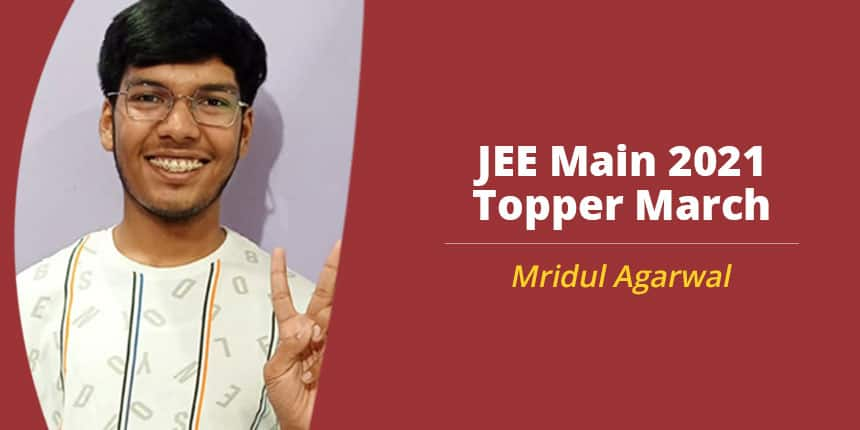 Careers360: Congratulations on your performance in JEE Main 2021! What was your reaction upon knowing your score?
Mridul Agarwal: I was very excited and satisfied with my performance. At the same time I felt responsibility for further challenges.
Careers360: Tell us something about yourself. Which board have you studied under? Which school have you studied in?
Mridul Agarwal: I have studied from St. Xavier's Senior Secondary School, Jaipur. I have secured 98.2% in 10th class and I am from CBSE board.
Careers360: What is your percentile score in JEE Main 2021? What's your score in JEE Main 2021?
Mridul Agarwal: In my JEE Main 2021 February attempt. I scored 99.99% with 96% in Physics and 100% in both chemistry and Mathematics. This time I scored 100%ile.
Careers360: Why do you want to study engineering? When did you decide to study engineering? Which branch would you be interested in? Any reason?
Mridul Agarwal: I want to pursue Engineering because of a variety of opportunities. I have a fascination towards science from childhood, I am targeting the computer science branch of the research scope in the CSE branch.
Careers360: When did you start your JEE Main preparation? Tell us something about your preparation strategy and daily routine for JEE Main?
Mridul Agarwal: I started my JEE preparation in class 11th. I didn't sacrifice my sleep for my studies. I was focussed on my preparation for 2 years and studied scientific topics two months prior to the exam. I used to practice previous year topics on a regular basis.
Careers360: Did you face any difficulties since the examination was conducted completely in computer-based mode?
Mridul Agarwal:I felt online examination is a better option. Since we don't need to fill OMR it also reduces error in checking the answer sheet.
Careers360: Was there a difference in the preparation strategy in the last months of JEE Main considering that the board exams are also coming up? How did you manage preparation for both?
Mridul Agarwal: I listed out all the topics and did a systematic revision. In the last month I was focussed on just the previous year paper and JEE Main mock tests.
Careers360: Did you take coaching for JEE Main and if yes from where? What are the benefits of coaching according to you?
Mridul Agarwal: Yes, I did take my classes from Allen Career Institute, Jaipur. In my opinion, coaching provides a systematic approach to prepare for exams. I prepared for the exam as per the suggestions from teachers who were very experienced.
Careers360: JEE Main sample papers and mock tests – how extensively did you practise with the help of these? Do you think practising from the previous year papers help and how?
Mridul Agarwal: In the last month of my preparation. I focussed on JEE Main previous year papers and mock tests from NTA abhyas app. Yes, previous year papers helped a lot. JEE Main questions are mostly based on previous years.
Careers360: Are there any special books that you feel have helped with your JEE Main preparation? Are the school textbooks adequate for preparing for JEE Main and Class XII?
Mridul Agarwal: I followed all the study material provided by my coaching institute. NCERT books are very good for JEE Main preparations. Theories in NCERT are presented in a better way than any other book.
Careers360: Did you face any problems during the JEE Main examination?
Mridul Agarwal: No, my exam went smoothly.
Careers360: Which subject was the easiest and which was the toughest in JEE Main? What do you think is a tough thing to manage during the JEE Main exam?
Mridul Agarwal: I find Physics easiest while Chemistry was a tough game since a lot of questions were memory based. In JEE Main exam 2021, it's very important to choose questions out of 10 to answer effectively. As per my experience, one should avoid calculative questions.
Careers360: What do you think are the key factors behind your stupendous success in JEE Main?
Mridul Agarwal: Consistency and balance of subjects is very important. My family, teachers and friends constantly pumped me to prepare for JEE Main 2021.
Careers360: Will you be appearing for the April session of JEE Main 2021 too?
Mridul Agarwal: No , I will not appear for further JEE Main sessions.
Careers360: How did you de-stress yourself during the preparation? What are your hobbies? How often could you pursue them?
Mridul Agarwal: I used to take small breaks. For relaxation, I did cycling, spent time with my family , played with my younger brother and had conversations with friends.
Careers360: Who is your ideal or biggest inspiration in life and why?
Mridul Agarwal: My parents are my inspiration. I am inspired by their hard work and dedication.
Careers360: You know you are an inspiration to thousands of students across the country. Do you have any message for future aspirants on tackling the JEE Main exam?
Mridul Agarwal: I must say that one must be punctual and dedicated toward the goal. Be honest to yourself and instead of taking stressor results, enjoy your JEE Main preparations. Try to develop passion for the subject.
Questions related to JEE Main
Showing 115873 out of 115873 Questions