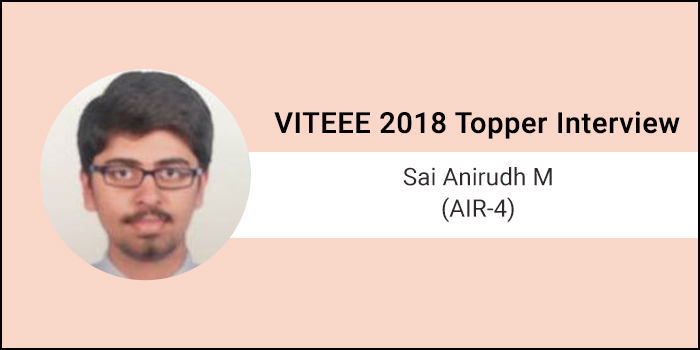 Self-confidence, cool attitude and a very sorted mindset at such a ripe age is what made Sai Anirudh M, stand out amidst all the candidates who appeared in the VITEEE 2018 entrance exam. Anirudh never expected to be among the top 5 rankers but to his utmost surprise, he managed to grab the 4th rank in the entrance exam conducted by VIT University from April 4 to 15 in online mode. Anirudh, not only excelled in VITEEE exam but also performed well in JEE Main 2018 entrance exam by securing an All India Rank of 154. He thinks that studies should not be taken as a burden and it is absolutely okay to do what one likes. Read the exclusive interview of VITEEE, All India Ranker 4, Sai Anirudh M below.
Admissions Open Now
VITEEE 2019
Register for B.Tech Admissions 2019 @ VIT | 400+ Recruiters | Know more
The results for the VITEEE 2018 exam were announced on April 27 in online mode.
VITEEE Sample Paper
Download Free Sample Paper for VITEEE
Download Now
Careers360: Congratulations for your outstanding performance in VITEEE! What was your reaction upon knowing your rank?
Sai Anirudh M.: Thank you. I was taken by surprise as I wasn't expecting much from the exam and wrote it casually.
Careers360: Tell us something about yourself. Which place do you belong to? Which board have you studied under? Which School?
Sai Anirudh M.: I was born in Hyderabad but lived in Bangalore for most of my life. I studied in Sri Kumaran Children's Home CBSE.
Careers360: What is your score in VITEEE? What is your All India rank?
Sai Anirudh M.: I don't think they make the scores available to us, all I know is that I attempted everything. I secured the 4th rank
Careers360: Why do you want to study engineering? When did you decide to study engineering?
Sai Anirudh M.: I think engineering is an interesting application of science, and I look forward to the engineering life everyone talks about. I never really made the decision at a point of time, I gradually realised it.
Careers360: Which branch are you interested in and which campus do you plan to apply for?
Sai Anirudh M.: I am interested in several branches like Mechanical and Electrical, but not the most favoured Computer Science. I aspire to study in an IIT.
Careers360: Have you appeared for other entrance exams? Which ones?
Sai Anirudh M.: Yes, I appeared for JEE and KCET and will appear for BITSAT too.
Careers360: Did you prepare separately for VITEEE? When did you start your VITEEE preparation?
Sai Anirudh M.: I didn't prepare separately for VIT, it pretty much got covered in my JEE preparation.
Careers360: Was there any difference in JEE Main and VITEEE exam? If yes, what was it?
Sai Anirudh M.: Yes, there was. JEE required both speed and thinking during the exam, whereas VIT was mostly speed based and had easy questions. The syllabus overlapped for the most part except for a few questions.
Careers360: Was there a difference in the preparation strategy in the past months considering that you had board exams as well as entrance exams during this period? How did you manage preparation for both?
Sai Anirudh M.: I almost stopped JEE preparation during boards with the exception of writing mock tests periodically. My board preparation started seriously in February.
Careers360: Did you take coaching for the JEE Main and other entrances? If yes from where? What are the benefits of coaching according to you?
Sai Anirudh M.: Yes, I have studied at Allen Bangalore for the past 2 years. It played a key role in motivating me and compelling me to study.
Careers360: Mock tests and sample papers – how extensively did you practise with the help of these? Do you think practising from the previous year papers help and how?
Sai Anirudh M.: I wrote mock tests at least once a week. I think, they are very important as they keep a regular check on your status and what you don't know well.
Careers360: Are there any special books that you feel have helped with your VITEEE preparation? Are the school text books adequate for preparing for VITEEE and Class XII? 
Sai Anirudh M.: Not particularly, NCERT knowledge was sufficient for the most part. Being a JEE aspirant made things easier.
Careers360: Which syllabus was more prevalent in VITEEE? Class 12 or Class 11?
Sai Anirudh M.: My memory is vague but I remember that there were more class 12 questions.
Careers360: Did you face any problem during the VITEEE examination?  Which subject was the easiest and which was the toughest?
Sai Anirudh M.: I didn't face any issues as such. I didn't find any subject particularly easy or tough, to my recollection. However, Maths had a few questions from syllabi I haven't seen before.
Careers360: Can you give us some details about which topics were covered in VITEEE? Please specify for Maths, Physics and Chemistry.
Sai Anirudh M.:Honestly, I don't remember.
Careers360: How did you de-stress yourself during the preparation? What are your hobbies? How often could you pursue them?
Sai Anirudh M.: I usually don't take much stress by nature. My recreation mostly involved listening to music, watching TV or cycling. I am quite interested in air planes, but didn't do much about it in the past 2 years. I also used to work out regularly but that stopped about a year ago too.
Careers360: Who is your ideal or biggest inspiration in life and why?
Sai Anirudh M.: I don't hold any one person as my sole inspiration. I respect my parents a lot for being able to shape me the way I am.
Careers360: You know you are an inspiration to thousands of students across the country. Do you have any message for future aspirants on tackling the VITEEE exam?
Sai Anirudh M.: Specifically for VIT, I would like to say that it's an easy exam where it is important to be quick and not commit silly mistakes. As a general message, I think people should not take studies so seriously that there is no other space to breathe in. It's okay to do what you like, in proportion to how important it is to you.
Questions related to VITEEE
Related E-books and Sample Papers