AEEE Syllabus and Sample Papers 2023 - Check Subject wise Syllabus here
AEEE Syllabus and Sample Papers 2023: Students who will be appearing for the Amrita BTech exam must be familiar with AEEE 2023 syllabus and sample papers. The syllabus of AEEE 2023 carries topics from Chemistry, Physics, and Maths from which questions will be asked in the AEEE exam. To prepare for the AEEE 2023 entrance test, it is also important to solve the AEEEE sample paper as it will help in improving the time management skills, accuracy, speed, and efficiency of the candidates.
Stay up-to date with AEEE News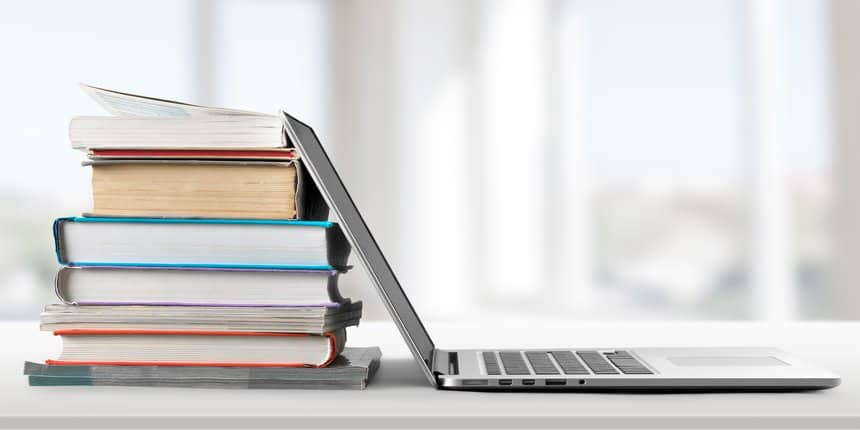 In order to qualify for the Amrita entrance exam 2023, it is important to know the syllabus and practice the sample papers. Along with the AEEE syllabus, candidates can take the help of sample papers of AEEE 2023 to assist their preparations for the national-level entrance test. For more details about the AEEE syllabus and sample papers 2023, candidates can check the article below.
Also Check:
AEEE 2023 Syllabus
Amrita Vishwa Vidyapeetham releases the AEEE syllabus 2023 in online mode. Candidates can also access the AEEE syllabus through this article. Getting acquainted with the syllabus of AEEE 2023 is important as it will enable candidates to know about the important topics and concepts of AEEE 2023, which they can check out on the AEEE official website. Candidates can check the syllabus of AEEE from the tables given below:
AEEE Syllabus
Physics

Chemistry

Mathematics

Units and dimensions

Basic Chemical calculations

Sets, Relations, and Functions

Kinematics

Atomic structure & periodicity

Complex Numbers

Mechanics

Chemical bonding

Permutations and Combinations

Solids and Fluids

S-block and hydrogen

Binomial Theorem

Oscillations and Waves

P-block elements

Sequences and Series

Heat and Thermodynamics

d and f block elements:

Matrices and Determinants

Electrostatics, Current Electricity, and Magnetostatics

Solid state

Quadratic Equations

Electromagnetic Induction and Electromagnetic Waves

Coordination compounds

Trigonometry

Kinetic Theory of Gases

Gaseous State & Surface chemistry

Measures of Central Tendency and Dispersion

Ray and Wave Optics

Colligative properties

Probability

Modern Physics

Electrochemistry

Differential Calculus

Thermodynamics

Integral Calculus

Chemical and Ionic Equilibria

Differential Equations

Chemical kinetics

Co-ordinate Geometry

Basic Organic chemistry

The Straight Line and Pair of Straight Lines

Hydrocarbons & Polymers

Circles and Family of Circles

Organic halogen compounds

Conic Sections

Stereochemistry and Organic nitrogen compounds

Vector Algebra

Organic functional groups – hydroxyl, carbonyl compounds, and ethers

Three-Dimensional Geometry

Biomolecules and Environmental Chemistry
List of colleges in India accepting AEEE
AEEE Sample Paper 2023
Solving sample papers of AEEE 2023 help candidates to prepare in a more efficient manner for the AEEE entrance exam. Students can refer to the below and access the AEEE sample papers 2023 to practice and boost their preparation. The AEEE sample papers are prepared by using the exam pattern and syllabus of AEEE and it will be used as a model question paper.
66666666666666666
By solving AEEE sample papers 2023, candidates can analyze their current preparation level. Also, it will enhance the time management skills.
AEEE Sample Papers:
AEEE 2023 Sample Paper and Syllabus: Benefits
Knowing syllabus of AEEE 2023 helps to know about the topics and units that need to be studied for the entrance exam.

AEEE 2023 sample papers allow candidates to get familiar with the exam pattern before that they take the actual entrance test.

By solving AEEE 2023 sample papers, students will identify their weak and strong areas. By checking the mistakes while solving sample papers of AEEE 2023, they will be able to analyze their exam preparation level.

Time management can be improved by the candidates while solving the sample papers within the allotted time.

Concepts and topics can be made clear using the AEEE 2023 sample paper.
Colleges in India offering admissions to Engineering courses in India
Frequently Asked Question (FAQs) - AEEE Syllabus and Sample Papers 2023 - Check Subject wise Syllabus here
Question: Who will release the AEEE 2023 syllabus?
Answer:
The syllabus of AEEE 2023 will be released in online mode by the Amrita University on their official website.
Question: How will AEEE 2023 syllabus help in exam preparation?
Answer:
The syllabus of AEEE carry the topics and units from where questions will be asked during the examination.
Question: How many candidates apply for AEEE 2023?
Answer:
As per the available information, there will be more than 50000 candidates appearing for the entrance exam.
Question: How to prepare for AEEE 2023 in the best way?
Answer:
Refer exam pattern, AEEE 2023 syllabus and try to solve practice sample papers as much as possible.
Questions related to AEEE
Showing 1891 out of 1891 Questions