JEE Main 2020 Topper Interview: Vishnu - "Keep your concepts clear from beginning"
JEE Main 2020 Topper Interview (Thadavarthi Vishnu Sri Sankar) (100 Percentile) - When you are persistent in achieving what you aim for, everything comes in place and success is destined. With such persistent attitude, JEE Main toppper 2020 Thadavarthi Vishnu, a boy from Andhra Pradesh created his path towards securing a 100 percentile in JEE Main 2020. JEE Mains topper 2020 Vishnu is one of those student who remain silent and their success makes all the noise. When asked for his preparation strategy, JEE topper 2020 Vishnu shares that the very simple formula is getting your concepts clear. It helps in achieving in depth understanding of the topics. In an interview with Careers360, this Andhra boy expresses various details which a JEE Main aspirant should not miss as provided below.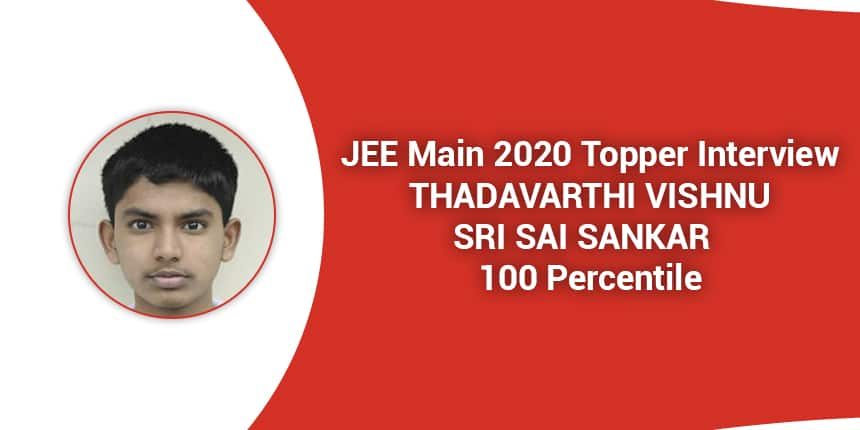 Careers360: How did you feel when you checked the JEE Main 2020 result and emerging as JEE topper 2020?
Vishnu: My best score was that of JEE Main January 2020, so the feeling was back in January. It felt great to score a 100 percentile in the exam.
Careers360: When did you complete your schooling?
Vishnu: I completed my class 12 in 2020 only from the State board with 10 CGPA. It was my first attempt for NTA JEE Main in January and then again in September 2020.
Careers360: What was your subject wise score and JEE Main score?
Vishnu: I scored 100 percentile in Mathematics, 99.999 in Chemistry and 99.977 as in Physics. I secured 100 percentile in JEE main 2020. My raw score is 292/300 with an All India rank of 15 and an overall NTA JEE Main percentile of 100.
Careers360: When did you start preparing for JEE Main? How many hours do you study on a daily basis?
Vishnu: I went to hostel for further studies in Vijayawada in class 9 to start preparing for JEE Main exam. I devote almost 9 to 10 hours for JEE Main preparation on a daily basis. I took coaching from Sri Chaitanya Academy for preparation.
-->
Careers360: Did you refer to any specific books for preparation?
Vishnu: Apart from the class notes shared by the teachers at Sri Chaitanya Coaching Institute, we were supposed to study from K.Kumar books for JEE Main preparation which helped a lot in getting the essence. Along with any other book, NCERT books were the roots for study.
Careers360: What was the difficulty level of both sessions of exams?
Vishnu: For both the sessions, Mathematics was moderately difficult. In Chemistry, I found some questions to be tricky in the September 2020 session. Overall, January session was better than September session for me due to some petty mistakes in the latter exam.
Careers360: How is your preparation for JEE Advanced going after becoming a JEE Main topper?
Vishnu: As there are less number of days remaining, JEE Advanced 2020 preparation is underway. Since the lockdown was declared, I am at my home preparing for JEE Main and Advanced.
Careers360: What are the factors that played a crucial role for your success in JEE Main?
Vishnu: As if I believe I go through all the concepts thoroughly. I go more into concept clarity than getting into problem solving. That might be the reason why I got better JEE Main results. In case I find any doubt while solving JEE Main sample papers, I would go back to the concept and concentrate into depth of such topic.
Careers360: What was the importance of JEE Main mock tests and previous year question papers in your preparation?
Vishnu: Not much but I used to practice JEE Main question papers and mock tests as well once in a week. Those help in analyzing the level of preparation and are quite important.
Careers360: What would you advise to future aspirants of JEE Main?
Vishnu: I would suggest the future aspirants to first go through the whole JEE Main syllabus and get your concepts clear. Then only should they start with analysing their level of preparation with the help of mock tests, etc.
Careers360: How did you manage with stress? Did you ever think of giving up?
Vishnu: Whenever I was stressed, I would take some rest. I had this faith that I will try my best and even if I fail once, I will try again.
Questions related to JEE Main
Showing 112253 out of 112254 Questions