JEE Main 2020 Topper Interview - Nishakar Kumar "Only those who dare to fail achieve great success"
JEE Main 2020 Topper Interview: Nishakar Kumar - The result day of JEE Main 2020 January session brought infinite elation for Nishakar Kumar as he secured 99.8656201 NTA score. Success did not come to the topper overnight, this was his second year of JEE Main and not letting the disappointment of the last year results come in between his way to success, the JEE Main 2020 topper Nishakar Kumar worked hard relentlessly to make sure the results are better and scores are bigger this year. Talking about his success, the JEE Main 2020 topper says that whenever he was stressed out he used to listen to slow music and make sure his mind is not cluttered by unwanted thoughts. As part of Careers360 JEE Main 2020 topper interview series we got in an exclusive conversation for JEE Main 2020 topper interview talking about his preparation strategy, future plans and a lot more.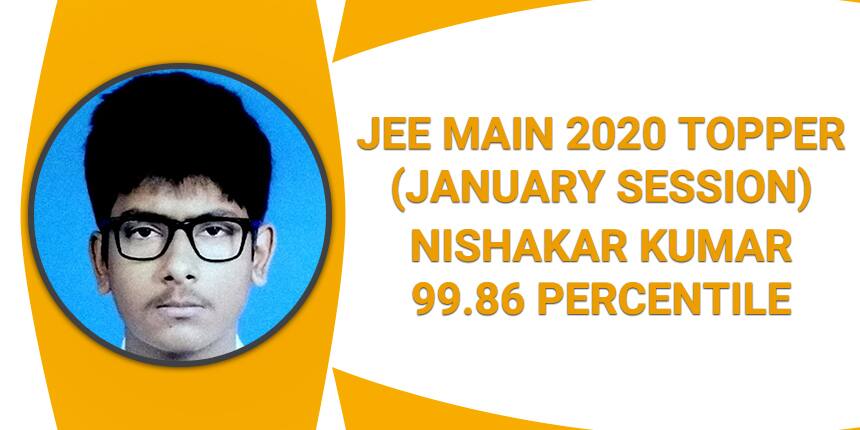 Careers360: Congratulations for your performance in JEE Main 2020! What was your reaction upon knowing your score?
Nishakar: I was extremely delighted when I came to know about my score. I knew I had done well and I was expecting good scores in the result.
Careers360: Tell us something about yourself. Which board have you studied under? Which school have you studied in?
Nishakar: I have passed my classs 12 from Mother's Public School under CBSE Board.
Careers360: What is your percentile score in JEE Main 2020? Whats your score in Physics, Maths and Chemistry?
Nishakar: My subject wise and overall NTA score is given below
Physics : 99.9545176
Chemistry : 99.3604896
Maths : 99.7312402
Total : 99.8656201
Careers360: Why do you want to study engineering? When did you decide to study engineering? Which branch would you be interested in? Any reason?
Nishakar: I have always been inclined towards Maths and Science, and Engineering is perfect for me as it focuses on the wide range of applications of all the theories that I have been learning.
• I decided to go for engineering in STD. 10.
• I am interested in Computer Engineering as I am immensely interested in technological stuff.
Careers360: When did you start your JEE Main preparation? Tell us something about your preparation strategy and daily routine for JEE Main?
Nishakar: I didn't really prepare well in the last two years and because of that I couldn't secure a decent rank last year. During my drop year, in the first 4 months I completed my notes for advanced from various online sources and in the last 2 months before my 1st attempt I completed :-
i) Exemplar for Chemistry and Mathematics.
ii) NCERT textbook for Chemistry.
iii) 18 years previous year papers and 16 papers of JEE main 2019.(P/C/M)
Also, In the last 2 months I used to sit for around 13-14 hours but out of them around 8-9 hours would be effective ones.
Careers360: Did you face any difficulties since the examination was conducted completely in computer based mode?
Nishakar: I didn't face any kind of difficulty in the online mode as I appeared for the Computer Based Test mode last year as well.
Careers360: Was there a difference in the preparation strategy in the last months of JEE Main considering that the board exams are also coming up? How did you manage preparation for both?
Nishakar: Last year, as my January attempt did not go well, I decided to focus on boards and completed all the previous year questions. I secured 94.6 % in boards.
Careers360: Did you take coaching for JEE Main and if yes from where? What are the benefits of coaching according to you?
Nishakar: I was in FIITJEE for the last 2 years and relied on self study in my drop year.
According to me, coaching provides the students with its competitive atmosphere and really talented teachers who are there for students all the time.
Careers360: Mock tests and sample papers – how extensively did you practise with the help of these? Do you think practising from the previous year papers help and how?
Nishakar: Practicing from the previous year definitely helps undoubtedly! Mocks are also very important as it gives you an approximate idea of where you stand. My marks in mains were in the same range of marks that I used to get in the mocks. I gave around 10-11 mocks in the last 10 days before the exam.
Careers360: Are there any special books that you feel have helped with your JEE Main preparation? Are the school text books adequate for preparing for JEE Main and Class XII?
Nishakar: NCERT Exemplar is really helpful especially when NTA focuses mainly On NCERT. Previous year papers and NCERT Text books are also highly efficient from 'JEE Main' point of view.
Careers360: Did you face any problems during the JEE Main examination? Which subject was the easiest and which was the toughest in JEE Main? What do you think is a tough thing to manage during the JEE Main exam?
Nishakar: I was a bit nervous at the start but as I proceeded through the Qs solving them, I gained my confidence back! For me Physics and maths were easiest and Chemistry was moderate. The most important thing in the exam is time management and presence of mind.
Careers360: What do you think are the key factors behind your stupendous success in JEE Main?
Nishakar: I always overestimate my competitors and prepare accordingly. I still have a long way to go.
Careers360: Will you be appearing for the April session of JEE Main 2020 too?
Nishakar: Yes, I will appear for the April attempt of JEE Main 2020.
Careers360: How did you de-stress yourself during the preparation? What are your hobbies? How often could you pursue them?
Nishakar: Whenever I got stressed out I used to calm myself down listening to some slow music. In these times one must think of what better lies ahead instead of focusing more on their worries.
I used to listen to music around 3-4 times a day.
Careers360: Who is your ideal or biggest inspiration in life and why?
Nishakar: My parents obviously are my biggest Inspiration. I also admire Sir Albert Einstein.
Careers360: You know you are an inspiration to thousands of students across the country. Do you have any message for future aspirants on tackling the JEE Main exam?
Nishakar: I would advise them to have a really strong motive because it is the only thing that motivates them through all the difficulties.
Questions related to JEE Main
Showing 97639 out of 97640 Questions