JEE Main 2020 Topper Interview : Akhil Jain- "NCERT books will help you in reaching your Ultimate Goal"
JEE Main 2020 Topper Interview : Akhil Jain (100 Percentile) - Hailing from Kota, 18 year old Akhil Jain is one of the 9 students who has secured 100 percentile in JEE Main 2020 Paper 1. Along with scoring a perfect percentile, Akhil is also the state topper of Rajasthan. A student of Delhi Delphi School in Kota, Rajasthan, Akhil gives the credit of his success to NCERT books and regular studies. He believes that students should study daily and clear all their doubts on time. Highlighting the importance of mock tests and previous year papers, he said that they help in increasing one's confidence and speed. Akhil is now one step closer to his dream. Rather than celebrating his success, this eighteen year old JEE Main topper is now focusing on his preparation for JEE Advanced 2020 in order to a seat in IIT Bombay, his dream college. Careers360 team conducted an exclusive JEE Main 2020 topper interview of Akhil Jain. Read the detailed interview of JEE Main 2020 topper Akhil Jain below.
Latest: JEE Main 2020 result to be declared Soon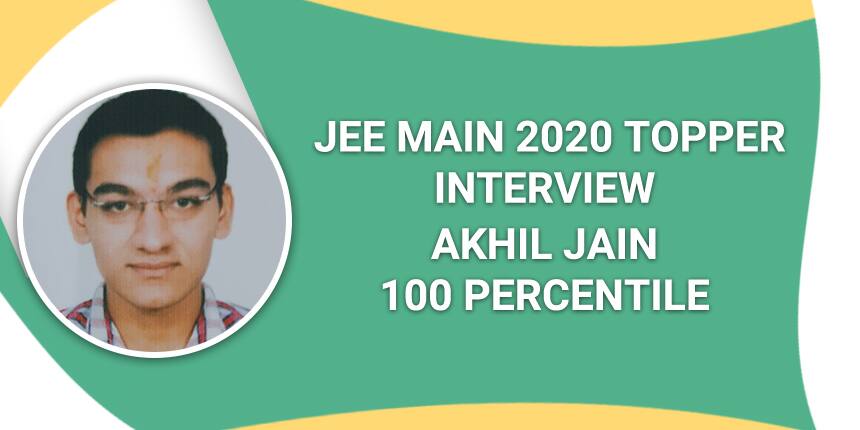 Careers360: Congratulations for your performance in JEE Main 2020! What was your reaction upon knowing your score?
Akhil: I was extremely happy!! It was unexpected!! I was expecting a good score as when I checked the JEE Main 2020 answer key, I was sure that I would qualify for the next round but 100 percentile was not in my mind. Now, after seeing my result, I feel my hard work has paid off.
Careers360: Tell us something about yourself. Which board have you studied under? Which school have you studied in?
Akhil: I am from Kota, Rajasthan. I have studied under the CBSE board and the name of my school is Disha Delphi Public School, Kota.
Careers360: What is your percentile score in JEE Main 2020? What's your score in Physics, Maths and Chemistry?
Akhil: I scored 100 percentile in the exam. My percentile in Mathematics is also 100.
Careers360: Why do you want to study engineering? When did you decide to study engineering? Which branch would you be interested in? Any reason?
Akhil: I was interested in engineering from the very beginning. However, I wanted to become a scientist but gradually I gained more interest towards engineering. My Grandfather was also an Engineer so I got inspired by him also. Now, I aim to get admission in Computer Science Engineering in IIT Bombay.
Careers360: When did you start your JEE Main preparation? Tell us something about your preparation strategy and daily routine for JEE Main?
Akhil: I started my preparations for JEE Main 2020 from Class 9th. I joined Allen Kota institute for it. I used to study almost 12 hours including time spent in school and coaching. My daily routine includes rising up early in the morning to start the day early. Also, I take a break after every 1.30 hours during my studies. During this break, I listen to music or watch TV.
Careers360: Did you face any difficulties since the examination was conducted completely in computer based mode?
Akhil: No, I did not face any difficulty during the exam. I was aware that the exam is online and knew how to use a computer. Also, I got a feel for the real examination in my coaching. So, I was fully prepared for an online exam.
Careers360: Was there a difference in the preparation strategy in the last months of JEE Main considering that the board exams are also coming up? How did you manage preparation for both?
Akhil: I feel there was no difference between both the exams. I focussed on NCERT books during my preparations, so I was fully prepared for my board exam. For JEE Main, one needs to focus more as the paper involves more in-depth reading and analysing. So, basically I was focusing more on JEE Main. I found no difficulty in managing my preparations for both the exams as I focussed on NCERT books from the start.
Careers360: Did you take coaching for JEE Main and if yes from where? What are the benefits of coaching according to you?
Akhil: Yes, I joined Allen Kota Institute. Benefits of joining the institute is that you get to know your position among a large number of students in the institute. Also, my coaching provided me with a competitive environment. I was able to clear all my doubts with the help of the faculties of the coaching and we were provided study material as well. My coaching was also helpful for the revision of the JEE Main 2020 syllabus.
Careers360: Mock tests and sample papers – how extensively did you practise with the help of these? Do you think practising from the previous year papers help and how?
Akhil: Mock tests and sample papers help me a lot in boosting my confidence and by improving my time management skills. Practising mock tests daily has really helped me as I used to make silly mistakes in the beginning which was improved with the time. My coaching also conducted a mock test every sunday so JEE Main mock test helped me a lot during my preparations. Yes, students can have an overview about the paper by practising previous year papers.
Careers360: Are there any special books that you feel have helped with your JEE Main preparation? Are the school text books adequate for preparing for JEE Main and Class XII?
Akhil: No, I only focussed on NCERT books and modules provided by Allen institute.
Careers360: Did you face any problems during the JEE Main examination? Which subject was the easiest and which was the toughest in JEE Main? What do you think is a tough thing to manage during the JEE Main exam?
Akhil: No, I did not face any problem. However, all subjects were fine but I found Mathematics as the easiest subject and Chemistry a bit difficult. Actually, questions from Organic Chemistry were a bit tricky. It wasn't tough to manage time during the exam. I completed the paper before time and also rechecked my answers.
Careers360: What do you think are the key factors behind your stupendous success in JEE Main?
Akhil: The key factors for my success were- Regular Studies and Clearing all the doubts on time. I never kept anything for later, I used to clear all my doubts whenever they arised or as early as possible. I devoted 4 hours daily after my school and coaching. I think these factors helped in achieving a 100 percentile score.
Careers360: Will you be appearing for the April session of JEE Main 2020 too?
Akhil: No, I will not appear for the April Session of JEE Main 2020.
Careers360: How did you de-stress yourself during the preparation? What are your hobbies? How often could you pursue them?
Akhil: I love music, so I used to listen to songs but after class 10th I decided to devote only 30 minutes to music. I also used to play Table-Tennis before class 10th. As JEE Main is a competitive exam and lakhs of students appear every year, I believe sacrificing some hobbies is worth it.
Careers360: Who is your ideal or biggest inspiration in life and why?
Akhil: My inspiration is my Grandfather.
Careers360: You know you are an inspiration to thousands of students across the country. Do you have any message for future aspirants on tackling the JEE Main exam?
Akhil: I will advise every aspirant to study regularly and focus on NCERT books as they played a major role in my success.
Also Read:
JEE Main 2020 Topper Interview: Rongala Arun Siddardha
JEE Main 2020 Topper Interview: Koushal Reddy
Questions related to JEE Main
Showing 115842 out of 115842 Questions