JEE Main 2020 Topper Interview: Akshita Gupta - "Clear all your Concepts and Study Smartly"
JEE Main 2020 Topper Interview: Akshita Gupta (99.45 Percentile) - Hailing from Delhi, Akshita is one of the top scorers in the January session of JEE Main 2020. Akshita managed to score a total NTA score of 99.457 in the exam but this didn't come to her easily as she started preparing for the exam from Class 9th. Akshita highlighted that she did not follow any sort of routine for studying but ensured that all her concepts were clear and she was in pace with her coaching institute. Along with this, Akshita also stressed on the importance of mock tests and sample papers for JEE Main preparation since she stands by the fact that it helped her in analysing her strengths and weaknesses. Akshita will also be attempting the April session of JEE Main 2020 to improve her score. Careers360 team conducted an exclusive JEE Main 2020 topper interview of Akshita Gupta. Read the detailed interview of JEE Main 2020 topper Akshita Gupta below.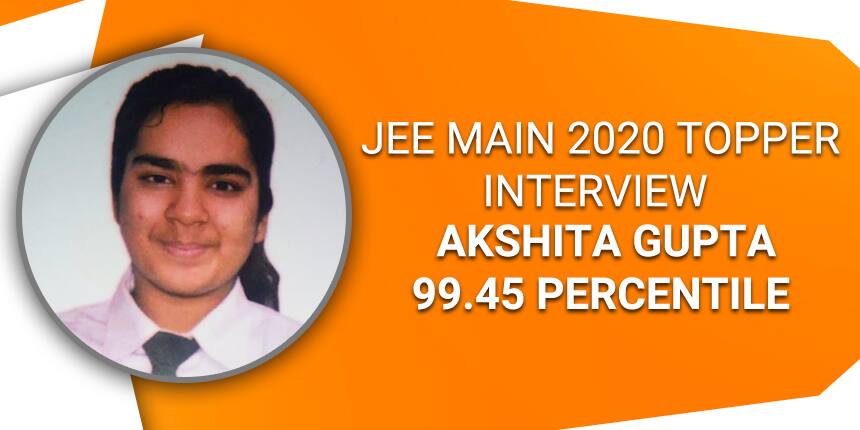 Careers360: Congratulations for your performance in JEE Main 2020! What was your reaction upon knowing your score?
Akshita: Initially, I was surprised because I wasn't expecting my result to be this good. But then, I felt a bit relaxed that I don't have to worry about the April shift much and have ample time to focus on my board examination.
Careers360: Tell us something about yourself. Which board have you studied under? Which school have you studied in?
Akshita: I study in Delhi Public School, Rohini. This year, I will be giving class 12 CBSE board examination.
Careers360: What is your percentile score in JEE Main 2020? What's your score in Physics, Maths and Chemistry?
Akshita: Physics: 99.3063383
Chemistry: 98.4470883
Maths: 99.1247478
Overall NTA score: 99.4573158
Careers360: Why do you want to study engineering? When did you decide to study engineering? Which branch would you be interested in? Any reason?
Akshita: I think engineering will give me exposure and opportunities to know deeply about things that I have always wondered about. Also, I wish to serve my country. I haven't decided on the branch yet, but Food Technology interests me the most.
Careers360: When did you start your JEE Main preparation? Tell us something about your preparation strategy and daily routine for JEE Main?
Akshita: I began my preparations in class XI. I didn't follow any sort of a strategy or routine for preparations. I was just concerned with understanding the concepts, and did whatever it required. Also, I ensured to maintain pace with my coaching institute and completed everything on time.
Careers360: Did you face any difficulties since the examination was conducted completely in computer based mode?
Akshita: No, the CBT mode was not at all a difficulty for me, as I took sufficient mock tests to be familiar with an online exam.
Careers360: Was there a difference in the preparation strategy in the last months of JEE Main considering that the board exams are also coming up? How did you manage preparation for both?
Akshita: My preparation for boards and entrance ran parallel up to October and after that I focused only on JEE Main considering the fact that I will have sufficient time in January and February to prepare for my board exam.
Careers360: Did you take coaching for JEE Main and if yes from where? What are the benefits of coaching according to you?
Akshita: Yes, I joined Byju's (live classroom). I think coaching serves the purpose of building your confidence, assessing your performance in comparison to others. Along with this, you get study material and modules for preparation.
Careers360: Mock tests and sample papers – how extensively did you practise with the help of these? Do you think practising from the previous year papers help and how?
Akshita: I gave JEE Main mock tests occasionally in my coaching institute. However, in the last few days before the entrance, I only solved sample and previous year papers. This helped me to analyze my strengths and weaknesses. I worked upon all my weaknesses. Mock tests and sample papers helped me in building my confidence.
Careers360: Are there any special books that you feel have helped with your JEE Main preparation? Are the school text books adequate for preparing for JEE Main and Class XII?
Akshita: School textbooks are enough in terms of concept. Also, the questions given in the book (especially physics ) must be practiced as they give you the entire knowledge of the chapter. However, some small topics aren't covered in the books, for them you can refer to other books. I had books like Vikas Gupta Pankaj Joshi (for maths), rc mukherjee(for chemistry), HC Verma (for physics) which gave me a variety of questions-ranging from easy to difficult-to work upon.
Careers360: Did you face any problems during the JEE Main examination? Which subject was the easiest and which was the toughest in JEE Main? What do you think is a tough thing to manage during the JEE Main exam?
Akshita: Yes, sometimes I felt like giving up . These were the times when I wasn't able to catch up or had so much to cover but I never gave up.
For the exam, I cannot tag any subject any subject difficult, as I think any subject is difficult for you only when you have not prepared well. But, if I have to say then Physics was the easiest and Chemistry was the toughest (you can see my scores).
Careers360: What do you think are the key factors behind your stupendous success in JEE Main?
Akshita: Concept clarity and studying smartly were the key factors for me.
Careers360: Will you be appearing for the April session of JEE Main 2020 too?
Akshita: Yes, I will appear for the second session.
Careers360: How did you de-stress yourself during the preparation? What are your hobbies? How often could you pursue them?
Akshita: 'Guilty pleasure': tasty food was my way out of stress. I like crafting, doodling, painting and dancing. I did random drawings and doodling in interstices and took dance class.
Careers360: You know you are an inspiration to thousands of students across the country. Do you have any message for future aspirants on tackling the JEE Main exam?
Akshita: I will only say that clear all your concepts and study smartly. Also, do not lose your calm before the exam.
Questions related to JEE Main
Showing 97786 out of 97787 Questions