VITEEE 2018 Topper Interview: Kalash Gupta (AIR 1) - "Thorough knowledge of facts and time management are essential for exams"


In this rat race, it is not an everyday phenomenon that you secure an All India Rank of 1 leaving more than 2 lakh students behind. Well, this was exactly what happened with Kalash Gupta on April 27 with the announcement of VITEEE 2018 result. The boy from Delhi made his family proud by securing an AIR 1 in the engineering entrance exam of Vellore Institute of Technology. Kalash knew that he has performed well in the exam but was certainly not expecting to make it to the top most position in the list of VITEEE  rank holders. Fascinated by computers, Kalash wants to pursue Computer Science Engineering and thinks that there is nothing but focus and consistency that are required to work wonders in any exam. At present, he is waiting for his JEE Advanced result and hoping to make a mark there too. Read to know the interaction Careers360 had with Kalash in an exclusive interview.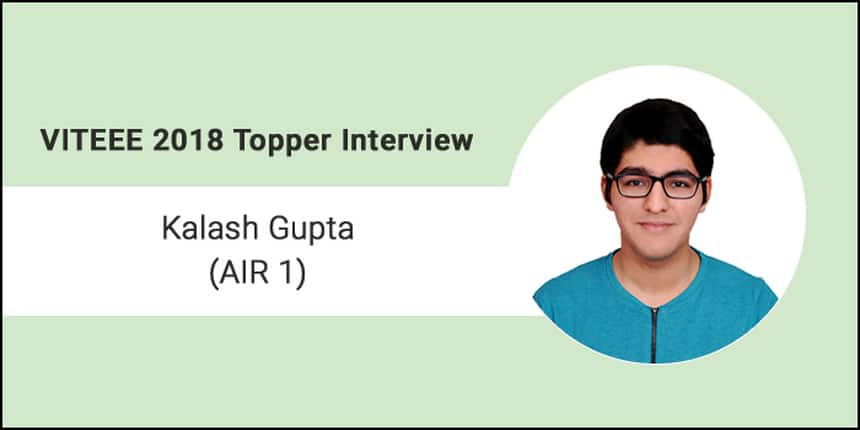 Careers360: Congratulations for your outstanding performance in VITEEE! What was your reaction upon knowing your rank?
Kalash Gupta: Thanks a lot for your wishes. Honestly, I was expecting a good result but securing an AIR 1 was a pleasant surprise.
Careers360: Tell us something about yourself. Which place do you belong to? Which board have you studied under? Which School?
Kalash Gupta: I was born and brought up in Delhi. I went to Amity International School, Saket affiliated to CBSE board.
Careers360: What is your score in VITEEE? What is your all India rank?
Kalash Gupta: As you must be knowing that in VITEEE 2018 result only ranks were declared. So, I don't know my scores but I secured an All India Rank of 1.
Careers360: Why do you want to study engineering? When did you decided to study engineering?
Kalash Gupta:Computers have fascinated me from a very young age. I started programming a few years back and decided to pursue computer engineering as a career in class XI.
Careers360: Which branch are you interested in and which campus do you plan to apply for?
Kalash Gupta: I am awaiting JEE Advanced 2018 results. I aspire to pursue Computer Science Engineering at IIT Bombay or Delhi.
Careers360: Have you appeared for other entrance exams? Which ones?
Kalash Gupta: Apart from VITEEE 2018, I appeared for JEE Main in which I secured 320 marks out of 360 with an AIR 82 and BITSAT.
Careers360: Did you prepare separately for VITEEE? When did you start your VITEEE preparation?
Kalash Gupta: No, I did not prepare separately for VITEEE. But, the syllabus for VITEEE was more or less covered in my preparation for JEE Main.
Careers360: What was different in JEE Main and VITEEE exam?
Kalash Gupta: JEE Main is a test of concept clarity while VITEEE is based more on facts. Also, there is no negative marking in VITEEE.
Careers360: Was there a difference in the preparation strategy in the past months considering that you had board exams as well as entrance exams during this period? How did you manage preparation for both?
Kalash Gupta: My focus was JEE which included class XII NCERT syllabus. I studied exclusively for board exams only in February and March.
Careers360: Did you take coaching for the JEE Main and other entrances? If yes from where? What are the benefits of coaching according to you?
Kalash Gupta: Yes, I joined FIITJEE South Delhi for entrance exam preparations. Conventional schooling prepares only for subjective questions, while most engineering entrances are application based and require a different skill set. Coaching prepares you to study in a well-defined manner in a competitive environment.
Careers360: Mock tests and sample papers – how extensively did you practise with the help of these? Do you think practising from the previous year papers help and how?
Kalash Gupta: After finishing the syllabus in October 2017, I intensively started taking mock tests and sample papers. Initially the frequency was once a week. After the board exams, I increased it to 1-2 tests a day. Solving papers is very important as it helps in time management, builds exam temperament and lets you know your level of preparation. It also helps you identify your weaknesses.
Careers360: Are there any special books that you feel have helped with your VITEEE preparation? Are the school text books adequate for preparing for VITEEE and Class XII? 
Kalash Gupta: I did not require any additional books as the material provided by my coaching institute was comprehensive and covered all the topics tested in VITEEE. NCERT textbooks are adequate for class XIIboard exams. However, for engineering entrances, including VITEEE, additional practice material is required.
Careers360: Which syllabus was more prevalent in VITEEE? Class XII or Class XI?
Kalash Gupta: As I far as I can recollect, there was more focus on class XII syllabus.
Careers360: Did you face any problem during the VITEEE examination?  Which subject was the easiest and which was the toughest?
Kalash Gupta: The VITEEE examination was a smooth experience. All subjects were of similar difficulty level.
Careers360: Can you give us some details about which topics were covered in VITEEE? Please specify for Maths, Physics and Chemistry.
Kalash Gupta: It is difficult to specify, but most of the topics were covered in VITEEE.
Careers360: How did you de-stress yourself during the preparation? What are your hobbies? How often could you pursue them?
Kalash Gupta: I used to take breaks at regular intervals. I loved watching stand-up comedy shows, playing chess and participate in programming competitions.
Careers360: Who is your ideal or biggest inspiration in life and why?
Kalash Gupta: My family was my biggest inspiration and support during my preparation.
Careers360: You know you are an inspiration to thousands of students across the country. Do you have any message for future aspirants on tackling the VITEEE exam?
Kalash Gupta: I will say that consistency in studies and remaining focussed is the key for cracking any entrance exam. Specifically for VITEEE, thorough knowledge of facts and time management are essential. It is not a very difficult exam and cool headedness can ensure a good rank in VITEEE.
Questions related to VITEEE
Showing 5140 out of 5140 Questions
VIT Engineering Entrance Exam (VITEEE)