JEE Main 2021 Topper Interview - Guramrit Singh says, "Always listen to your teachers"
Guramrit Singh, one of the 6 students who secured 100 percentile in JEE Main 2021 February exam believes that when you listen to your teachers and do as directed by them, success is not far away. With the declaration of JEE Main 2021 results, his dream of studying Computer Science and Engineering at IIT Bombay is now one step closer. He credits his success to god, his teachers and his parents who have been thoroughly supportive all the way. According to him, NCERT is the best book to prepare for JEE Main exam. Talking about his daily routine, the JEE Main 2021 February topper says that he has always devoted at least an hour for playing sports. Read the complete JEE Main 2021 topper interview of Guramrit Singh to know more about his preparation strategy and how he achieved this success.
Latest Updates for JEE Main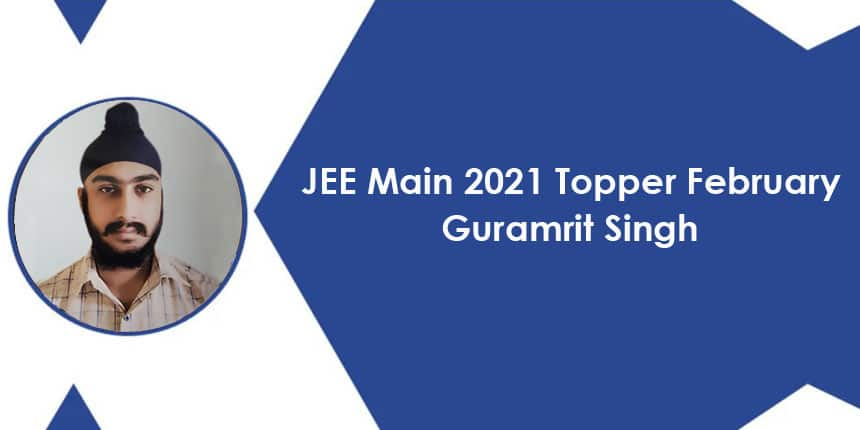 Careers360: Congratulations on your performance in the JEE Main February 2021 exam! What was your reaction upon knowing your score?
Guramrit: Upon seeing my JEE Main February 2021 result, I first of all thanked God for it, then I thanked my teachers and parents who have been a form of God to me.
Careers360: Tell us something about yourself. Which board have you studied under? Which school have you studied in?
Guramrit: I have completed my tenth class from St.Xavier's Chandigarh with 97% in ICSE Board, earlier I had studied in Small Wonders School, Mohali (nur and L.KG), then I went to St.Xavier's Mohali, an ICSE school( KG to 4th) and then to St.Xavier's Chandigarh, again an ICSE school( 5th to 10th) and finally Bhavan Vidyalaya Chandigarh (11th and 12th)
Careers360: Why do you want to study engineering? When did you decide to study engineering? Which branch would you be interested in? Any reason?
Guramrit: I had interest in Mathematics from junior classes. So, I decided to study for engineering in Class 10th. My dream is to get into CSE stream in IIT Bombay.
Careers360: When did you start your JEE Main preparation? Tell us something about your preparation strategy and daily routine for JEE Main?
Guramrit: I started preparing for JEE Mains from class 10th. I used to study only that material which my teachers recommended.
Careers360: Did you face any difficulties since the examination was conducted completely in computer- based mode?
Guramrit: I was prepared for attempting CBT Mode since all the JEE Main mock tests in which I participated were CBT based only.
Careers360: Was there a difference in the preparation strategy in the last months of JEE Main considering that the board exams are also coming up? How did you manage preparation for both?
Guramrit: I focused completely on JEE Mains for the last 3 months and I will be preparing for board in the coming months.
Careers360: Did you take coaching for JEE Main and if yes from where? What are the benefits of coaching according to you?
Guramrit: I took coaching from Allen Career Institute, Chandigarh. They helped me manage the study material and motivated me throughout the past years.
Careers360: Mock tests and sample papers – how extensively did you practise with the help of these? Do you think practising from the previous year's papers helps and how?
Guramrit: I gave the mock tests at Allen which helped me to know my mistakes in any particular chapter. During the last one month, I attempted the 2020 JEE Mains paper and it helped me a lot since around 4-5 questions were based on past year's questions.
Careers360: Are there any special books that you feel have helped with your JEE Main preparation? Are the school textbooks adequate for preparing for JEE Main and Class XII?
Guramrit: I studied NCERT for all three subjects. For physics, my teacher recommended HC Verma, but for Chemistry and Mathematics I didn't study from any other book apart from NCERT.
Careers360: Did you face any problems during the JEE Main examination? Which subject was the easiest and which was the toughest in JEE Main? What do you think is a tough thing to manage during the JEE Main exam?
Guramrit: I found Maths as the easiest section, while physics as the toughest subject in JEE Mains paper.
Careers360: What do you think are the key factors behind your stupendous success in JEE Main?
Guramrit: The two factors that are behind my stupendous success in JEE Main 2021 exam are: 1) It's God's grace
2) My parent's and teacher's hard work
Careers360: Will you be appearing for any other sessions of JEE Main 2021 too?
Guramrit: I might be appearing for the JEE Main 2021 March session.
Careers360: How did you de-stress yourself during the preparation? What are your hobbies? How often could you pursue them?
Guramrit: I used to play for 1-1.5 hours everyday to reduce stress. My hobbies are to play cricket and football.
Careers360: Who is your ideal or biggest inspiration in life and why?
Guramrit: My father's devotion towards me and my study was the most important factor due to which I studied hard.
Careers360: You know you are an inspiration to thousands of students across the country. Do you have any message for future aspirants on tackling the JEE Main exam?
Guramrit: Students should listen to their teachers and "DO AS DIRECTED" because teachers have a lot of experience.
Questions related to JEE Main
Showing 115873 out of 115873 Questions