JEE Main 2020 Topper Interview:Shubh Kumar "Make a study plan and stay focussed to score good marks"
JEE Main 2020 Topper Interview - Shubh Kumar is the JEE Main 2020 topper from Bihar and has secured 99.99 percentile in this coveted exam conducted by NTA. Shubh started his preparation from class 11 and devoted 4-5 hours exclusively for JEE Main apart from school studies. Shubh Kumar is aiming for IIT Bombay and has already begun his preparation for the JEE Advanced exam. Careers360 interacted with him to get the JEE Main topper interview and get insights about his preparation strategy and his journey of emerging as topper. JEE Main 2020 topper Shubh says, my teachers in Vidyamandir Classes helped me a lot with studying for this exam and scoring good marks. I also practised mock tests during the preparation before exam to evaluate my preparation and know my weak points. JEE Main 2020 topper Shubh Kumar does not follow any social media platform and believes them as a distraction to study. Read the complete JEE Main topper interview of Shubh Kumar to know more about his preparation strategy.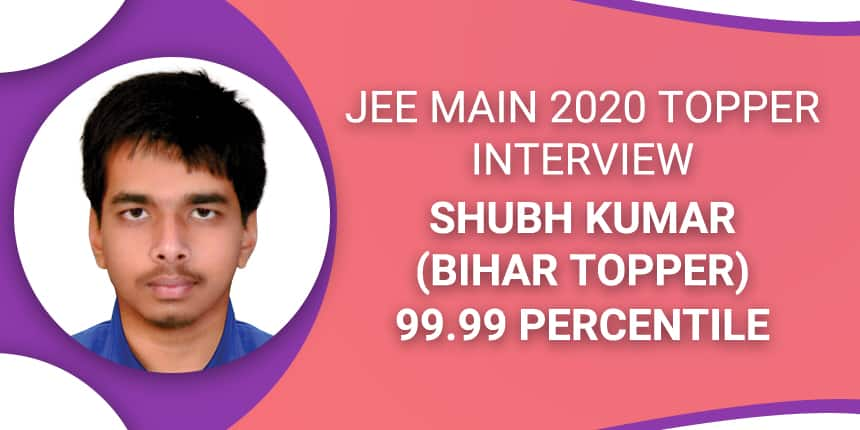 Careers360: Congratulations for your performance in JEE Main 2020! What was your reaction upon knowing your score?
Shubh Kumar- I felt happy and satisfied upon knowing my result. I was expecting a decent score but scoring 99.99 percentile made me very happy.
Careers360: Tell us something about yourself. Which board have you studied under? Which school have you studied in?
Shubh Kumar- I did my 10th in CBSE Board from Radiant International School, Patna and I'd be appearing for CBSE 12th Boards from the same school.
Careers360: What is your score in JEE Main 2020?
Shubh Kumar- I had 286 marks in JEE Main 2020 January exam with 99.99 percentile.
Careers360: Why do you want to study engineering? When did you decide to study engineering? Which branch would you be interested in? Any reason?
Shubh Kumar- I always had an interest in Computers and that's why I decided to have a career in Computer Science and Engineering.
Careers360: When did you start your JEE Main preparation? Tell us something about your preparation strategy and daily routine for JEE Main?
Shubh Kumar- I started my JEE Main Preparation from class 11. My daily routine involved studies after grooming and Breakfast, which was followed only by brief breaks at 3 hour intervals till 10:30 at night.
-->
Careers360: Did you face any difficulties since the examination was conducted completely in computer based mode?
Shubh Kumar- No, I didn't face any difficulties while appearing in online exam.
Careers360: Was there a difference in the preparation strategy in the last months of JEE Main considering that the board exams are also coming up? How did you manage preparation for both?
Shubh Kumar- Major parts of JEE Main syllabus are also part of boards syllabus which provided me with trust and confidence, that if I complete JEE Main syllabus at my best, then boards preparation will be already done.
Careers360: Did you take coaching for JEE Main and if yes from where? What are the benefits of coaching according to you?
Shubh Kumar- I took Coaching from Vidyamandir Classes, Patna which I believe, streamlined and boosted my preparation with frequent tests and regular motivation.
Careers360: Mock tests and sample papers – how extensively did you practise with the help of these? Do you think practising from the previous year papers help and how?
Shubh Kumar- In the month preceding JEE Mains I had taken Mock Tests in addition to solving Previous Year Papers in a timed manner, which I think helps in getting adapted to the temperament and rigor required for the actual exam.
Careers360: Are there any special books that you feel have helped with your JEE Main preparation? Are the school text books adequate for preparing for JEE Main and Class XII?
Shubh Kumar- NCERT textbooks in themselves are sufficient for both JEE Mains and Boards but finishing up on my Coaching modules and Workbooks along with Previous Year Papers boosts one's confidence to get a good rank.
Careers360: Did you face any problems during the JEE Main examination? Which subject was the easiest and which was the toughest in JEE Main? What do you think is a tough thing to manage during the JEE Main exam?
Shubh Kumar- I had some days when Going to School made my day hectic and irritative but Teachers at Coaching had always kept me motivated. I feel all subjects are equally tough in JEE Mains and Time Management becomes a big factor.
Careers360: What do you think are the key factors behind your stupendous success in JEE Main?
Shubh Kumar- Parents and Teachers I think were the key factors behind my success.
Careers360: Will you be appearing for the April session of JEE Main 2020 too?
Shubh Kumar- No, I won't be
Careers360: How did you de-stress yourself during the preparation? What are your hobbies? How often could you pursue them?
Shubh Kumar- I used to listen to songs in order to destress myself.
Careers360: Who is your ideal or biggest inspiration in life and why?
Shubh Kumar- Steve Jobs is my biggest inspiration.
Careers360: You know you are an inspiration to thousands of students across the country. Do you have any message for future aspirants on tackling the JEE Main exam?
Shubh Kumar- To be dedicated towards studies throughout the two year span is my only message.
Questions related to JEE Main
Showing 112401 out of 112402 Questions