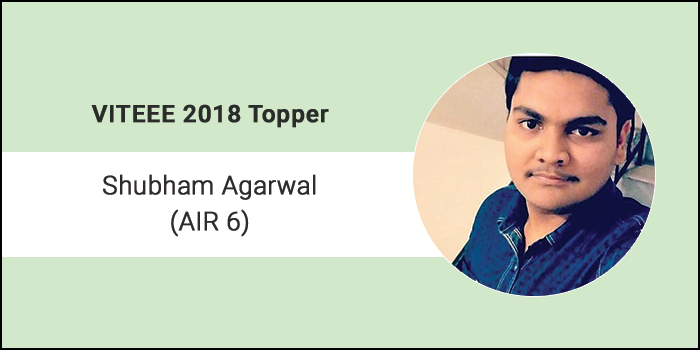 As soon as Vellore Institute of Technology (VIT) announced the VITEEE 2018 result on April 27, it brought a big smile to the face of Shubham Agarwal who secured AIR 6 in the entrance test. Shubham with his hard work and focussed attitude managed to bag an All India Rank (AIR) 6 in VITEEE 2018. The Durgapur-based boy plans to take Computer Science at the Vellore Campus of the university. His secret mantras for VITEEE 2018 include a strong focus on the subjects backed up by an equal amount of hard work. Careers360 caught up with Shubham to know about his preparation strategies, what motivated him, the relaxation techniques he used to de-stress, books he referred from and more. In this interaction, Shubham shares tips and guidelines on how to crack VITEEE.
B.Tech Admissions Open 2019
Manipal Institute of Technology
VITEEE Sample Paper
Download Free Sample Paper for VITEEE
Download Now
Careers360: Congratulations for your outstanding performance in VITEEE! What was your reaction upon knowing your rank?
Shubham Agarwal: I was feeling very happy. I was really excited when I heard of my rank through a phone call from VIT.
Careers360: Tell us something about yourself. Which place do you belong to? Which board have you studied under? Which School?
Shubham Agarwal: I belong from Durgapur, West Bengal. I have completed my schooling from DAV Public School, Raniganj (up to class X) and Hem Sheela Model School, Durgapur (Class XI & XII) which are affilated to the CBSE board.
Careers360: What is your all India rank?
Shubham Agarwal: My all India rank in VITEEE 2018 is AIR 6
Careers360: Why do you want to study engineering? When did you decided to study engineering?
Shubham Agarwal: I always wanted to be an engineer because I find it a very interesting and learnable field. As an engineer, one can constantly contribute towards making world a better place to live.
Careers360: Which branch are you interested in and which campus do you plan to apply for?
Shubham Agarwal: I am interested in Computer Science and I plan to apply for VIT, Vellore campus.
Careers360: Have you appeared for other entrance exams? Which ones?
Shubham Agarwal: Yes. JEE Main 2018, WBJEE 2018 are the other entrance exam which I appeared for.
Careers360: Did you prepare separately for VITEEE? When did you start your VITEEE preparation?
Shubham Agarwal: Yes, I tried solving some mock tests before the VITEEE exam. However, I was trying to focus on all engineering entrance examinations on the whole by revising all the theories and concepts while practising through previous question papers.
Careers360: What was different in JEE Main and VITEEE exam?
Shubham Agarwal: The major difference is in the difficulty levels of the exams.The difficulty level of questions was on the higher side in JEE Main as compared to VITEEE. The duration and exam pattern for each exam was such that time allotted to each question was vastly different.
Careers360: Was there a difference in the preparation strategy in the past months considering that you had board exams as well as entrance exams during this period? How did you manage preparation for both?
Shubham Agarwal: Yes, once the board exams started, I had to bifurcate my time and focus on both the board and entrance examinations. I kept my focus by in depth study of the prescribed NCERT books and solving questions in them as there are always chances of some trick questions being asked directly from NCERT. After the board exams were over, I utilised my time in solving previous years' entrance examinations question papers.
Careers360: Did you take coaching for the JEE Main and other entrances? If yes from where? What are the benefits of coaching according to you?
Shubham Agarwal: Yes, I took coaching from FIITJEE, Durgapur. According to me, coaching from the above stated institute helped me in increasing my self-confidence and improving my performance. Moreover, the coaching institute provided us with different study materials and question banks which helped in my preparations.
Careers360: Mock tests and sample papers – how extensively did you practise with the help of these? Do you think practising from the previous year papers help and how?
Shubham Agarwal: As I mentioned mock tests and sample papers help to a large extent in determining one's strengths and weaknesses. They help in improving time management skills during the actual exam. Previous year papers give an insight of the type of questions one will be asked in the actual exam and hence, prepares one mentally.
Careers360: Are there any special books that you feel have helped with your VITEEE preparation? Are the school text books adequate for preparing for VITEEE and Class XII?  
Shubham Agarwal: There are several question banks and study materials available today in the market for preparing for these exams. The school textbooks contain all the theory needed, but according to me, one should refer to some other reference books as well, for practice.
Careers360: Which syllabus was more prevalent in VITEEE? Class 12 or Class 11?
Shubham Agarwal: In my question paper, I found syllabus of Class 12 to be more prevalent. However, the paper was balanced overall.
Careers360: Did you face any problem during the VITEEE examination?  Which subject was the easiest and which was the toughest?
Shubham Agarwal: I found Chemistry to be the easiest of all the three (PCM), Mathematics was a bit time consuming.
Careers360: Can you give us some details about which topics were covered in VITEEE? Please specify for Maths, Physics and Chemistry.
Shubham Agarwal:
| | | |
| --- | --- | --- |
| S. No | Subjects | Topics to be covered |
| 1 | Mathematics | Algebra, Coordinate Geometry, Vectors, Trigonometry |
| 2 | Physics | Electrics (static And Current), Magnetism, Mechanics |
| 3 | Chemistry | Chemical Kinetics, Organic Chemistry, Block Elements, Gas Laws, etc |
Careers360: How did you de-stress yourself during the preparation? What are your hobbies? How often could you pursue them?
Shubham Agarwal: I used to talk to my parents, watch some entertainment TV programs, used social networking sites (fb, WhatsApp), sometimes taking evening walks – well, these are some of the activities that helped de-stress.
Careers360: Who is your ideal or biggest inspiration in life and why?
Shubham Agarwal: My father is my biggest inspiration in life. He is very hard working and I try to be like him as much as I can.
Careers360: You know you are an inspiration to thousands of students across the country. Do you have any message for future aspirants on tackling the VITEEE exam?
Shubham Agarwal: I would just like to say that one must be focussed and work hard to achieve one's dreams in life. There is no shortcut to success.
Questions related to VITEEE
Related E-books and Sample Papers