SRMJEEE Exam Pattern/ Syllabus FAQs 2018
SRMJEEE Exam Pattern/ Syllabus FAQs 2018 - There are innumerable questions related to the marking scheme, exam pattern, syllabus in the mind of a candidate, who is going to appear in an entrance exam. All these queries, related to the SRMJEEE entrance exam will be answered through the FAQs on SRMJEEE exam pattern and syllabus. By compelling SRMJEEE exam pattern FAQs, Careers360 has tried to answer all the possible questions that may come up in a mind of a candidate while seeking admission in B.Tech programmes offered by SRM Institute of Science and Technology. Questions like what is the exam pattern, is there negative marking, what is the syllabus, topics to be covered and many more such queries will be answered through SRMJEEE syllabus FAQs.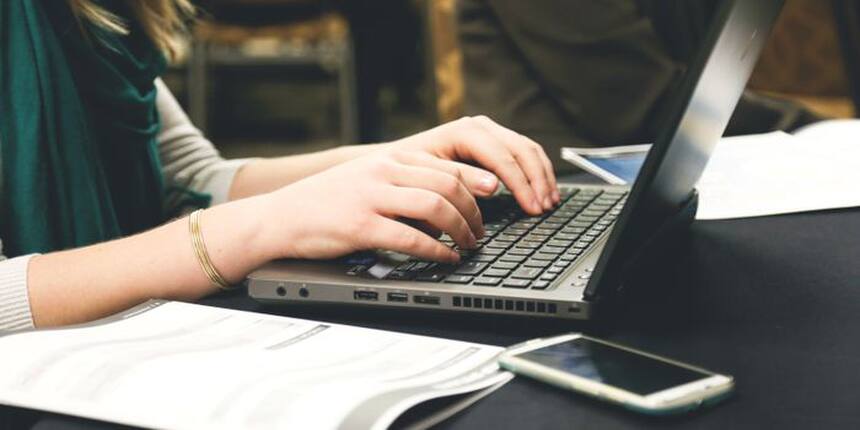 SRMJEEE Exam Pattern FAQs 2018
Q. Is SRMJEEE online or offline or both?
Ans- SRMJEEE is conducted in online mode.
Q. What is the SRMJEEE exam pattern?
Ans- The SRMJEEE consist of 150 objective type questions where candidates are given 2 hours 30 minutes to complete the entrance exam. Read SRMJEEE 2018 exam pattern to get detailed information.
Q. Which languages in the SRMJEEE available in?
Ans- English
Q. Is there negative marking for SRMJEEE?
Ans- No negative marking is not existent.
Q. Will there be a calculator in SRMJEEE online exam?
Ans- No.
Q. What is the marking scheme for SRMJEEE?
Ans- The question paper of SRMJEEE will be divided into three sections- Physics, Chemistry, and Mathematics having 35 multiple choice question for a total of 315 marks. Candidate will be given 3 marks for every correct response. There is no negative marking.
Q. What is the difficulty level of the SRMJEEE exam?
Ans- It is difficult to predict the exam. However, candidates can go through the last year analysis to get an idea of the entrance exam. Candidate can check the complete analysis here.
Q. What types of questions should I expect in SRMJEEE? Will they be different from JEE Main?
Ans- The question paper of SRMJEEE will have objective type questions. Each question will have 4 choices out of which candidate have to choose one correct answer.
Q. Can I edit my answers in the test?
Ans. Yes, there is an option to review and edit.
Q. will there be extra questions in SRMJEEE? How to attempt those questions? Will I be given extra marks if I answer them?
Ans- There are no extra questions in SRMJEEE 2018, unlike BITSAT.
Q. Is there a pass mark for each subject in SRMJEEE or the overall marks are considered for each paper?
Ans- SRMJEEE 2018 will consider overall marks. However, candidates are required to pass in each subject too.
SRMJEEE Syllabus FAQs
Q. What is the Syllabus of SRMJEEE Paper?
Ans- Candidates appearing for B.Tech admissions have to prepare in Physics, Chemistry and Mathematics, whereas candidates who wish to pursue Biomedical and Genetic Engineering will have to study Biology instead of Mathematics. For more information, read SRMJEEE syllabus 2018 in detailed.
Q. Is the SRMJEEE syllabus same as Class 11 & 12?
Ans-Yes.
Q. Is it true that more questions come from class 12 than class 11 in SRMJEEE?
Ans- According to the student reports, Yes, but there is no guarantee for the same. We suggest you, study thoroughly from both.
Q. What are the important topics in SRMJEEE in Physics, Maths, and Chemistry?
Ans- For important topics in all the three subjects you can refer this 'How to Prepare for SRMJEEE 2018'.
Candidates can check the related FAQs of the various stages of the admission process from the table given below:
| | |
| --- | --- |
| Particulars | Related Links |
| General | |
| Eligibility | |
| Application & Admit Card | |
| Exam Preparation | |
| Result/Cutoff | |
| Counselling | |
Questions related to SRMJEEE
Showing 2113 out of 2113 Questions
SRM Joint Engineering Entrance Exam (SRMJEEE)