JEE Main 2020 September 5 Analysis (Shift 1 & 2) - Available Now
JEE Main 2020 September 5 Analysis - Candidates can now check the JEE Main 2020 September 5 analysis for both morning and afternoon shifts on this page. National Testing Agency conducted the JEE Main paper 1 exam today, September 5 for admission into the B.Tech courses. JEE Main 2020 April exam is conducted in 660 exam centres across the country in two shifts. JEE Main September 5 exam time for the first session was 9 AM to 12 PM while for the second session was 3 PM to 6 PM. Today is the fourth day of the JEE Main 2020 paper 1 exam. Along with the difficulty level of the exam, JEE Main 2020 analysis paper 1 contains details related to the weightage of syllabus, division of subjects, commonly asked topics and more. The JEE Main September 5 analysis 2020 is prepared on the basis of the student's reaction to JEE Main. Read the complete article to know more about the JEE Main 2020 for September 5 analysis.
Latest: JEE Main 2020 answer key by various coaching institutes is now available.
Also Read
JEE Main Paper 2 Analysis 2020: September 1
JEE Main Paper 1 Analysis 2020: September 2
JEE Main Paper 1 Analysis 2020: September 3
JEE Main 2020 September 4 Analysis
JEE Main 2020 September 6 Analysis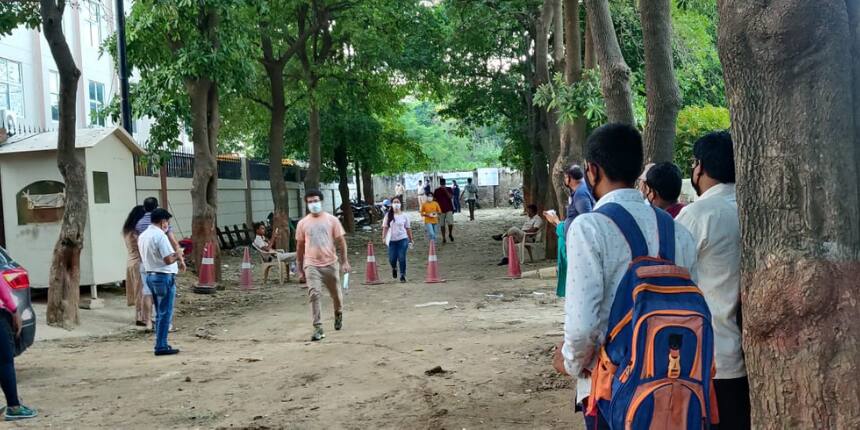 JEE Main 2020 September 5 Analysis - Afternoon Session
The authorities concluded the afternoon shift and JEE Main analysis 2020 for September 5 is provided below:
The difficulty level of the exam was moderate to difficult.
Mathematics section was a bit lengthy requiring more calculations.
Phsics was the most difficult with more tricky questions.
Chemistry was again the easiest section as compared to the other two.
Anu: This was my fourth attempt and this time, there was much difference with the level of difficulty. Physics was moderate and Chemistry was the easiest.
Ayush: The exam can not be regarded as easy or difficult as there were easy questions and tough ones as well. Questions in mathematics section required lengthy calculations.
JEE Main 2020 September 5 Analysis - Forenoon Session
As the JEE Main September 5 shift 1 concludes, the exam analysis based on student reactions is as follows:
The JEE Main question paper on day 5 shift 1 was comparatively difficult.
Chemistry was again the easiest with more questions based on theory. Some of the questions were tricky but not much time consuming.
Physics section was moderate to difficult with more tricky questions and was easier than JEE Main January attempt.Most numerical questions asked were from class 11 topics.
Mathematics was tough this time with questions requiring lengthy calculations. Questions from topics like vectors, 3D geometry, matrices, complex numbers, integration, calculus and coordinate geometry.
Meenu: The question paper was difficult but I was able to attempt and solve the questions. Physics and Mathematics were tough sections as compared to Chemistry.
-->
Aman: The exam went good for me and Physics was the toughest of all. Mathematics and Chemistry sections were moderately difficult.
Sachin: The questions asked in Physics section were direct but there were least from theory and more application based. Chemistry was the most easy for me. Mathematics section required more calculations.
Another Candidate: Mathematics was the most difficult but overall, the question paper was moderately difficult. As compared to the previous year, this attempt was JEE Main September 5 analysis for shift 1 can be regarded easier.
Anandita: This was my second attempt with Mathematics section to be comparatively tough (more focus on Integration and complex numbers). The questions asked in Physics were more numericals and calculation based making the whole paper a bit lengthy. In chemistry, there were numericals related to molecules.
JEE Main analysis September 5 shift 2 by Learn@Careers360
Physics was a lengthy section and was tough in nature.
Chemsitry was much easier and the units were well distributed.
Mathematics was of moderate level.
JEE Main analysis September 5 shift 1 by Aakash Institute
As per JEE Main 2020 analysis September 5, the morning shift exam was moderate to easy covering all the topics in JEE Main syllabus.
Physics was the most difficult section followed by Mathematics and Chemistry was the easiest.
Physics section was more calculative and lengthy with answers upto decimals. Topics asked included Electrostatistics, Mechanics, Optics & Modern Physics
In Chemistry, there were more questions from organic than from inorganic or physical chemistry. The questions asked were comparatively easier as compared to January attempt.
In Mathematics, more questions were asked from Calculaus, Algebra & Coordinate geometry and the difficulty level was moderate.
Questions related to JEE Main
Showing 112253 out of 112254 Questions