How to revise Chemistry for JEE Main at home
Students are facing hard times these days due to the stress and anxiety borne out of the lockdown. Preparation for exams like JEE Main is at a stand-still as all coaching institutes are closed. Students who are preparing for the engineering competitive exams have nothing left but to stay and study at home. In this time of lockdown, students can make use of this isolation to prepare better for JEE Main. As the exam has been postponed to May last week, students have this excellent opportunity to turn this period of lockdown and isolation into productive and profitable for gaining good marks. Students having doubt on how to revise Chemistry for JEE Main at home can find here tips to prepare and score good marks in exam.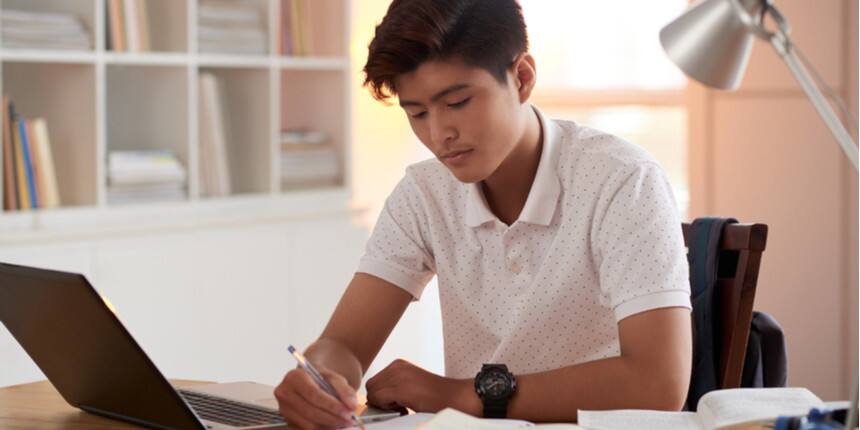 JEE Main exam consists of three sections, Physics, Chemistry and Mathematics. Chemistry, being very large and mostly theoretical in nature, can be a little tricky and hard hitting if not studied properly. In the past few years, the Chemistry part in JEE Main has been asked mostly from the NCERT syllabus of class 11 and 12, thus making it easier for students.
NTA, the conducting body of JEE Main, releases the official syllabus which is used for making the questions. JEE Main syllabus for Chemistry is based out of the standard Class 11 and 12 syllabus of NCERT. As students have already been studying the topics throughout their studies in school and preparation, it must not be a difficult task to get understanding of it. Students are provided here some of the useful tips on how to revise Chemistry for JEE Main at home during lockdown.
Make list of all Important Topics
Students must make a list of all the topics which are widely asked in the exam or have been covered in past years. Marking the important topics is advised to keep them revising them whenever you get time in between the regular studies. If you have devoted a proper time for revision on a daily basis, then it's good but revision can also be done on Sundays or as per the time you have fixed for it. By this way, students can get a grip of all the important topics for JEE Main preparation of Chemistry which would ultimately help in getting good marks in exam.
Make a Time Table for Revision
Students are advised to devote a fixed and proper time to study and revise every topic which is asked in the exam. Studying in line to a fixed time table can help achieve great results in an easy and stress free manner. JEE Main preparation time table must be stringent but should also be flexible in need of hours. Studying as per the fixed schedule enables students to learn things in a phased manner which eventually would result in prolonged learning.
Practise Mock Tests and Sample Papers
Mock tests and sample papers are the real aid in achieving the high level of competency in any exam preparation. Students who practise mock tests get to know their weak and strong topics, time he/she is taking in solving problems. Solving JEE Main mock tests and sample papers would help students to get useto of real exam scenarios.
Online Study
Preparation of any exam can be done either online or offline as per the convenience of students. Since getting books and other study materials is difficult in this period of lockdown, students are encouraged to use e-learning portals to ace their exam preparation. One such portal is NPTEL by MHRD Govt of India. There are many other e-learning portals by state governments which can also be used for JEE Main preparation as well as for other engineering competitive exams.
Stay Motivated
This is perhaps the most important part of any exam preparation. Students often feel anxious or distressed in their preparation but it's the strong will power, determination and hard work put together that results in success. In this period of lockdown and isolation, it is the motivation to achieve success which is going to play a leading role in getting good results. Students can also learn a lot from previous year JEE Main toppers and get to know how they achieved this feat. Query on how to revise Chemistry for JEE Main at home can also be solved from learning preparation tips from toppers and experts.
Questions related to JEE Main
Showing 97786 out of 97787 Questions