JEE Main 2022 Preparation Tips by Experts - Tips & Tricks
JEE Main 2022 Preparation Tips by Experts - With JEE Main 2022 being one of the largest engineering entrance exams, aspirants must have a lot of doubts. Applicants must looking for answers like what strategy to have in the exam, how to prepare for JEE Main, is there a need of separate coaching for both the attempts, Is different strategy needs to opt for the computer-based exam, is online exam more tricky than an offline one, What things need to keep in mind when preparing for JEE Main online exam and so on.
Latest Updates for JEE Main
Stay up-to date with JEE Main News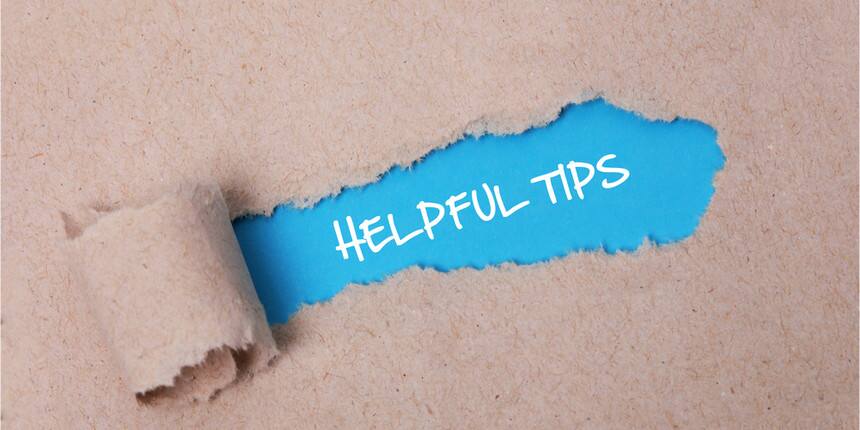 So to answer all the queries about JEE Main 2022 preparations, Careers360 interacted with various coaching experts and penned down some of the JEE Main preparation tips. With the help of JEE Main 2022 preparation tips by experts, candidates will be able to prepare more effectively for the examination.
JEE Main 2022 - Key Highlights
As JEE Main 2022 is conducted twice a year, the application form for both the attempts is made available separately. The application form of JEE Main 2022 for January attempt will be released tentatively in the month of December while for April attempt, the application form will be available tentatively in February.
NTA will release the JEE Main 2022 admit card in online mode. After the conclusion of the exam, the authorities will release JEE Main answer key 2022 and JEE Main result 2022 in online mode on official website.
"Providing candidates opportunity to appear for the national level engineering entrance exam twice a year is a boon in disguise. Students get two chances to appear in the examination with the best score considered. He/she gets three months more after appearing first time in January, for removal of weaknesses and consolidating preparation along with the board," says R. L Trikha, Director, FIITJEE.
10 min read
Mar 05, 2022
Read More
JEE Main 2022 Preparation Tips by Experts
Know about exam thoroughly
Candidates preparing for JEE Main 2022 must ensure that they know every little detail like syllabus exam pattern and so about the examination. To crack the national level engineering entrance exam, candidates require lot of hard work and a proper strategy. "Before starting the preparation for JEE Main 2022 one should know every minute details regarding the exam like syllabus, pattern, number of seats, number of colleges, number of aspirants, present standards of the examination, model papers, nature of the questions etc.," said M. Umasankar, the National IIT Coordinator, Sri Chaitanya Educational Institutions.
Make a study plan
It's very important for every JEE aspirant to make a study plan before proceeding towards the preparation of computer-based examination. "Prepare a chapter-wise and topic-wise revision schedule. Create short notes, and list all formulae and points to remember. Flag tricky questions and their solution. This will help in quick revision before the examination," said R. L Trikha on asking him about JEE Main preparation tips.
Also Read | JEE Main Syllabus 2022
Manage your time effectively
According to R. L Trikha's JEE Main preparation tips, candidates must have proper planning for timely preparation and to deal with study pressure. "By now, serious students must have evaluated their preparation or must have been informed about the same by their teachers. So, this is the time to consolidate your preparation and ensure that you do extremely well in the actual JEE Main exam," said FIITJEE Director.
Increase your efforts and regular practice
As the JEE Main 2022 is going to be online, candidates need to tweak their preparation strategy a bit. Candidates need to double their efforts and start their regular practice for JEE Main 2022 for January attempt from now onwards. According to Nitin Vijay, Managing Director, Motion Education Pvt. Ltd, candidates need to increase their daily effort they put by about 20% - 30%, no matter what study preference they have, be it coaching, online learning or self-study. The increase in effort will ensure that candidates fast-track their progress and finish the curriculum on time.
Clarify concepts and doubts
According to JEE Main preparation tips by M. Umasankar, candidates must ensure that their all the doubts are clear. The basis of the fundamental concepts of every subject should be clear. "Make sure to get clarity and confidence in concepts. Don't hesitate to clarify your doubts immediately with help of your lecturer when needed. Identify the common strategies for solving problems and numerical. Don't do any mistakes for solving those problems under any circumstances," said M. Umasankar.
Also Read
JEE Main Paper 1 Syllabus 2022
JEE Main Paper 2 syllabus 2022
Give equally focus on all subjects
Candidates should divide their time equally between three subjects- Chemistry, Physics, and Mathematics. R. L Trikha, while sharing the preparation tips for JEE Main 2022 said, "All the three subjects Physics, Chemistry, and Mathematics, are equally important. So, divide the time of these crucial remaining months aptly between the three subjects. Major focus must be on the topics of Class XII boards, and then revision of class XI topics must follow."
Practice mock tests
Candidates must practice JEE Main 2022 mock test before attempting real examination. Not only this, but NTA also sets up practice centres to help the candidates with their preparation for the examination. Practicing through the mock test will enable candidates to know the exam pattern and process of answering the questions. "Mock Tests, play an impeccable role in improving your knowledge, speed, and accuracy. Start preparation of the same from August onwards. Take an initial mock test, and get the performance analysis to understand your strong and weak areas, your accuracy rate, level of attempts, no of questions attempted. It is suggested to practice 2 mock tests every month and 10-15 mock tests two months prior to the exam," said Nitin Vijay.
Stay positive & take care of your health
It's important to study hard but ignoring your health while the process is not the right way to proceed. Candidates must have a proper diet and sleep to stay fit. Taking unnecessary pressure will not help in the long run. Be positive and fit while working hard towards cracking JEE Main 2022.
Read in detail-
JEE Main Preparation Tips by Expert – M. Umasankar, National IIT Coordinator, Sri Chaitanya
JEE Main Preparation Tips by Expert - R. L Trikha, Director, FIITJEE
JEE Main Preparation Tips by Expert - Brajesh Maheshwari, Director - Allen Career Institute
JEE Main Preparation Tips by Expert - Nitin Vijay, Managing Director, Motion Education Pvt. Ltd
Questions related to JEE Main
Showing 128549 out of 128549 Questions