JEE Main Feb 2021 Topper Interview: Siddhant Mukherjee- "Conceptual foundations must be clear"
JEE Main 2021 Topper Interview: Siddhant Mukherjee (100 Percentile) - Mumbai's Siddhant Mukherjee is among the 6 students who secured 100 percentile in the JEE Main 2021 February session exam (Paper 1). Siddhant is also the JEE Main 2021 state topper from Maharashtra. Careers360 team conducted an exclusive JEE Main 2021 topper interview with Siddhant Mukherjee to know about his JEE Main preparation strategy, books referred by him, tips for other students, etc. Siddhant highlighted the importance of JEE Main mock tests and previous year papers in his preparation and also spoke about his strategy. He will not be appearing for the other attempts and will focus on his board exams and JEE Advanced 2021. He aims to get admission to CSE program at IIT Bombay. Read the detailed interview of JEE Main 2021 February topper Siddhant Mukherjee below.
Latest Updates for JEE Main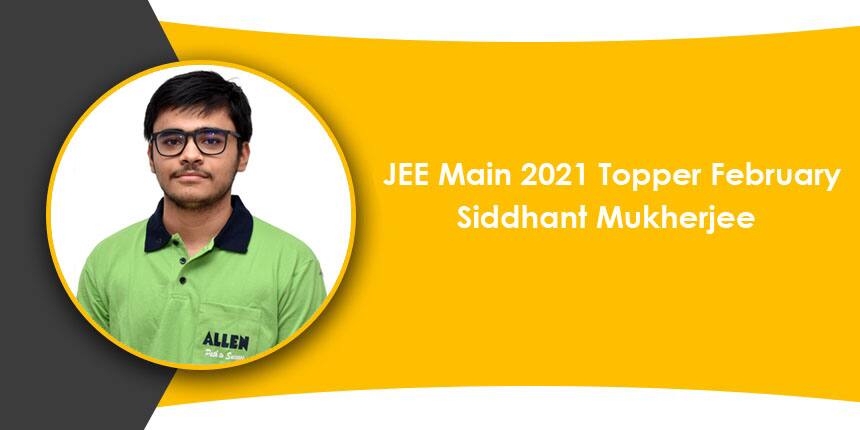 Careers360: Congratulations on your performance in JEE Main 2021! What was your reaction upon knowing your score?
Siddhant: My first reaction when the JEE Main final answer key was first released was disbelief. I could not believe that I had scored full marks in the exam. I had expected to do reasonably well but a perfect score was not on my horizon. I then waited anxiously for the declaration of results, knowing that I could secure the 100 percentile.
Careers360: Tell us something about yourself. Which board have you studied under? Which school have you studied in?
Siddhant: I am studying at Disha Delphi public school Kota, in the CBSE board. I had studied for the ICSE in Dhirubhai Ambani international school, Mumbai. My father is an IIT-Kharagpur and IIM-Ahmedabad alumnus, he runs his firm working in risk analytics with banks. My mother is a chartered accountant and a banker.
Careers360: What is your percentile score in JEE Main 2021? What's your score in Physics, Maths, and Chemistry?
Siddhant: I have scored 100/100 marks in all three subjects apart from 100 percentile in each subject and overall.
Careers360: Why do you want to study engineering? When did you decide to study engineering? Which branch would you be interested in? Any reason?
Siddhant: I had an early interest in science. I was always inquisitive about how machines work and knew it was right that I go into science to unravel these wanderings of my mind. My decision to go into engineering came much later, after the Homi Bhabha Young Scientist competition when I became sure that engineering was the best way to explore science. I am interested in B.Tech CSE at IIT Bombay. I have already explored CS in Class 10th and have done online courses at MIT and Stanford. These experiences showed me that I have a passion as well as a knack for the subject.
Careers360: When did you start your JEE Main preparation? Tell us something about your preparation strategy and daily routine for JEE Main? What was the impact of COVID-19 on your preparations?
Siddhant: I had been preparing for JEE Advanced as a specific goal since 11th standard. In the last 2 months before the mains exams, I shifted my focus to mains. I then proceeded to curtail mistakes and cover the weak points in my preparation. My daily routine looked something like this-
a. Classes in the morning
b. Past Paper in the afternoon (best to take during your shift, mine was in the afternoon)
c. Paper analysis/Self-study in the evening
COVID-19 actually had an academic benefit for me. I saved nearly 2 hours a day in the commute which allowed me to make more out of the day. However, some amount of in-person interaction was missing which was in my opinion outweighed by the time I saved.
Careers360: Did you face any difficulties since the examination was conducted completely in computer-based mode?
Siddhant: I did not face any issues with the CBT format as it has become a routine for the past few years and I have practiced many papers in that mode.
Careers360: Was there a difference in the preparation strategy in the last months of JEE Main considering that the board exams are also coming up? How did you manage preparation for both?
Siddhant: I have been focusing on jee mains for the past few months and have read NCERT books for the same. CBSE is based on the same syllabus but I will fine-tune my preparation for the boards in the upcoming months.
Careers360: Did you take coaching for JEE Main and if yes from where? What are the benefits of coaching according to you?
Siddhant: I have been studying in ALLEN since May 2019. In my opinion, the best benefit coaching offers students is a good peer group and a structured study plan along with the support of faculties.
Careers360: Mock tests and sample papers – how extensively did you practice with the help of these? Do you think practicing from the previous year's papers help and how?
Siddhant: I solved nearly 30 previous year papers of JEE Mains and identified the topics with higher weightage or the ones that needed more extensive preparation.
Careers360: Are there any special books that you feel have helped with your JEE Main preparation? Are the school textbooks adequate for preparing for JEE Main and Class XII?
Siddhant: For physics and maths, it is sufficient to focus on minimizing mistakes by analyzing the patterns in them if one's conceptual foundations are clear. If not, it is best to focus on that first. For chemistry, NCERT books are sufficient to cover all the questions in jee main. My advice would be to focus on all the fine points in the books such as the trends given or have a general idea of the data in the tables.
I personally believe that books do not play that much of a role, but here's my list (looks
incomplete but this is all I had time for during preparation)
a. Physics-
HCV (very important for fundamentals. This might be clichéd but please go through the questions for short answer)

Irodov (more for advanced though)
b. Chemistry-
NCERT- the single most important book for jee. As I said before, it is important to study line by line. My shift had several offbeat questions from obscure/ignored parts of the book (the question on flame test)
c. Mathematics-
SL Loney trig and coordinate geometry
Careers360: Did you face any problems during the JEE Main examination? Which subject was the easiest and which was the toughest in JEE Main? What do you think is a tough thing to manage during the JEE Main exam?
Siddhant: I did not face any major problem in the examination as all COVID norms were well followed. In my opinion, Chemistry was the trickiest subject (based on very fine points) and Physics was the most straight-forward(formula-based or routine situations)for me. The most crucial thing in the exam is to maintain cool confidence. If you do not have unshakeable confidence in yourself, I believe that JEE Main will seem harder than it actually is.
Careers360: What do you think are the key factors behind your stupendous success in JEE Main?
Siddhant: My family has been a constant support for me. My parents have always endeavored to have the best for me and have driven me to do better than I would have otherwise. My grandmother who stayed with me in Kota during my preparation was always there to support me with a smile during rough times. A second key factor would be the guidance of my teachers along with effective test and mistakes analysis. Last but not the least, I believe the goodwill of my parents and mentors along with the graces of God has allowed me to achieve full marks in JEE mains.
Careers360: Will you be appearing for the March/April/May session of JEE Main 2021 too?
Siddhant: I will not be appearing for the other attempts as I need the time to prepare for boards and JEE Advanced.
Careers360: How did you de-stress yourself during the preparation? What are your hobbies? How often could you pursue them?
Siddhant: I used to go for walks with my parents to de-stress. I am sure that familial support is the best stress-buster. As for my hobbies, I am a black belt in karate and love English literature. I enjoy writing as well and have won the gold medal in the Queen's commonwealth essay competition in 2015 and 2017. These hobbies have been simmering on the back burner for the last two years. I hope I can revive them after JEE advanced.
Careers360: Who is your ideal or biggest inspiration in life and why?
Siddhant: My parents are the biggest inspiration in my life. They have fought hard to become what they are today. Seeing such drive in my own parents allows me to find the strength to fight harder in a bad stretch.
Careers360: You know you are an inspiration to thousands of students across the country. Do you have any message for future aspirants on tackling the JEE Main exam?
Siddhant: My biggest advice to you would be to STAY CALM and CONFIDENT!! The day before the exam I felt like I had forgotten everything. These thoughts/feelings are natural. DO NOT PANIC!!
I have faced problems such as low scores in tests or silly mistakes. The answer has always been confidence. Also, avoid comparisons to other students. It completely sucks the energy out of you.
Also, Read
JEE Main Feb 2021 Topper Interview - Ranjim Prabal Das
JEE Main 2021 Feb Topper Interview- Guramrit Singh

Questions related to JEE Main
Showing 115873 out of 115873 Questions