JEE Main 2021- Do's and Don'ts
JEE Main 2021- Do's and Don'ts - As most of the aspirants are busy giving final touches to their JEE Main 2021 preparation, there are some other aspects that are crucial too. Amidst other aspects, one of the critical aspects for aspiring candidates to know is – do's and don'ts for JEE Main 2021. In other words, what to do and what to avoid before the exam and during the exam. While the hearts of the candidates may be flooded with mixed emotions, some basic rules and guidelines need to be followed to make the test a pleasant experience. Ranging from pen and pencil to clothes, from gadgets to watches, candidates must know what is allowed inside the exam hall and what is not. To ensure that your test experience is a smooth one, Careers360 highlights here some of the guidelines which candidates must adhere to. Drawing section of Paper II was conducted in offline mode.
Latest Updates for JEE Main
Stay up-to date with JEE Main News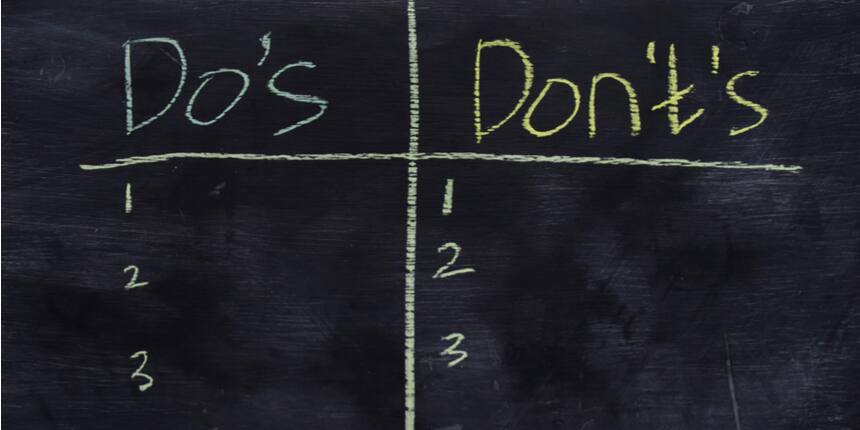 Do it with decorum!
Keep calm, as that's the basic mantra you must follow. Getting panic will not help you, rather it's dangerous to your health as well as for your exam.

While taking the test, do maintain silence and just focus on your question paper. This will save time for you.

Don't distract & don't get distracted by entertaining any gestures or do not engage in any sort of conversation with anyone. Once caught by the examiner, you may be disqualified.

Do not carry any type of unfair means to the examination hall. Once found with anything, you are definitely out of the examination hall as 'disqualified'. Carrying anything might lead to cancellation of your candidature permanently or for a stipulated time period.

Do not forget to carry your JEE Main Admit Card to the examination hall. You can not enter the exam hall without possessing the admit card.
Don't be a rule breaker!
Don't be late, rather reach the meeting venue well in advance as the examination hall will open two and a half hours before the exam commences. This extra time is for frisking the candidates with metal detectors. Reaching late could be a huge loss for you, as you may miss some of the exam instructions announced in the examination hall.

Avoid last minute study, as this will just build tension in your mind. You must feel relaxed.

Don't compare your preparation with others. Each one may have prepared for the test differently, using different strategies.

Don't carry any gadgets or items to the exam centre like calculator, pen, slide rules, log tables, electronic watches, any printed or written piece of paper, mobile phones, pager or any other device.

You must only carry JEE Main 2021 Admit Card to the examination hall.

Beware not to eat or smoke in the examination hall or take any eatables along with you. It's not the right place to do so.
JEE Main 2021- Do's and Don'ts for Paper-1
Do's:
Do reach on time because no candidate will be allowed to enter the examination hall under any circumstances after the exam commences.

Do carry the admit card along with you.

Check the system allotted to you for its working conditions.

It's your duty to ensure that all the details on the attendance sheet must be correct and signatures are done at the prescribed place/column.

Carefully go through all the instructions for marking, mentioned on the computer before the exam starts.

You have to produce your admit card whenever demanded by the invigilator. So, keep it safe with you throughout.

Do not forget to sign the Attendance Sheet at the appropriate place.

You also have to imprint your left-hand thumb impression in the space provided in the Attendance Sheet.

Follow the signals given by the invigilator at the beginning of the examination, at half-time and before the closing of the exam.

Do carry the copy of PwD certificate in the prescribed format issued by the Competent Authority, if you claim relaxation under PwD category.
Don'ts:
Don't carry any material in the examination hall, not even pen.

Don't rush while going through the exam instructions. Read them slowly and carefully.

Don't carry any prohibited items.

Don't waste your time on questions you don't know, either don't spend too much time on one question.

Don't move out of the examination hall, even if you have completed the exam. Wait till the exam time gets over.
JEE Main 2021- Do's and Don'ts for Paper-2
Do's:
Most of the Do's for Paper 2 is the same as for Paper 1. The ones which are different for Paper 2 are mentioned below:
Do attempt the paper calmly.
Bring your own geometry box set, pencils, erasers and colour pencils or crayons for aptitude test in Architecture.
The Don'ts for Paper 2 and Paper 1 are the same.
Bringing these do's and don't for you is a small effort of Careers360 to ensure that your exam taking experience is smooth and you can just focus on giving your best in the test. Thus, read these instructions carefully and stay calm. Also, do remember that this is a golden opportunity for you while you take the national level engineering entrance test. So, make it the best for you!
Keep Calm and create your own history by giving it the best shot!
All the best!
Questions related to JEE Main
Showing 116706 out of 116706 Questions