JEE Main 2020 Topper Interview: Aryan Gupta "Stay Focussed and work hard to achieve big"
JEE Main 2020 Topper Interview - Aryan Gupta has emerged as JEE Main 2020 topper from J&K state securing 99.97 percentile. Careers360 interacted with him for the exclusive JEE Main topper interview to know about his journey as topper and insights about preparation strategy. JEE Main topper Aryan Gupta says "I believe there is no alternative to hard work and since JEE syllabus is vast, staying focussed is vital to cover up all topics. Selection of right books, study materials and practice of mock tests also plays a key role to score good marks in JEE Main. I used to regularly study 5-6 hours for the exam and focused on making the concepts clear. My parents helped me a lot in my preparation by keeping me motivated. JEE Main 2020 topper Aryan Gupta credits his success to his teachers at Vidyamandir Classes and his parents. I want to study in IIT Delhi for which I have to qualify JEE Advanced with good marks and so my next focus is to prepare for it. Read the complete JEE Main topper interview of Aryan Gupta to know more about his preparation strategy.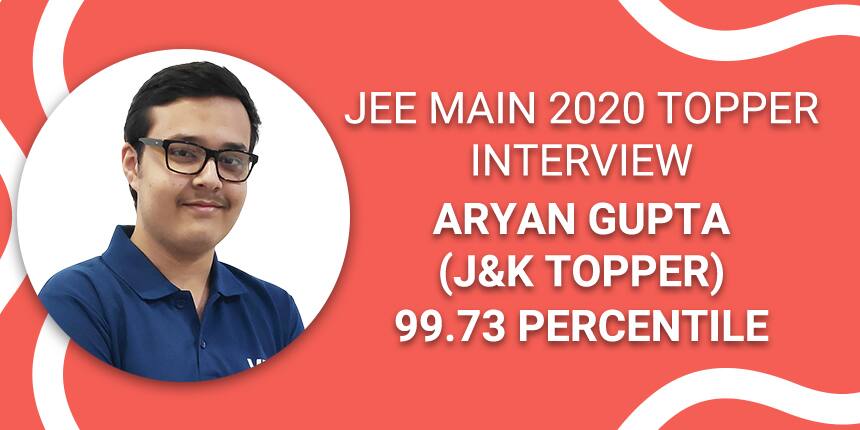 Careers360: Congratulations for your performance in JEE Main 2020! What was your reaction upon knowing your score?
Aryan- I was quite happy upon knowing my score. I was expecting a good score but emerging as a topper is overwhelming.
Careers360: Tell us something about yourself. Which board have you studied under? Which school have you studied in?
Aryan- I am studying in KC public school Jammu and I am studying under CBSE board.
Careers360: What is your score in JEE Main 2020?
Aryan- My NTA score is 99.7338263 percentile. I secured 99.416 in physics, 99.653 in chemistry, and 99.635 in mathematics
Careers360: Why do you want to study engineering? When did you decide to study engineering? Which branch would you be interested in? Any reason?
Aryan- I want to study engineering because of my interest in mathematics and physics and I want to pursue education in the Computer science engineering branch.
Careers360: When did you start your JEE Main preparation? Tell us something about your preparation strategy and daily routine for JEE Main?
Aryan- I started my JEE preparation in the 11 class. My preparation strategy was to first get well versed with the theory of a chapter and then solve different questions. I studied for six hours a day.
-->
Careers360: Did you face any difficulties since the examination was conducted completely in computer based mode?
Aryan- The computer based mode of exam was more advantageous as compared to OMR checking since we could change our answers if required.
Careers360: Was there a difference in the preparation strategy in the last months of JEE Main considering that the board exams are also coming up? How did you manage preparation for both?
Aryan- Preparation for JEE ultimately helped in preparation for boards since NCERT books are more than enough for JEE MAIN.
Careers360: Did you take coaching for JEE Main and if yes from where? What are the benefits of coaching according to you?
Aryan- I took Coaching from Vidyamandir Classes, Jammu which helped me boost my preparation with frequent tests and regular motivation.
Careers360: Mock tests and sample papers – how extensively did you practise with the help of these? Do you think practising from the previous year papers help and how?
Aryan- Previous year questions give us an idea of the questions which would come in the exam. Mock tests and sample papers should be solved just a few days before the main exam.
Careers360: Are there any special books that you feel have helped with your JEE Main preparation? Are the school text books adequate for preparing for JEE Main and Class XII?
Aryan- I studied mainly from NCERT books as the matter in books is more than enough for JEE MAIN.
Careers360: Did you face any problems during the JEE Main examination? Which subject was the easiest and which was the toughest in JEE Main? What do you think is a tough thing to manage during the JEE Main exam?
Aryan- Mathematics was the easiest subject and physics the toughest in the recently concluded examination. Time and stress are quite difficult to manage in the JEE exam.
Careers360: What do you think are the key factors behind your stupendous success in JEE Main?
Aryan- Hardwork and conceptual clarity regarding chapters are the key factors behind my success.
Questions related to JEE Main
Showing 112401 out of 112402 Questions