JEE Advanced 2018 Topper Interview: Neel Aryan Gupta (AIR-10) - "Learn from your mistakes and do not repeat them
There is a saying that "when the going gets tough, the tough get going."  JEE Advanced 2018 Topper Neel Aryan Gupta (AIR-10) proved this right when he rallied back after a surgery he underwent a month before the entrance exam. It was his sheer grit and determination, which put him to be among the toppers. JEE Advanced 2018 Topper Neel Aryan Gupta (AIR-10) spoke to Careers360 in which he categorically stated that despite the chips being down during the fag end of his preparation, he did not give up. Neel also states that one should try to avoid making silly mistakes but if they do, to ensure that they learn from it as each and every mark counts. He also added that regular practice with the help of mock tests is a good trait that allows tudents to perform well in the exam. Despite the strenuous schedule of his preparation, Neel Aryan Gupta (AIR-10) managed to squeeze out time to pursue his hobbies which are music and watching television.  Read the complete interview of JEE Advanced 2018 Topper Neel Aryan Gupta (AIR-10) to know about the struggles he underwent, how he rallied back, what factors helped him along the way and lastly his success mantras for JEE Advanced.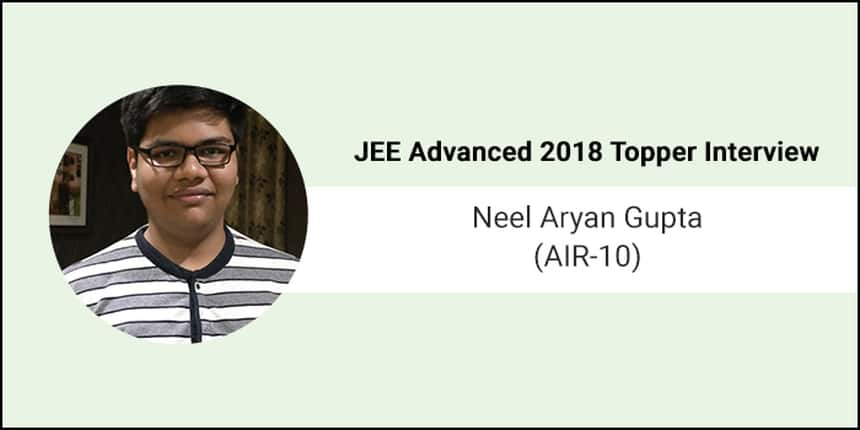 Careers360: Congratulations for your outstanding performance in JEE Advanced2018! What was your reaction upon knowing your rank?
Neel Aryan Gupta: I was extremely happy when I came to know about my result as I was expecting to be among the top 20. However getting AIR 10 in JEE Advanced 2018 was like a dream come true.
Careers360:  Tell us something about yourself. Which board have you studied under? Which school have you studied in?
Neel Aryan Gupta: I did my class 10th from Manav Mangal School, Sector 11, Panchkula. I pursued class 11TH and 12th  from Sri Guru Gobind Singh Senior Secondary school. Sector 35, Chandigarh.
Careers360: What is your score in JEE Advanced2018? What is your all India rank and category rank?
Neel Aryan Gupta: In JEE Advanced 2018, I scored 310/360 and my all India rank  is 10.
Careers360: Why do you want to study engineering? When did you decided to study engineering? Which branch would you be interested in?Any reason?
Neel Aryan Gupta:  I want to  take up engineering since I really enjoy studying maths. I made up my mind to take up engineering I was in standard ninth. I was very much inspired by one of my cousins who also studied Computer Science and is presently based abroad.
Careers360: JEE Advanced went online this year. What is your opinion about it? Did it change your preparation strategy for the exam?
Neel Aryan Gupta:  I think computer based tests are good as one has the option to change or review the answers. It did not change my preparation strategy in any way. I just tweaked the strategy in the last days before the exam when I took the JEE Advanced mock tests and practiced with past years question papers of JEE Advanced in online mode.
Careers360: When did you start your JEE Advanced preparation? Tell us something about your preparation strategy and daily routine for JEE Advanced?
Neel Aryan Gupta: If you look at it, I casually started preparing for the JEE in class IX. However, the actual serious preparation started in Class XI when I completely focussed on the JEE exam.  Preparation is all about time management. First of all I completed the theory aspect. Every day I would devote ten to twelve hours towards my JEE preparation.
Careers360: How was the preparation for JEE Advanced different from JEE Main?
Neel Aryan Gupta: One can crack the JEE Main entrance exam by being thorough with the NCERT books. The questions in JEE Main are straightforward and can be solved with ease. However, the questions in JEE Advanced are lengthy, time consuming and are based on multiple concepts.  It is important to have be well versed with the concepts for JEE Advanced.
Careers360: Since there was just a month after the JEE Main, elaborate on your preparation strategy?
Neel Aryan Gupta: The last one month before the exam was a bit tough for me as I was diagnosed with a serious medical ailment. After I appeared for JEE Main, I underwent the requisite surgery and for the next two weeks I could not get up due to which I had to study laying down on the bed. Ideally all the students should solve the past years question papers a month before the exam. However, since I was not keeping well, I could only do that for about ten days before the exam.
Careers360: Did you take coaching for JEE and if yes from where? What are the benefits of coaching according to you?'
Neel Aryan Gupta: I took coaching from the Allen Institute. One of the biggest advantages of coaching is that it helps you to acquire better conceptual knowledge. 
Careers360: Mock tests and sample papers – how extensively did you practice with the help of these? Do you think practicing from the previous year papers help and how?
Neel Aryan Gupta: I would take JEE Advanced mock tests regularly. I feel that the difficiulty levels of these mock tests should be high as only then then can one prepare for the actual exam. Then the difficulty levels of the actual exam will not matter. One important tip is to solve the past years JEE Advanced question papers within the same time frame as the main exam. These two exercises - past year papers and mock tests boost the confidence and allow students to get used to actual difficulty levels of the questions as well as gauge their level of preparation.  All weak areas must be worked on once candidates get to be aware of them during this practice sessions.
Careers360: Are there any special books that you feel have helped with your JEE Advanced preparation?
Neel Aryan Gupta: The books  I would recommend are
 
Books for JEE Advanced

| | | |
| --- | --- | --- |
| S.No | Name of the Book/ Subject |  Author |
| 1. | Physics- Problem Solving | Irodov |
| 2. | Concepts in Physics | H C Verma |
| 3. | Maths- for JEE Main | Cengage Publication (there are five books which cover plus one and plus two |
| 4. | Physical Chemistry | Bruce Mahan |
| 5. | Organic Chemistry | Notes |
| 6. | Inorganic Chemistry | J D Lee |
Careers360: Did you face any problem during the JEE Advanced examination?  Which subject was the easiest and which was the toughest in JEE Advanced? What do you think is a tough thing to manage during the JEE Advanced exam?
Neel Aryan Gupta: I did not face any problem as such during the JEE Advanced 2018 exam. I found Physics very easy. As far as Maths and Chemistry is concerned, it is difficult for me to say which of the two was difficult as I used to score well in Maths during my preparation days.
Careers360: What is the main difference between both the two papers in JEE Advanced?
Neel Aryan Gupta: There was not much difference in the difficulty level of both the papers.  Physics was easy in both the papers. The difficulty level for Chemistry was the same in both the papers. Maths in paper 2 of JEE Advanced was tough.
Careers360: Did you face any technical glitches during the exam? What is your opinion on the way the exam was conducted?
Neel Aryan Gupta: There was no technical glitch. It is good that JEE Advanced is being conducted in computer based mode.
Careers360: What do you think are the key factors behind your stupendous success in JEE Advanced?
Neel Aryan Gupta:The teachers at the coaching institute guided me well throughout the course of preparation.  It is with their help that Maths became one of my very strong points. My parents are my pillars of strength. The other  reason for my success is that I worked hard to reduce the careless mistakes which I was initially  making during the exam. It is very important that the silly mistakes are rectified during the early stage of the preparation as it makes a lot of difference in the marks that you score and the rank that you will get.
Careers360: How did you de-stress yourself during the preparation?What are your hobbies? How often could you pursue them?
Neel Aryan Gupta:  I used to relax by listening to music and playing video games as well as watching movies. There was never that much  time to pursue my hobbies but I did pursue them when I could as it helped reduce my anxiety.
Careers360: Who is your biggest inspiration in life and why?
Neel Aryan Gupta: My mother is my ideal. Being a working professional, she maintained a balance between her professional and personal life while paying due attention to my studies. Her  motivation and continous support has been one of my strengths.
Careers360: You know you are an inspiration to thousands of students across the country. Do you have any message for future aspirants on tackling the JEE Advanced exam?
Neel Aryan Gupta: It is essential to learn from one's mistakes. Take your mistakes seriously and ensure that you do not repeat them. There are a number of students who have a good understanding of the concepts but lose out on account of the silly mistakes. Every mark counts.
Questions related to JEE Advanced
Showing 13149 out of 13150 Questions