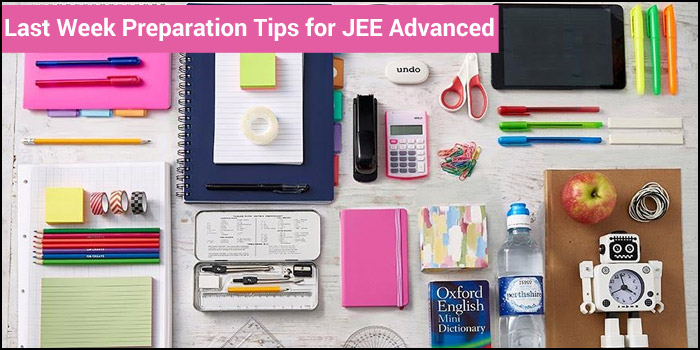 JEE Advanced 2018 Last Week Preparation Tips: Just a week left till the IIT aspirants will finally face the much awaited JEE Advanced 2018 exam. With tensions running high, the crucial period of one week has started in which you will have to figure out the method and plan to boost the last minute preparation process. While the keyword for the remaining 7 days is "Focus" and "Revision, the outcome to the JEE Advanced will also be influenced by many other factors. JEE Advanced is the examination for B.Tech admissions into the 23 Indian Institute of Technology (IIT). From the present session, JEE Advanced exam will be conducted in online mode. We, at Careers360, are here to provide you with the last minute preparation tips for JEE Advanced 2018 and give you that little boost required as you near the examination date. Remember to stay focused, keep calm and get cracking with our JEE Advanced 2018 Last Week Preparation Tips given below.   
B.Tech Admissions Open 2019
SRM Institute of Science and Technology
JEE Advanced Sample Paper
Download Free Sample Paper for JEE Advanced
Download Now
JEE Advanced 2018 Last Week Preparation Tips
Use the Conceptual Study Method
Now that you are in the last week and will soon face the much awaited day, it is a wise decision to study concept wise. Understanding the syllabus conceptual wise will give you a wider and deeper knowledge about the chapters involved. This will allow you to answer the analytical questions which are mostly present in the JEE Advanced examination.
Planning is Important
This week will be an important time, so plan your studies carefully and accordingly. Make sure you give equal time to revision and mock tests. Keep short breaks in between to refresh your mind.  Remember to study by plan and not by numbers. No matter how many chapters are still left for revision, prepare a proper plan and follow it.
Know your Strength and Work It
Knowing where you stand and where you are strong in terms of preparation is the most important thing to understand. During the last week preparation, focus on those concepts and topics which you believe to be your strengths. Identify all of the areas in which you think you will score well and during the planning session make sure to give more time and attention to these particular concepts so that you are able to score more in the questions from these concepts.
Do not be Afraid to Ask – Clear Your Doubts
Clearing your doubts with other people who have more understanding of the syllabus is one of the good preparation methods especially if not much time is left for D-Day. While studying if you come across any question which you cannot seem to solve then ask your teachers, coaching institute teachers, seniors or any other people who have in-depth knowledge about that particular topic. Don't be afraid to ask. Be free and clear your doubts for a quicker and better understanding.
Analyze your Mock Tests
Solving mock test and sample papers are perhaps the most used and efficient way to check on how much preparation has been completed from your side. Indeed, mock test and sample papers help with the preparation as showcases how much you have been able to understand the concepts and topics under JEE Advanced Syllabus and the practical application of it. BUT do not be stagnant and just keep on solving the mock tests. Analyze each mock test of JEE Advanced that you attempt. Check all of your mistakes and revise them again. Compare your latest mock test with the previous one and check the gap between them in terms of mistakes made.  Time management also has to be checked.
New Books and New Chapters are a Big No
This is your last week so do not try to study new concepts and new books. It will make your more confused and the last minute crammed topics will not be very reliable during the examination. Instead, use this time to make your known chapters stronger. By securing the studied chapters, you will be able to answer all of the questions related to those chapters during the examination and will increase your scores.
Flash Cards to the Rescue
The best method to make sure you catch up on your studies anytime anywhere is through flash cards. Create a bunch of flash cards consisting of small keywords which will help you remember the concepts linked with it. Make sure to use the flash cards whenever you are having a hard time remembering certain topics and concepts. Create a bunch of separate flash cards consisting brief information about the topics you have problem understanding and study them.
Plan your Breaks
The last week preparation is an important time so it is important that you keep your mind and body healthy. Give yourself short breaks in between studies so that you will be able to refresh your mind. During the break, listen to music, read a book or go for a short walk. Eat healthy food since getting sick is not an option with the examination approaching. The most important factor is sleep. Make sure you sleep properly since a fresh mind is much needed while studying. Do not cut down on your studying. Sleep early and rise early. Studying early in the morning provides a boost as your mind is fresh and ready to retain more information.
Hopefully, these JEE Advanced 2018 last minute preparation tips will help you effectively prepare and plan for the upcoming last week before the JEE Advanced 2018 is held on May 20, 2018. Stay focused, work hard and ALL THE BEST!!
Questions related to JEE Advanced
Related E-books and Sample Papers