JEE Advanced 2020 Topper Interview: Harshvardhan Agarwal (AIR 9) "Focus and Hard Work are Key factors"
IIT Delhi has released the JEE Advanced 2020 results on October 5 along with the toppers list. Careers360 team has started contacting the JEE Advanced 2020 toppers to know about their preparation strategy and success story. In the same series, we conducted an exclusive interview of Harshvardhan Agarwal who secured AIR 9 in JEE Advanced 2020. A meritorious student from childhood, Harshvardhan Agarwal has qualified and participated in many Physics Olympiads. Speaking about his preparation strategy, Harshvardhan said that he started from Class 9th for his dream of getting Computer Science in IIT Bombay. He also joined FIITJEE Punjabi Bagh coaching institute for his preparation. Read the complete JEE Advanced topper interview with Harshvardhan Agarwal to know about his study plan and success story.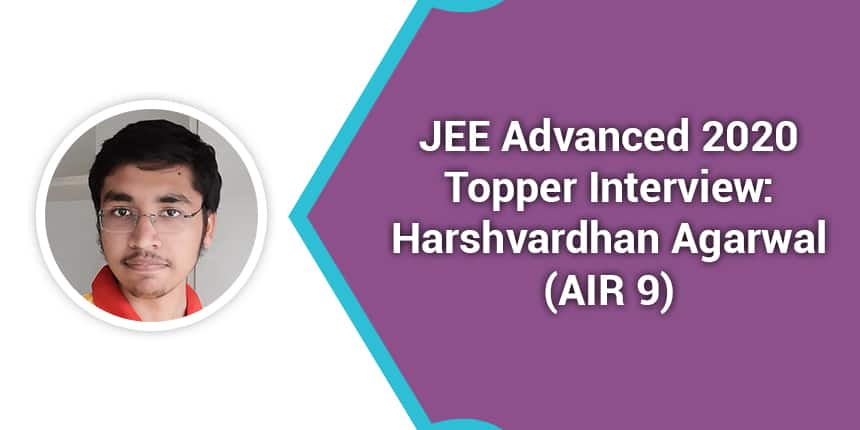 Careers360: Congratulations for your outstanding performance in JEE Advanced 2020. What was your reaction upon knowing your rank?
Harshvardhan: I was happy. After seeing the JEE Advanced answer keys, I thought I would get 6th or 7th rank but I secured AIR 9 but I was still happy.
Careers360: Tell us something about yourself. Which board have you studied under? Which school did you study in?
Harshvardhan: I am a student of Jankidas Kapur Public School and I am from CBSE Board. My father Mahavir Prasad is Retired Deputy General Manager, BSNL and my mother Seema Agarwal is an assistant professor at Hindu College in Sonepat.
Careers360: What is your overall and subject wise score in JEE Advanced 2020? What is your all India rank and category rank?
Harshvardhan: My score and rank are-
Overall score - 325
Physics- 117
Chemistry- 101
Maths - 107
AIR- 9
Careers360: What are your JEE Main 2020 marks and rank?
Harshvardhan: I secured 296 marks in JEE Main 2020. My Subject-wise scores were-
Physics- 100
Chemistry- 96
Maths- 100
My JEE Main 2020 rank was 6.
Careers360: Why do you want to study engineering? When did you decide to study engineering? Which branch would you be interested in? Any reason?
Harshvardhan: My brother is also pursuing engineering, so I am really inspired by him. Other than this, I had an interest in Science and Mathematics from the very beginning. I participated in many Olympiads also like the International Physics Olympiad (IPhO) 2019 held in Tel Aviv, Israel, Indian National Physics Olympiad, etc.
Careers360: JEE Advanced was conducted as a computer based test. What is your opinion about it? What preparation strategy did you adapt for the computer based exam?
Harshvardhan: I was well prepared for the computer-based test as my coaching FIITJEE Punjabi Bagh provided mock tests for the exam. I attempted those mock tests and was fully aware of the online platform. Also, I find online tests much better as it gives us an option to mark a question for review and attempt later.
Careers360: When did you start your JEE Advanced preparation? Tell us something about your preparation strategy and daily routine for JEE Advanced?
Harshvardhan: I started my preparation from Class 9th. I gave 12 hours a day to my studies including my coaching classes. I attended my coaching classes at FIITJEE Punjabi Bagh. I studied all the three subjects daily and gave equal time to all.
Careers360: How was the preparation for JEE Advanced different from JEE Main?
Harshvardhan: JEE Main has easier questions as compared to JEE Advanced. I started my preparations aiming for JEE Advanced from the beginning. So, I didn't face any difficulty; you only have to complete some extra topics for JEE Main as per the syllabus.
Careers360: Since there was just a few weeks after the JEE Main, elaborate on your preparation strategy?
Harshvardhan: Like I said that I started my JEE Advanced 2020 preparation from the beginning, so I was already prepared for the exam. I appeared for the JEE Main 2020 April/September session but didn't have any problem in preparation.
Careers360: How was your preparation during the pandemic? Did you face any problems during your preparation? Give us an insight on how your day used to be during quarantine.
Harshvardhan: Postponement of exams again and again was a bit frustrating and I also felt bored at times. My preparation was similar as before, I gave proper time to studies and when I felt bored, I played Chess or video games.
Careers360: Mock tests and sample papers – how extensively did you practice with the help of these? Do you think practicing from the previous year papers help and how?
Harshvardhan: I attempted JEE Advanced mock tests from my coaching- FIITJEE. All other study material like sample papers, previous year papers was also made available by my coaching. Practicing mock tests is very important as it gives an idea of the actual examination and you can also check your preparation level after analysing your performance in the mock tests.
Careers360: Are there any special books that you feel have helped with your JEE Advanced preparation?
Harshvardhan: I would say NCERT books are must especially for Chemistry. Rest I studied with the normal books that students consider like I E Irodov for Physics. I participated in many Physics Olympiads so that gave me an extra edge and increased my knowledge of the subject.
Careers360: Did you face any problem during the JEE Advanced examination? Which subject was the easiest and which was the toughest in JEE Advanced? What do you think is a tough thing to manage during the JEE Advanced exam?
Harshvardhan: No, I faced no problem in the exam. For me, Chemistry was the easiest section in JEE Advanced 2020 while Maths and Physics were of the same difficulty level.
Careers360: What is the main difference between both the two papers in JEE Advanced?
Harshvardhan: For me both Paper 1 and Paper 2 were of the same difficulty level. The only difference between the two papers was a little change in pattern like Paper 1 was more concept-based and Paper 2 had integer type questions .
Careers360: Did you face any technical glitches during the exam? What is your opinion on the way the exam was conducted?
Harshvardhan: No, I faced no technical glitches in the exam. There was no problem in the conduction of the exam.
Careers360: What do you think are the key factors behind your stupendous success in JEE Advanced?
Harshvardhan: For me Focus and hard work are the key factors for success. Other than this, you must be continuous in your preparation. Starting early also helps a lot and gives more time to prepare for the exam.
Careers360: How did you de-stress yourself during the preparation? What are your hobbies? How often could you pursue them?
Harshvardhan: In order to de-stress myself, I used to play Chess, video games. I also did some breathing exercises.
Careers360: Who is your ideal or biggest inspiration in life and why?
Harshvardhan: My inspiration in life is my brother Mannan Agarwal. He obtained 14th rank in the JEE advanced exam last year and was also among the top 200 in the JEE mains. His success always inspired me to do better.
Careers360: You know you are an inspiration to thousands of students across the country. Do you have any message for future aspirants on tackling the JEE Advanced exam?
Harshvardhan: I would like to say that there is no substitute for hardwork. If you want to succeed, hard work is really important.
Also, Read
JEE Advanced 2020 Topper Interview: Vedang Asgaonkar (AIR 7)
Questions related to JEE Advanced
Showing 13149 out of 13150 Questions