JEE Advanced 2020 Topper Interview: Chirag Falor (AIR 1)
JEE Advanced 2020 Topper Interview: Chirag Falor (AIR 1) - The Indian Institute of Technology (IIT) Delhi successfully conducted the JEE Advanced examination 2020 on September 27 across India. The authorities announced JEE Advanced result 2020 on October 5 along with the names of top rank holders as well. According to the list of JEE Advanced 2020 toppers, Chirag Falor from Pune scored the highest marks (352/396) and secured All India Rank 1 in the exam. To help the future aspirants know the success story of this Pune boy and inspire them to strategize well for the JEE Advanced exam preparation, Careers360 with the help of some sources brings in the excerpts of Chirag Falor's JEE Advanced experience.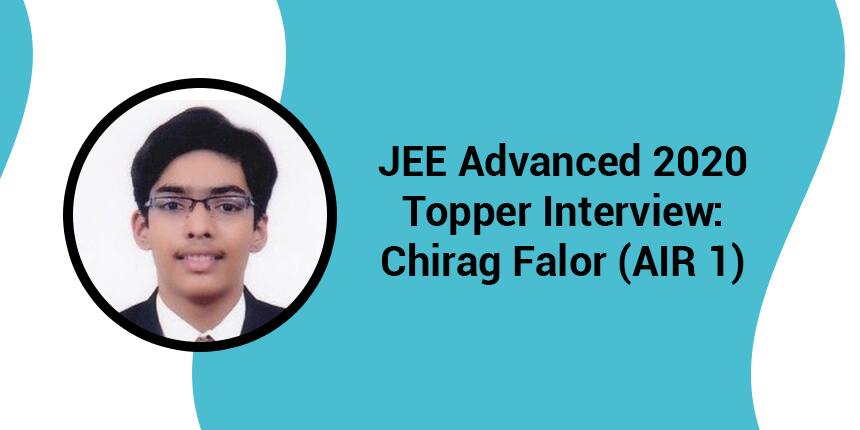 Reaction on getting AIR 1 in JEE Advanced
When Chirag got a call from the director of IIT Delhi, he had just woken up and could not digest the fact that he stood at the top in JEE Advanced 2020. He received a lot of calls that day which added to the feeling of obtaining top rank in the top engineering entrance examination of the country.
Performance in JEE Advanced 2020
Chirag scored a total of 352 out of 396 marks in the JEE Advanced examination with a score of 196 out of 198 in paper 1 and 156 out of 198 in paper 2. However in JEE Main 2020, he secured AIR 12 with 100 percentile.
Future Plan
Having secured top rank in the most looked after engineering examination, Chirag is not interested in pursuing Bachelor of Engineering. He plans to pursue Bachelor of Science (B.Sc.) in Physics
Strategy for Computer Based Examination
According to Chirag, he very much likes the computer based examination (CBT) format as it allows candidates to change the previously attempted JEE Advanced questions. The coaching institute which Chirag studied in made him take up JEE Advanced mock tests on a daily basis due to which he was comfortable with the CBT format.
Difference in JEE Main and Advanced Preparation
According to the sources, JEE Advanced 2020 topper Chirag did not prepare for JEE Main in the first place but had been preparing for JEE Advanced only. Before appearing in JEE Main, he explored the NCERT books to get a look at the basics. Throughout the preparation period, he has been preparing for JEE Advanced 2020 only.
Previous Year Question Papers
Based on what Chirag experienced, JEE Advanced question papers of previous years helped him a lot. A week before the exam was held, he practised JEE Advanced previous year papers and solved them just like an actual examination so that he could deal with the exam fear well in advance and manage time as well. He also recommends IE Irodov of Physics problems in general physics for preparation.
Easy Section
Chirag found Mathematics to be the easiest section in the JEE Advanced 2020 exam. The explanation being that while practising previous year papers, solving the Mathematics section took around 1.5 hours. While during the main examination, he was able to solve it within an hour.
Stressbuster
When asked about what helped him relieve the stress that emerged due to JEE Advanced preparation, Chirag said that playing table tennis after lunch and dinner helped him. Apart from that, he would also play chess with friends or go to the roof for gazing at the stars to relax.
Piece of Advice for Future Aspirants
A short message by JEE Advanced topper 2020 Chirag Falor for the emerging JEE Advanced aspirants is to not lose hope in themselves. He says that at times candidates may feel tired or bored of preparing for the exam, but he advises them not to be distracted towards watching TV or playing games but instead go for studying something else. This way, they would not be wasting their time and their mind will also be distracted from boredom.
Also Read
JEE Advanced 2020 Topper Interview: Vedang Asgaonkar (AIR 7)
JEE Advanced 2020 Topper Interview: Harshvardhan Agarwal (AIR 9)
Questions related to JEE Advanced
Showing 13149 out of 13150 Questions