JEE Advanced 2020 Topper Interview : Gangula Bhuvan Reddy (AIR- 2) 'Focus on Studies and Avoid Distraction'
JEE Advanced 2020 Topper Interview : Gangula Bhuvan Reddy (AIR 2) - Indian Institute of Technology (IIT) Delhi released JEE Advanced 2020 result on October 5. Along with the results, JEE Advanced 2020 toppers were also announced. Gangula Bhuvan Reddy secured AIR 2 in this esteemed exam by obtaining 345 marks out of 396. JEE Advanced 2020 topper Bhuvan reddy is a very grounded, soft spoken person and believes in smart and hard work to achieve success. Bhuva credits his success to his parents and also to his teachers. JEE Advanced topper 2020 Bhuvan Reddy wants to study computer science. Careers360 interacted with him to know his preparation strategy, books he referred to and his success story of achieving this feat. Read the JEE Advanced 2020 topper interview of Bhuan Reddy to know more about him and the story behind his success.
Stay up-to date with JEE Advanced News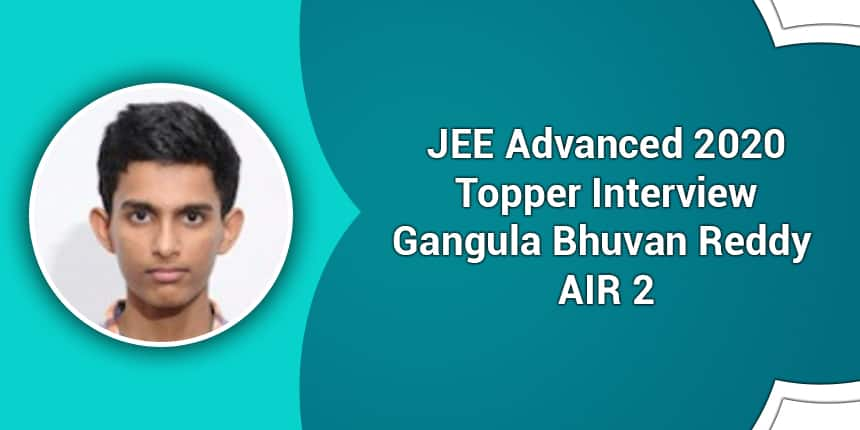 Careers360:- Congratulations for your outstanding performance in JEE Advanced 2020. What was your reaction upon knowing your rank?
Bhuvan:- Thank you. After seeing my response sheet and the tentative keys,I am sure that I would get a rank in top 5. So after knowing my rank, I was not much surprised.
Careers360:- Tell us something about yourself. Which board have you studied under? Which school did you study in?
Bhuvan:- I completed my schooling under AndhraPradesh state board. I completed 9th and 10th in Dr.KKR Gowtham School, gudivada and 11th and 12th from Sri Chaitanya junior college,Vijayawada.
Careers360:- What is your overall and subject wise score in JEE Advanced 2020? What is your all India rank and category rank?
Bhuvan:- My total score in JEE Advanced 2020 is 345 out of 396 with 99 marks in physics, 118 in chemistry and 128 in maths. My All India rank is 2 and I got rank 1 in GEN-EWS category
Careers360:- What was your JEE Main rank and marks?
Bhuvan:- In JEE Main 2020, I scored 290/300 with 99.999 percentile and my All India rank is 26
Careers360:- Why do you want to study engineering? When did you decide to study engineering? Which branch would you be interested in? Any reason?
Bhuvan:- I decided to study engineering when I was in class 8 and I am interested in Computer Science as it has a very bright future.
Careers360:- JEE Advanced was conducted as a computer based test. What is your opinion about it? What preparation strategy did you adapt for the computer based exam?
Bhuvan:- I feel that a Computer Based Test is more advantageous to students than an offline exam because here we can change our responses easily and the problem of bubbling mistakes is avoided .I practiced many internal exams in the online mode ,so I got used to it and wrote the final exam comfortably.
Careers360:- When did you start your JEE Advanced preparation? Tell us something about your preparation strategy and daily routine for JEE Advanced?
Bhuvan:- I started my JEE preparation from 8th class. I had a basic foundation in my school, I started preparing for JEE rigorously from 11th.I studied for 12-13 hrs a day with the time almost equally allotted to the 3 subjects . My teachers used to teach us for some time and the remaining time was for doubt clarification ,practicing.
Careers360:- How was the preparation for JEE Advanced different from JEE Main?
Bhuvan:- My main focus was on advanced but a few weeks before mains,I focused on mains. In JEE main there are some extra topics on which we need to concentrate more and especially in chemistry we need to memorize too many things and read each and every line of ncert .In mains,accuracy and speed are more important but for advance you need to have a deeper clarity over concepts.
Careers360:- Since there was just a few weeks after the JEE Main, elaborate on your preparation strategy?
Bhuvan:- Even though the time between mains and advanced was less this year,I made a daily schedule and revised all the topics within time .I focused more on chemistry during that time because there would be many things to remember in it.So I just wrote mock tests and did a revision of all my notes in those 3 weeks and on the exam day I was confident enough.
Careers360:- How was your preparation during the pandemic? Did you face any problems during your preparation? Give us an insight on how your day used to be during quarantine.
Bhuvan:- I didn't get demotivated because of the postponement of exams rather I felt that I got extra time to refine all my concepts . My teachers sent the assignments through whatsapp and they clarified my doubts at any time and they conducted online classes though zoom .
Careers360:- Mock tests and sample papers – how extensively did you practise with the help of these? Do you think practising from the previous year papers help and how?
Bhuvan:- I practiced many mock test papers during the last 3 weeks and i wrote each of these tests as if it was the final exam and I analysed all my mistakes and tried to rectify them.Practicing the previous year papers helps us understand what really is JEE asking and what are trying to test .every aspirant must solve the previous iit-jee papers
Careers360:- Are there any special books that you feel have helped with your JEE Advanced preparation?
Bhuvan:- For maths,I didn't use any book. In physics,I did h.c verma and Irodov and in chemistry ,I referred J.D Lee whenever I got a doubt . But for me, the most useful thing was my class notes (in all the subjects ) and the NCERT's,which are must for chemistry .And for practice ,I just did the assignments given by my teachers.
Careers360:- Did you face any problem during the JEE Advanced examination? Which subject was the easiest and which was the toughest in JEE Advanced? What do you think is a tough thing to manage during the JEE Advanced exam?
Bhuvan:- I felt chemistry to be easiest, and physics as the toughest .The toughest thing to manage during this exam is your mindset. you need to stay calm in these 6 hrs and we should not get nervous because then you will commit a lot of mistakes and lose even the questions which we can do.
Careers360:- What is the main difference between both the two papers in JEE Advanced?
Bhuvan:- The pattern of the question paper is different in both the papers and we can't generalize that paper1 is tougher or paper2 is tougher.This year ,I felt paper2 to be easier.So apart from the pattern there is no difference in both the papers.
Careers360:- Did you face any technical glitches during the exam? What is your opinion on the way the exam was conducted?
Bhuvan:- I faced some issues in the JEE main exam but JEE advanced went pretty well for me ,except that scroll was not working which might have wasted some time.The exam was conducted very well and all the appropriate cares were taken to prevent the spread of the virus
Careers360:- What do you think are the key factors behind your stupendous success in JEE Advanced?
Bhuvan:- I revised my class notes thoroughly in all the subjects and I also utilized the lock down period well to revise as well as to practice.I concentrated more on numericals while practicing because you need to be accurate in them,these helped me to achieve a good rank .
Careers360:- How did you de-stress yourself during the preparation? What are your hobbies? How often could you pursue them?
Bhuvan:- I used to talk with my parents or with my friends to take the stress away .I also used to watch movies with my friends to stay relaxed.
Careers360:- Who is your ideal or biggest inspiration in life and why?
Bhuvan:- I always used to imagine my success and this would boost me up everytime.So,this was my driving force
Careers360:- You know you are an inspiration to thousands of students across the country. Do you have any message for future aspirants on tackling the JEE Advanced exam
Bhuvan:- I advise all the aspirants to focus well on studies in these two years ,listen to the classes well, make a well organized time table and follow it . Don't get distracted by some other things. Another important thing is to avoid silly mistakes. Accuracy is more important than speed
Questions related to JEE Advanced
Showing 14698 out of 14698 Questions