JEE Advanced 2020 Topper Interview: Pulkit Agarwal (AIR 21) 'Focus on Studies, Learn from Failure'
JEE Advanced 2020 Topper Interview: Pulkit Agarwal (AIR 21) - Indian Institute of Technology (IIT) Delhi has released JEE Advanced result 2020. JEE Advanced 2020 topper Pulkit Agarwal secured AIR 21. He secured 311 marks in JEE Advanced 2020. Also, Pulkit obtained 99.9 percentile and secured AIR 265 in JEE Main 2020. JEE Advanced topper Pulkit Agarwal believes one should focus on studies to get success. Students should not get disheartened from failure and instead, work more to obtain even better results. Pulkit credits his success to his parents and teachers. Careers360 interacted with JEE Advanced 2020 topper Pulkit Agarwal to know his preparation strategy, time table and books he referred for the exam. Read the excerpts of JEE Advanced topper interview to know more about Pulkit Agarwal
Stay up-to date with JEE Advanced News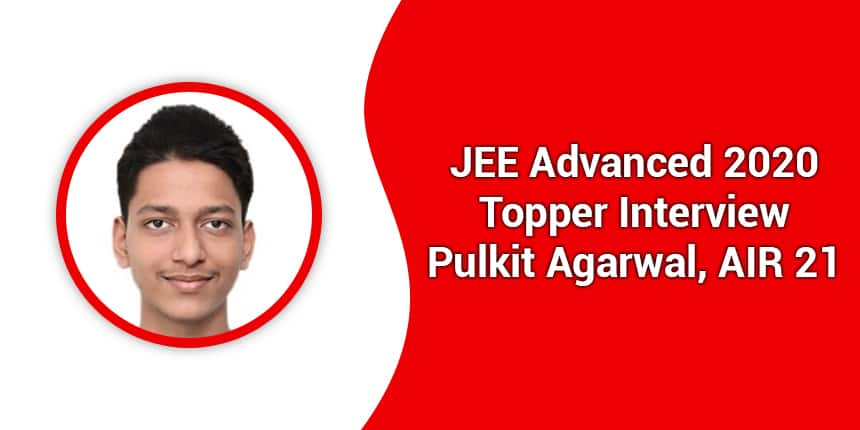 Careers360:- What was your reaction upon knowing your rank?
Pulkit:- I was extremely delighted to know that I had performed so well. I was always expecting a top 100 rank, but this was the cherry on the top.
Careers360:- Tell us something about yourself. Which board have you studied under? Which school did you study in?
Pulkit:- I completed my Class 12 from Sardar Patel Vidyalaya in Delhi, affiliated with the Central Board of Secondary Education (CBSE).
Careers360:- What is your overall and subject wise score in JEE Advanced 2020? What is your all India rank and category rank?
Pulkit:- I scored 311/396 in JEE Advanced 2020, with a score of 92 in Physics, 105 in Chemistry, and 114 in Mathematics. My Common Rank List rank was AIR 21. I am from General Category.
Careers360:- What was your JEE Main rank and marks?
Pulkit:- I got a rank of 265 in JEE Mains 2020 with a percentile of 99.9820468.
Careers360:- Why do you want to study engineering? When did you decide to study engineering?
Pulkit:- I have always been deeply intrigued by Physics and Mathematics. I decided to pursue Engineering as a field in class 9, and seriously started preparing towards my goal from Class 11.
Careers360:- Which branch would you be interested in? Any reason?
Pulkit:- I will be pursuing Computer Science Engineering, because it is a branch with a lot of potential for growth and learning. India is also establishing itself in this field, and I would love to contribute towards that.
Careers360:- JEE Advanced was conducted as a computer based test. What is your opinion about it? What preparation strategy did you adapt for the computer based exam?
Pulkit:- I am comfortable with the idea of an online exam, and I think that it is the need of the hour in this digital age. To prepare myself for the CBT format, I gave a number of time bound tests on computers, both offline (before lockdown) and online.
Careers360:- When did you start your JEE Advanced preparation? Tell us something about your preparation strategy and daily routine for JEE Advanced?
Pulkit:- I joined Vidyamandir Classes in class 9. However, I seriously began preparation for JEE from 11th. I studied from VMC modules and classroom notes for theory, and used the VMC workbook for questions. I used to study for 7-8 hours daily.
Careers360:- How was the preparation for JEE Advanced different from JEE Main?
Pulkit:- JEE Advanced is more challenging as it requires more thinking abilities. In particular, there are fewer questions, but with higher difficulty levels. Preparing for JEE Advanced requires a deeper understanding of the course material. On the other hand, JEE Mains has more straight forward questions, but one needs to be thorough with the details in NCERT books.
Careers360:- Since there was just a few weeks after the JEE Main, elaborate on your preparation strategy?
Pulkit:- After JEE Mains, I gave a number of tests in the last 3 weeks before JEE Advanced, from 9 to 12 and 2:30 to 5:30. This made sure that my mind was most efficient during the exam time period. I also focused more on revision, especially from Chemistry, since it has a vast syllabus.
Careers360:- How was your preparation during the pandemic? Did you face any problems during your preparation? Give us an insight on how your day used to be during quarantine.
Pulkit:- I found the pandemic time to be an ideal time for me to work upon my weaknesses. My teachers mentored me during this time to make sure that I didn't lose focus. My family was also a big support system during this time, especially when there was a lot of anxiety regarding exam dates. I studied in 3 or 4 hour slots, with short breaks in between.
Careers360:- Mock tests and sample papers – how extensively did you practise with the help of these? Do you think practising from the previous year papers help and how?
Pulkit:- Mock tests were a huge help in my preparation, as they gave me an idea of the areas where I needed work. They also helped me in planning how much time I need to devote to each subject during the exam, and in what order I should attempt the exam. Previous year papers are also important, as they help you to gauge the actual level of difficulty of JEE Advanced papers, and give you an idea of what to expect in the paper. However, I wouldn't suggest depending on them too much, as the paper pattern and difficulty level is different every year.
Careers360:- Are there any special books that you feel have helped with your JEE Advanced preparation?
Pulkit:- Apart from the VMC modules, I consulted Pathfinder in Physics, and books by Himanshu Pandey for Organic Chemistry and Kapil Kumar Wadhwa for Inorganic Chemistry. I didn't do any extra books in Mathematics.
Careers360:- Did you face any problem during the JEE Advanced examination? Which subject was the easiest and which was the toughest in JEE Advanced? What do you think is a tough thing to manage during the JEE Advanced exam?
Pulkit:- I found Mathematics to be the easiest, and Chemistry to be the hardest to prepare for. JEE Advanced requires one to manage both the vast syllabus, as well as the time factor during exam, and managing both is a tough task.
Careers360:- What is the main difference between both the two papers in JEE Advanced?
Pulkit:- I feel that, apart from the pattern, the two papers are similar. One needs to perform well in both the papers to get a good rank.
Careers360:- Did you face any technical glitches during the exam? What is your opinion on the way the exam was conducted?
Pulkit:- No, the exam was conducted by IIT Delhi in a fair and efficient manner, and I am happy that they conducted the exam with proper social distancing norms in these unprecedented times.
Careers360:- What do you think are the key factors behind your stupendous success in JEE Advanced?
Pulkit:- By God's grace, the support and blessings of my family and teachers, and my own hard work, I was able to perform well. I also think that staying away from social media helped me stay determined.
Careers360:- How did you de-stress yourself during the preparation? What are your hobbies? How often could you pursue them?
Pulkit:- I used to watch YouTube sometimes to de-stress myself. I also like to sing, and frequently took part in various events at my school.
Careers360:- Who is your ideal or biggest inspiration in life and why?
Pulkit:- My biggest inspiration is my father, who is also an engineer. He was my first teacher, and is an all- rounder in terms of knowledge. He has always motivated me to improve myself, move forward, and deal with both failure and success.
Careers360:- You know you are an inspiration to thousands of students across the country. Do you have any message for future aspirants on tackling the JEE Advanced exam?
Pulkit:- I would just like to say that keep yourself focused on your studies. Don't get disheartened by failure, instead promise yourself to bounce back harder. Finally, one exam doesn't make or break your life, so don't stress too much on the result.
Questions related to JEE Advanced
Showing 14792 out of 14792 Questions