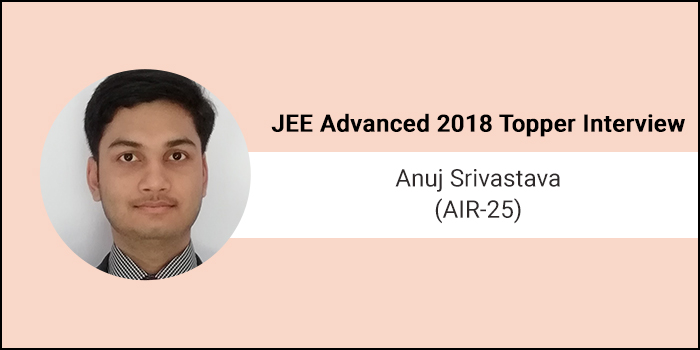 Nurturing a dream to pursue programming, Anuj Srivastava is a step closer to achieving it in reality. Having secured All India Rank of 25 in the highly competitive JEE Advanced examination, Anuj is now planning on fulfilling his passion of studying Computer Science Engineering. Anuj expresses his gratitude to his parents and teachers for providing him undying support during the preparation period. Quoting his life to be quite stress free, Anuj believes that all things will trickle down to a happy ending if done right and smartly. As a JEE Advanced Topper 2018, Anuj advises all future aspirants to study smart and efficiently. To know more, read the full interview of JEE Advanced 2018 topper Anuj Srivastava.
JEE Advanced Sample Paper
Download Free Sample Paper for JEE Advanced
Download Now
Careers360: Congratulations for your outstanding performance in JEE Advanced 2018! What was your reaction upon knowing your rank?
Anuj Srivastava: Thank you! I was very happy when I got to know my ranks.My parents were also overwhelmed on knowing my result.
Careers360: Tell us something about yourself. Which board have you studied under? Which school have you studied in?
Anuj Srivastava: I studied in City International School. My board was CBSE.
Careers360: What is your score in JEE Advanced 2018? What is your all India rank and category rank?
Anuj Srivastava: My score in JEE Advanced 2018 is 299 and my rank is 25.
Careers360: Why do you want to study engineering? When did you decided to study engineering? Which branch would you be interested in? Any reason?
Anuj Srivastava: During school years, I was a science-oriented kid. I also had a great interest in programming and more. These were few of the reasons why I was interested in taking up engineering for my future studies. I am interested in Computer Science Engineering because I like programming.
Careers360: JEE Advanced went online this year. What is your opinion about it? Did it change your preparation strategy for the exam?
Anuj Srivastava: The only difference there was for me was that I had to practice more in online mode for the examination.
Careers360: When did you start your JEE Advanced preparation? Tell us something about your preparation strategy and daily routine for JEE Advanced?
Anuj Srivastava: I started my preparation for JEE Advanced during 11th standard. I studied efficiently for the examination and with good quality. I never believed that studying more hours would help in the preparation. I studied short amount of time but efficiently.
Careers360: How was the preparation for JEE Advanced different from JEE Main?
Anuj Srivastava: There is quite a difference between the two examinations.JEE Main is a little bit more fact oriented and in JEE Advanced, we have to apply the basic concepts.
Careers360: Since there was just a month after the JEE Main, elaborate on your preparation strategy?
Anuj Srivastava: During that one month, I brushed up on my weaker sections such as Chemistry. I concentrated on more factual information.
Careers360: Did you take coaching for JEE and if yes from where? What are the benefits of coaching according to you?
Anuj Srivastava: I took coaching from FIITJEE. Coaching saves a lot of time. If you do not take coaching and try to study by yourself then it might take more time to understand a concept. Coaching has professional teachers and they help you a lot. They have a lot of experience too. What you get in books you do not get that in coaching and vice versa. Therefore, there should be a balance between coaching and studying from books.
Careers360: Mock tests and sample papers – how extensively did you practice with the help of these?
Anuj Srivastava: Yes, mock tests of JEE Advanced and sample papers helped me a lot with preparation. You have to know the concepts and the basic concepts. The techniques have to be learned by oneself by testing yourself. Therefore, to practice the techniques, mock tests and sample papers are essential. You will also get to know your own weaknesses through it so that you can work on it.
Careers360: Did you face any problem during the JEE Advanced examination? Which subject was the easiest and which was the toughest in JEE Advanced? What do you think is a tough thing to manage during the JEE Advanced exam?
Anuj Srivastava: The examination is a whole day process with just one break in between, so you do get stressed out a bit. For me, Physics was the easiest in JEE Advanced 2018 exam because it was more concept based. Mathematics was tough since it was abstract. I think the length of the paper was fine. Mathematics section had to be given more time.
Careers360: What is the main difference between both the two papers in JEE Advanced?
Anuj Srivastava: There was not much difference and were very similar. It was just that the first paper was a bit easier.
Careers360: Did you face any technical glitches during the exam? What is your opinion on the way the exam was conducted?
Anuj Srivastava: There were no technical glitches during the examination and everything did go on smoothly. JEE Advanced was conducted properly but the frisking was very lazy. My centre which was in Dhole Patil College of Engineering, Pune had no frisking process.
Careers360: What do you think are the key factors behind your stupendous success in JEE Advanced?
Anuj Srivastava: I had my family's support, guidance of my friends and my teachers also helped me a lot with studying the basic concepts and techniques to solve the problems.
Careers360: How did you de-stress yourself during the preparation? What are your hobbies? How often could you pursue them?
Anuj Srivastava: I was not really stressed during my preparation. I used to enjoy as much as I wanted during the preparation period. During my free time, I watched movies and played with my friends.
Careers360: Who is your ideal or biggest inspiration in life and why?
Anuj Srivastava: Currently, I do not have any biggest inspiration in life right now.
Careers360: You know you are an inspiration to thousands of students across the country. Do you have any message for future aspirants on tackling the JEE Advanced exam?
Anuj Srivastava: I just want to say that do not take so much stress. Enjoy life.
To check other topper interviews, read JEE Advanced 2018 Toppers
Questions related to JEE Advanced
Related E-books and Sample Papers