B. Tech after ITI - Industrial Training Institute (ITI) or the Industrial Centers aim to provide short training courses to students whereas Bachelor of Technology (B.Tech.) is a four-year technical undergraduate course. These institutes provide vocational training programmes to students after passing their class 10th. Several students go for B. Tech after doing their ITI courses. However, there are a few things students should remember.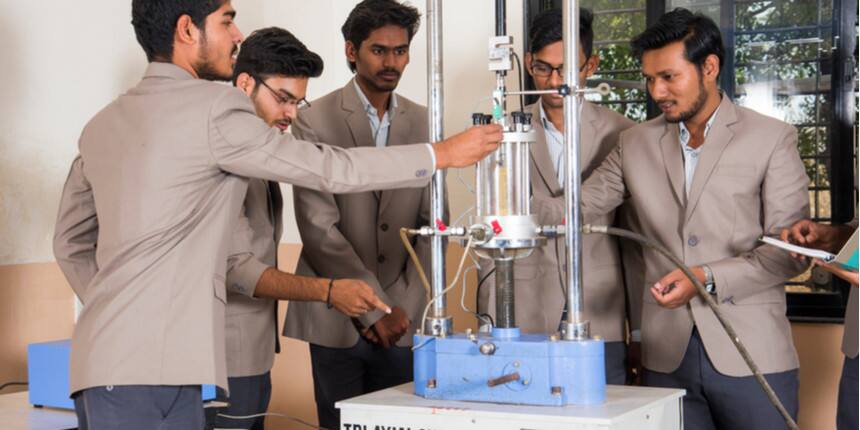 How to do B. Tech after ITI?
In order to be eligible for pursuing B. Tech after ITI one must follow a proper plan. After the ITI course, the student can pursue a diploma course through lateral entry, which will take three years to complete. The second step is to sit for JEE Advanced after completing the Diploma course, after which the student is eligible to get admission in the IITs. If this method does not work, then students can use the lateral entry scheme in state engineering colleges. As the student would have already completed the diploma course, the b.Tech programme will be completed in three years.
Various engineering institutes offer B. Tech courses to aspiring candidates looking for a career in engineering and technology. B.Tech. is a technical undergraduate course supervised by the University Grants Commission of India (UGC), All India Council for Technical Education (AICTE) and National Board of Accreditation (NBA).
B.Tech. focuses on teaching both theoretical as well as practical aspects of technology in various streams. Bachelor of technology is a skill-oriented course and admission to this course is mainly through entrance exams. Students get an array of job opportunities after this course. Like career opportunities, the number of specialization is also not less.
The Process of Getting Admission in B. Tech after ITI
Previously students could get admission into B.Tech. just after doing the ITI course in any technical discipline. But nowadays there is no way to get direct admission to B.Tech. after ITI, rather this process is lengthy as compared to other courses. B.Tech. is generally a four-year-long undergraduate course that most of the students do after their boards' examination. But when it comes to B.Tech after any other courses, it is very obvious that it will take longer than the usual time span. As we mentioned that it is a short time course, it is generally of six months or one year though some courses may take two years also.
Students who are pursuing ITI after their class 10th boards, need to complete their higher secondary from the National Institute of Open Schooling (NIOS). NIOS provides the chance to complete the 11th and 12th at the time of ITI training. After completing the ITI course, students need to complete the diploma course and then only apply for B.Tech. Students can join the diploma course directly after completing the certificate course. While pursuing B. Tech after ITI students can apply for lateral entry where they join directly in the second year of the diploma programme.
Candidates can pursue a B.Tech. degree after the successful completion of the diploma course. Students pursuing the diploma can also further go for the B.Tech. degree with the help of lateral entry. This lateral entry again helps students to skip the first year of B.Tech. course.
Pursuing B. Tech after ITI
Pursuing B. Tech after ITI. is a long and tedious process though it is effective in some cases. After completing ITI, students get more practical knowledge compared to other students and also get a chance to get an apprenticeship after passing the Apprenticeship Exam.
Those who have done B. Tech after ITI are hired by a number of companies because the industry needs people with technical knowledge. People with such degrees as ITI, diploma, and B.Tech. get the preferences at the time of job interviews, as they have a better understanding of the theory as well as of practical. ITI provides job oriented practical knowledge, polytechnic too, is a professional course that focuses on practical skills more than theoretical.
Polytechnic is a technical education of engineering or Diploma in Engineering course which is focused on practical and skill-oriented training. Bachelor of technology is a skill-oriented course which provides a wider aspect of technical knowledge than the other two courses. ITI and then B.Tech are tedious but provides scope to understand a particular subject in a thorough manner.
B. Tech after ITI: Job Opportunities
There are various options available for those candidates who have done their B. Tech after ITI. Students can explore various job opportunities after completing their Bachelor of Technology.. Candidates get jobs in government sector public sector units as well as private sector companies. These courses help students to hone their skills and to get better job opportunities. This prepares students to learn the basic skills of a particular course and this eventually helps them to start their own business.
Top institutes for B. Tech. courses
There are several engineering institutes that offer B. Tech programmes. We have listed some of the engineering institutes that offer B. Tech below:
Indian Institute of Technology, Kharagpur
Indian Institute of Technology, Delhi
Indian Institute of Technology, Roorkee
Indian Institute of Technology, Kanpur
National Institute of Technology, Trichy
National Institute of Technology, Warangal
National Institute of Technology, Patna
Birla Institute of Technology, Pilani
Manipal Institute of Technology
Vellore Institute of Technology, Vellore
Students can also get a good opportunity to pursue their higher studies by getting direct entry in the second year of engineering. Students can get into Bharat Heavy Electricals Limited (BHEL), Indian Railway, Oil & Natural Gas Corporation (ONGC), Indian Army, National Thermal Power Corporation (NTPC), TATA Motors, Siemens, L&T, Hindustan Unilever and many other companies. It is also noted that the degree holders have more value than diploma holders. For this reason, students pursue a degree course after the certificate and diploma courses.
Frequently Asked Question (FAQs) - B. Tech after ITI
Question: Can ITI students join a degree course?
Answer:
Yes, ITI students can join because for some colleges ITI is equal to +2. Students can get admission to the 2nd year of their diploma. For diploma, admission will be on the basis of the 10th marks.
Question: Can ITI students join B.Tech.?
Answer:
It is possible to join B.Tech. after the completion of the Diploma. Students can appear for the diploma Entrance Exam and eventually will get lateral entry to the Diploma and can join the second year directly.
Question: Can students do IIT after ITI?
Answer:
After Diploma students are eligible to get admission in IITs through JEE Advance. Students can get lateral entry in B.Tech. Engineering course in most of the engineering colleges directly in the second year.
Question: What is the lateral entry in B.Tech.?
Answer:
Lateral entry is by which students directly enter into the second year of engineering. They need to complete a diploma in their respective branch to be eligible for the lateral entry program.
Question: Which is better BTech or diploma?
Answer:
The basic difference between a B.Tech. and Polytechnic engineering courses is that a B.Tech is a degree course while a Polytechnic is a diploma course in engineering.