SRM University's Study Abroad Programmes - Interview with Dr. Sandeep Sancheti, Vice Chancellor
While twinning programmes where students study a part in the country and a part abroad have been in existence since some years, COVID has brought forth more possibilities about studying selective programmes along with regular ones in the comfort of one's home. Speaking to Careers360, Dr. Sandeep Sancheti, Vice Chancellor, SRM University, SRM University talks about SRM's twinning and dual degree programmes and their benefits. He also talks about the new "Academic Bank of Credits proposed by the university along with new student centric schemes being taken up. Read to know more.


Latest Updates for SRMJEEE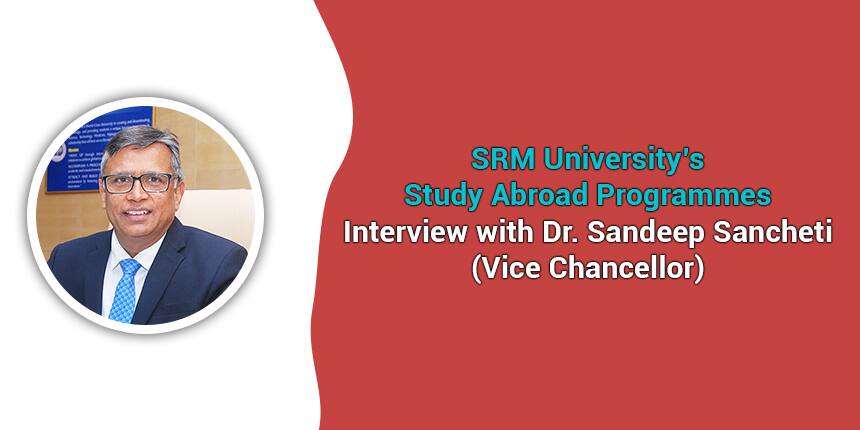 Careers360 - Please elaborate on the twinning programmes offered by SRM under Study Abroad Programmes.
Dr. Sancheti - Study Abroad Programmes (SAP) are running successfully in SRM under the twinning model. While negotiating any MoUs for SAPs, we primarily negotiate for seats for our students. Twinning programmes are a bit difficult with the students depending upon the rules and regulations of the other countries in the current scenario. Twinning programmes include studying two years of the course in the home country and the remaining two in another country. We have been negotiating this so that students can start their studies with us for now and join the institutes abroad later in two years and get their degree under the study abroad programme.

Watch the interview with Dr. Sandeep Sancheti, Vice Chancellor, SRM University


Careers360 - Can you give a few details about the dual degree programmes coming under the SAP scheme?
Dr. Sancheti - Dual degree is just an extension of study abroad programme scheme. Here students go abroad for a particular semester and gain credits there but get a degree from us. However, they get the chance to opt for a Masters or diploma as per their eligibility and interests. It works well for students under B.Tech and M.Tech courses providing much needed exposure.
Under the SAP programme at SRM University, one semester is usually conducted at an institute abroad which is enough to provide the flavour of the outside world to the students. It accords them an understanding of cultural difference, protocols, systems etc. and overall boosts their confidence levels. It's just about that bit of exposure that makes a difference. It's not that education outside is better than here in India.
In addition, here at SRM, we have started the concept of major and minor specializations. FOr example, a second year civil engineering student can opt for a minor in artificial intelligence (AI) or management courses. There is a certain criterion for this that will add more value for the students.
Another scheme, "Academic Bank of Credits (ABC)," is upcoming from our end. If implemented, it will be another means for the students to choose the best for themselves.


Careers360 - Can you give details on the Academic Bank of Credits (ABC) and its impact for students?
Dr. Sancheti - We are proposing to set up the Academic Bank of Credits (ABC). It is with the UGC and other regulators for approval and we think we can implement it soon. If it is approved, SRM will be among the first ones to introduce this scheme. Under the scheme, students can opt for programmes of interest and discontinue if they feel it's not their cup of tea. They have the option to try many such programmes and will be given credits. This will allow them to pick the best suitable programme where they can progress well. These will include programmes offered by foreign institutes and not just SRM University. It will help students to enroll into foreign universities under study abroad programmes by spending a fraction of what they would otherwise spend. They may continue a programme under the SAP while sitting in their native country and earn credits for all programmes and these will be counted to compile the credits for the final degree.


Careers360 - How will the ABC scheme help students?
Dr. Sancheti - The Academic Bank of Credits (ABC) plan will be very helpful for students who wish to add value to their studies with subjects, programmes or specializations that may not be possible with a traditional degree. With that, we can say that the foreign universities need not establish themselves in our country with a physical presence and the students will also not be required to spend thousands of dollars per semester. By spending around a month in another country and covering the rest of the programme through online studies will help students get the required exposure and also learn well. This concept also works vice versa with foreign students interested in coming to India.
ABC scheme is very much a student centric programme. Students will get the chance to decide their time table, choose their teachers, language, institution, etc. Such a system will help in evading the fixed system of education in Science or Arts. For students who have not been able to decide a stream and have done programmes in different streams, there is a new degree 'Bachelor of Liberal Education'. So for example, a student who has started with engineering, then given it up and taken up commerce and finally has ended up with humanities at the end of the programme will get a Liberal Education degree based on all the credits so gained.


Careers360 - Please throw some light on Internationalization of students.
Dr. Sancheti - Talking about international students, AICTE is carrying out some deliberations on this. More than getting foreign students to come to India, it's more about us gaining an international presence. This is a reciprocal process and India has a huge potential for this.
Questions related to SRMJEEE
Showing 2163 out of 2163 Questions